How to Write Great Business Letters
Written by WriteExpress Staff
1. What's your point? State it clearly and concisely
A good business letter does not ramble on; it supplies all pertinent information in a clear and concise manner. Your sentences should be no longer than 2 ½ lines. The complete letter should still fit easily on one side of an 8 ½" x 11" sheet of paper.
2. State your purpose in the opening sentence
Many professionals skim their mail quickly. They rarely read each letter slowly. Therefore, it is necessary to state your purpose in the opening sentence of the letter. It is also best to use active voice instead of passive voice.
3. Use a formal tone
Remember that the tone of a business letter should be formal, not conversational English. Do not crowd too many ideas into one sentence or the reader will become lost in the tangle of words. After skimming the first few sentences, an interested reader will slow down and read a well-written letter more closely.
4. Correct spelling and grammatical errors
Readers and skimmers notice spelling and grammatical mistakes, so spell- and grammar-check your document. Remember, however, that a spell check will not help if you spell the word correctly but use it incorrectly. For example, the words "affect" and "effect" are often mistakenly interchanged. Consult a dictionary if you are unsure of your word usage.
5. Reread your letter
Many people write an important letter, print it out and mail it without further consideration. If possible, let your finished letter sit on the computer for an hour or two, and then reread closely. You may be surprised at the number of simple mistakes you will find.
6. Get a second opinion
If you have a competent friend who is willing to help you, have him or her read the letter silently, or you can read the letter out loud and ask for his or her comments. Even if you are alone, reading the letter out loud will prove useful as you process the information in a different way.
Get help getting started, must-know writing tips and effective letters in the WriteExpress letter-writing programs. They will help you avoid many of the pitfalls common to the novice writer, and teach you how to create effective business letters.
Build confidence as you learn by example
With digestible sentence fragments and a structured approach, you can quickly handle hundreds of writing tasks with knowledge, skill and confidence as you learn by example.
Save money
You can create effective professional correspondence without paying high-priced writers.
Get the best letters available
Whether you need help writing recommendation, "thank-you" or other important letters, Easy Letters can help you convey exactly the right message. John Doe Letter Writer cannot write as well as our experts. These letters are:
Reliable
Easy to use
Time-tested
Confidence builders
Complete (just add your personal information)
Want to build your own fresh letter?
After finding your topic, focus on each writing step and consider preferred sentences and phrases.
We researched everything we could find and compiled more than 500 letter-writing topics
For some letter-writing topics we found a lot of information, but for most topics we found very little so we hired subject-matter experts.
We used the words of an experienced staff
More than thirty professional writers with various backgrounds contributed their knowledge and letters.
We created content so you can build your own letter step by step
Our writers provide must-know tips, step-by-step guides, and sentences and phrases for each writing step so you create your own, unique letter.
Get the best letters for any occasion!
Benefit from only the best talent and experience
We identify the most qualified writers and editors to write our letters.
Get only the best letters
We separate mediocrity from excellence and judge each letter-writing example by dozens of linguistic rules and advanced writing guidelines. We look for correct structure, grammar, punctuation, and natural-sounding letters.
Use the words of an experienced staff
Our experts have advanced educational degrees and have worked as teachers, writers, and editors for several years. Quality writing/editing should fulfill your needs, as it does ours.
Choose from a variety of writing styles
Each writer creates only a few letters per topic so you can choose the best words for your situation.
Enjoy advanced editing
Our letters are reviewed at least twice by qualified individuals with several years of teaching and editing experience.
Get letters for almost every situation
When you tell us every type of letter you need, we inform our writers and editors. Our experts then expand the range of our products.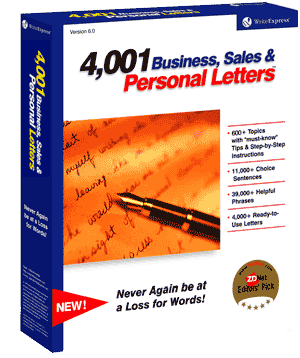 Write Letters Like a Pro
Get inspired

Use their easy letter templates to quickly find the perfect words

Develop excellent written communication skills
Start Writing