Tips
A brief acknowledgment of an order or subscription is a way to build goodwill and trust with a customer. The letter assures the customer that you have received the order and that you are acting on it. It also gives you an opportunity to communicate other information such as when the mailing will arrive, how you will deliver it, and what other products or services you can offer.
Steps
1

. Acknowledge the specific order and explain its status. Include, as necessary, any special information, including shipment schedules, availability, and method of payment.
Sentences
We will ship your order for three apple trees and two pear trees from our Springfield nursery as soon as the weather in your area is warm enough for planting.
We will ship your order #555 for 3,000 plastic box liners by Doe Delivery Service this week.
Thank you for ordering our Deluxe Vacuum System. Mr. Doe, our local service representative, will call on you this week to arrange the installation.
Thank you for your subscription to Doe Weekly. Delivery will begin with our December 1 issue.
Delivery of your deluxe mixer may be slightly delayed because of a local trucker's strike. We will ship your order as soon as possible.
Thank you for your order! We are sending all items except the bicycle, which is on back order. We apologize for the delay and any inconvenience it may cause. We will send your bicycle as soon as it arrives in our warehouse next week.
Response to our recent offer has far exceeded our expectations. While this is gratifying, it will result in a delay in filling your order. To thank you for your patience, we will include a special gift certificate with your order.
Phrases
are sending your
as soon as possible
can expect to receive
delivery will begin
for your order
for ordering our
for your subscription to
in two separate shipments
is now available in
item is back ordered
normal turnaround time is
our local service representative
should receive your
thank you for
under separate cover
will be shipped on
will make every effort to
will ship your order
will be shipped directly from
will send the items
will call you to arrange
2

. Express your pleasure at being chosen to fill the order or subscription.
Sentences
We are delighted that you have chosen Doe Nurseries to meet your fruit-growing needs.
It is always a pleasure to serve you.
We are pleased that you recognize the value of this service.
We find great satisfaction in helping discerning customers like you learn of these exciting opportunities.
Welcome to the family of Doe customers.
You are a highly valued customer. Thank you for your patience at this busy time.
Phrases
always a pleasure to
always eager to
are glad you have
are delighted that
are sure that
are sure you will
are confident that
for thinking of us
for choosing us to
take great satisfaction in
thank you for
that you have chosen us to
value your business
were delighted to receive your
were pleased to receive your
will be pleased with
will not regret your choice
will be impressed with
will be delighted with
will enjoy your new
3

. Help the customer feel that he or she has made the right decision. As appropriate, make a brief pitch for another product or service you can offer.
Sentences
When you receive trees from us, you know they are of the highest quality, and are the most disease resistant varieties available. Remember too that we offer the finest quality sprayers at bargain prices.
You will find these new box liners to be even more durable than those that you have been using.
I am sure you will be as pleased as we have been with the trouble-free performance of this model. If you need additional attachments, Mr. Doe at our Springfield outlet will be happy to assist you.
You are now among the thousands who use our travel letter to find their best vacation information. Remember, our local agency can also help you make reservations.
Just to keep you up-to-date on what is happening at Doe Nurseries, we want to tell you about our new ever bearing strawberries. They are bigger and sweeter than ever!
You have chosen the mixer that outperforms and outlasts all the rest. I know it will give you years of reliable service. Please also note that we offer our mixer owners attachments at 50% off the retail price.
For your spring shopping, remember that our annual clearance sale starts April 5.
These new diskettes are far superior to previous ones. I am sure you will find them worth the wait.
Phrases
also offer a wide variety of
are always willing to
feel free to call
if you need additional
if you ever encounter any problems
many of our customers find that
may rest assured that
only the best is good enough for our
our customer service number is
outperforms and outlasts
remember that we also
should you change your address
simply contact your nearest
stand behind our
take pride in our
the trouble-free performance
very simple procedure
want to let you know about our
when you are ready to
when the time comes to upgrade
when you receive
will be happy to assist
will be amazed to find
will find these far superior to
will receive advance notice of
Related Articles
Related Resources
Still can't find the right words for your acknowledgment letter?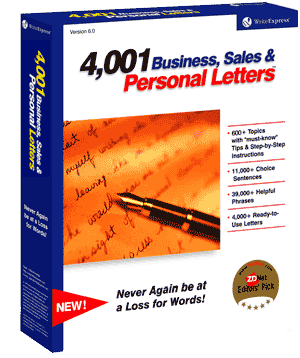 You will with our 500 letter-writing tutorials!
Find the acknowledgment letter that fits your needs and copy it directly into Microsoft Word or your favorite word processor.
Or let our 500 letter-writing tutorials guide you step-by-step through the writing process, suggesting sample phrases and sentences for each writing step. In minutes, you can write an effective acknowledgment letter.
Print your acknowledgment letter and send it!