Tips
Since the reader may be dissatisfied or defensive, make this letter especially courteous. You may wish to apologize for the inconvenience, but emphasize that you are making restitution.
Steps
1

. Acknowledge the return and express your regret that the item proved unsatisfactory.
Sentences
I am sorry that the hair dryer you purchased from our outlet has proven unsatisfactory.
We have received the item you returned for exchange and apologize for the mix-up.
We regret that the wireless radio-television you purchased from us was defective.
We are sorry to learn that your stoneware was damaged in shipment.
We received your defective calculator in the mail today.
Thank you for returning the toaster.
Phrases
acknowledge the receipt of
am sorry that
apologize for your inconvenience
apologize for the
did not work properly
failed to meet your expectations
had problems with
has arrived at our
have received the
please accept our apologies for
proved to be defective
regret the error
returned for exchange
sorry you had problems with
thank you for returning
that you purchased from our
was damaged in shipping
was unsatisfactory
were sorry to learn that
were disappointed in
which you returned
2

. Explain your decision to grant the exchange, refund, or credit.
Sentences
Your new flatware is on its way.
We will be happy to refund your money, according to the terms of our warranty statement.
We have sent a replacement in a separate mailing.
We will send the new calculator as soon as we receive our next shipment.
Rather than repairing the defective set, we are sending a replacement.
Enclosed you will find a replacement part. If you have difficulty installing it, call 555-5555 and our representative will assist you.
We will ship a replacement at no additional cost to you.
We will credit your account with the full amount, including shipping costs.
Phrases
are sending a replacement
as you requested
as soon as possible
as soon as we receive
at no cost to
at no additional cost
enclosed you will find
has been shipped
has been factory-tested
has been sent separately
have already mailed
have refunded your
have credited your account with
should arrive within
the terms of our warranty
will send your new
will be happy to
will mail your refund as soon as
will be on its way
will replace the
3

. Thank the customer for his or her business and encourage future purchases.
Sentences
Thank you for your business. We look forward to receiving your next order.
We apologize for the inconvenience and hope to serve you again soon.
I trust this adjustment will be satisfactory. Thank you for choosing Doe Corporation for your household needs.
We thank you for your patience.
We appreciate your business and have enclosed a complimentary catalog featuring our newest line of Doe products.
We have enjoyed serving you and look forward to your next order.
Phrases
appreciate your patronage
are always happy to
for your business
for choosing Doe Corporation
for your patience
for your understanding
glad to be of service
happy to be of service
have enclosed a
hope to serve you again soon
is always a pleasure to
is important to us
is our top priority
look forward to
receiving your next order
stand by our products
thank you for
trust that this will be satisfactory
value your business
your satisfaction is
will be pleased with
Related Articles
Related Resources
Still can't find the right words for your acknowledgment letter?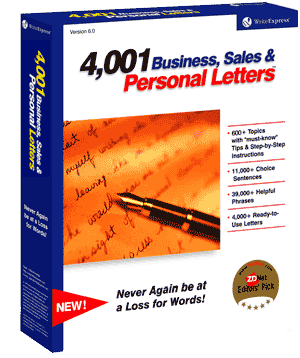 You will with our 500 letter-writing tutorials!
Find the acknowledgment letter that fits your needs and copy it directly into Microsoft Word or your favorite word processor.
Or let our 500 letter-writing tutorials guide you step-by-step through the writing process, suggesting sample phrases and sentences for each writing step. In minutes, you can write an effective acknowledgment letter.
Print your acknowledgment letter and send it!