Tips
If you cannot give advice, express your regret, and suggest that someone else would be in a better position to do so. Avoid comments or expressions of personal opinion, unless they are complimentary.
Steps
1

. Explain in an inoffensive way that you cannot or would rather not give advice. If appropriate, suggest who may be qualified to do so.
Sentences
I appreciate your confidence in me in asking for advice, but I don't feel I know enough about the situation to give a good answer.
Because I am not familiar with your situation and with this state's laws concerning your predicament, I feel unqualified to give my comments. Perhaps my colleagues, Doe and Doe, located in downtown Springfield, could serve you better. I would be happy to set up an appointment for you if you would like.
I am sorry but I cannot offer you advice as to which direction to take. I believe you and your husband should study the options together and then come to a mutual decision.
I really don't believe that I am the most qualified person to give that type of advice; however, if you just want to talk, I am here to listen.
Because of the risk of litigation, the legal office advises me that I should refrain from giving investment advice at this time.
Thank you for thinking of me when you needed advice. I am flattered, but I think someone with more experience in investing would be better qualified to help you.
If I knew a lot about real estate, I would be glad to advise you. Since my knowledge is limited, it is best that I try not to give advice. I think that my brother, John, may be the best person to ask.
I appreciate your coming to me with such a complex problem, but I do not feel qualified to help.
Thank you for entrusting me with such personal and confidential information. I am glad you feel you can come to me with problems. Unfortunately, I cannot give you advice in this case, because I lack the medical knowledge. May I suggest that you speak with my friend, Dr. John Doe? He is a professional and will keep your discussions in strict confidence.
Phrases
always willing to
am sorry, but I am unable to
am not in a position to
appreciate your confidence in me, but
asking me about
do not feel qualified to
don't know enough about
is very knowledgeable about
is an expert on
know very little about
may be a better person to
may I suggest that
not my area of expertise
not familiar with
regret that I cannot
thank you for
thinking of me in this regard
was honored by your request, but
would be happy to
would serve you better
2

. Express your good wishes.
Sentences
Although I am unable to help you, I hope that you will soon find a suitable solution.
I send you my best wishes as you resolve this difficult situation.
I hope you can find the answer you are searching for.
I hope that all goes well.
If I can help you in another way, please let me know.
I wish you the best of luck in whatever decision you make.
Phrases
although I am unable to help
am confident that you
am sure that you will
certainly deserve to
have no doubt that you
have my best wishes
help in any other way
hope that you
that everything will work out
things will go well for
to a successful conclusion
will turn out fine
will undoubtedly succeed
will work things out
will succeed in this
will find the best course of action
will be able to resolve
will soon find
wish you all the best
wish you the best of luck
Related Articles
Related Resources
Still can't find the right words for your advice letter?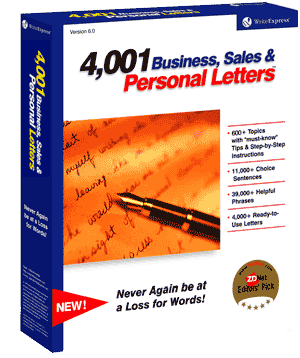 You will with our 500 letter-writing tutorials!
Find the advice letter that fits your needs and copy it directly into Microsoft Word or your favorite word processor.
Or let our 500 letter-writing tutorials guide you step-by-step through the writing process, suggesting sample phrases and sentences for each writing step. In minutes, you can write an effective advice letter.
Print your advice letter and send it!