Tips
This is your personal good news letter--a way of letting your close friends and family know what has happened and how you feel about it. It should be warm and friendly. It's a chance to share your happiness with the people who care the most.
Steps
1

. In a personal way, explain the basic birth information: name, date of birth, time, weight, and length, as you feel appropriate. Then add any special information of interest regarding the event.
Sentences
We have great news! On July 12, at 6:05 a.m., we were blessed with a new baby girl who we are naming Tiffany. She was a little premature and weighed less than five pounds. She was in an incubator for two weeks, but we have her home now, and she is doing well. We are very happy!
At six o'clock this morning, John Jr. made his entrance into this world, weighing eight pounds three ounces, and measuring 22 inches. I think we have our basketball player. He has grandma's red hair and grandpa's appetite.
We have waited a long time to write this letter, but now we can tell you that we have been successful in adopting a beautiful six-month old girl from South Korea. Jane and I flew to Seoul a week ago after we learned that we could pick her up at the hospital. We hope you can visit us and meet our sweet little Anne.
We are tickled to write that Jane gave birth to a beautiful baby boy we are naming Eric. He arrived Friday evening at 7:05 p.m., and weighed seven pounds, eight ounces, and measured nearly 23 inches. On the way to the hospital, John took a wrong turn and got caught in the basketball game traffic. You guessed it, Eric was delivered by a highway patrolman. John is still apologizing.
The Doe family announces their latest addition to the dinner table crowd:<br />Name: Eric<br />Weight: 8 lbs., 4 oz.<br />Length: 22 inches<br />Arrival date: Friday, May 15
Phrases
are naming him
are proud and happy to announce
bouncing baby boy
bundle of joy
gave birth to a beautiful baby boy
gave us a few anxious moments but
happy to announce our latest addition
have great news
have wonderful news
have her home now
have been successful in adopting a
have a brand new son
have waited a while to write this
is doing very well
is six months old now
joyfully announce the birth of
joyfully announce the arrival of
joyous arrival
joyous event
made his entrance into the world
measuring 20 inches
on June 10, at 5:45 a.m.
was delivered by c-section
was in an incubator for a week
was a little premature
weighed in at
weighing 7 pounds, 7 ounces
were able to pick her up on
were blessed with a new baby
2

. Express your personal feelings about the baby and its presence in your home.
Sentences
We're not getting the sleep we used to, but that is a minor thing compared to the joy of having Eric in our lives. We didn't realize how much we could love a baby.
He is taking his place at the table, and the kids love him. Maybe that's because he's not eating their food...yet. The delivery went well, and Jane looks radiant.
We were able to have a home delivery, so the children were able to see their little sister soon after she was born. This has had a wonderful, unifying effect on the family.
We're naming her Anne, after her grandmother, who wanted so much to see her. We feel she would be very pleased. We thought of naming her Joy, because of the happiness she has brought us, but we finally settled on Grandma's name.
This new development has completely changed the way we live. She has literally taken over our lives. We feel we are a real family now.
Phrases
a real fighter
a real family now
all very new and exciting
are naming him
bundle of joy
didn't realize what joy a baby could bring
dominates the household
hard to describe the love we feel for
has been a wonderful experience
have let her take over our lives
is the darling of the whole family
is so beautiful
joy into our hearts
older children have fallen in love with
running a little short on sleep
so delicate and fragile-looking
still hard to believe
tiring but very satisfying
was able to be with me
were overjoyed when the adoption agency
will send pictures soon
will be a basketball player for sure
Related Articles
Related Resources
Still can't find the right words for your announcement letter?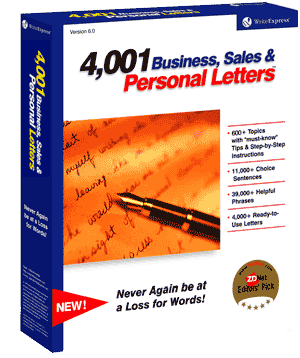 You will with our 500 letter-writing tutorials!
Find the announcement letter that fits your needs and copy it directly into Microsoft Word or your favorite word processor.
Or let our 500 letter-writing tutorials guide you step-by-step through the writing process, suggesting sample phrases and sentences for each writing step. In minutes, you can write an effective announcement letter.
Print your announcement letter and send it!