Tips
This letter delivers unwelcome news, so you should soften the blow by showing how the change is justified and that you appreciate the customer's understanding. This is a good time to express how important customer satisfaction is to you.
Steps
1

. Announce the price increase, but try to soften the blow to the customer.
Sentences
In our continuing attempts to provide the best service possible, we have installed a high-speed multicolor press. This new capability is forcing us to increase prices by 5%, effective June 15. I have enclosed an updated price list. Orders received before that date will be filled at current prices.
As you know, we have made every effort to avoid price increases, even though the price of raw materials has gone up. With this last increase, however, we must raise the price of prefabricated sheds by 10%. This increase will affect all newly constructed sheds beginning June 15. Present inventory will be sold at current prices.
As a consequence of escalating oil prices, we must raise the price of all plastic plumbing products 8% at the beginning of the new year. We regret having to take this action and hope to be able to return to earlier prices when oil costs stabilize.
Effective June 15, the price of all Doe soft drinks will increase five cents per unit. We have tried to avoid the increase, but the rising cost of sweeteners forces us to do so now.
The harsh weather in California has produced severe shortages of green vegetables, causing our prices to go up 20%. We trust that this is a temporary condition and that we can return to lower prices with the next harvest.
Phrases
a modest rate increase
a price increase on
additional operating expenses
advance notice
along with the increased price of
are always reluctant to raise prices
effective immediately
has forced us to
have enclosed an updated price list
have found it necessary to adjust
hourly rate increase of
in order to continue to
increase will affect
increased prices from our suppliers
increased price of raw materials
is only fair to warn you
is forcing us to
keep prices as low as possible
keep our prices competitive
may be more increases in near future
offering the highest quality
our continuing attempts to
price increases from almost every supplier
prices will increase
prices on the following items
proposed changes in fee structure
rapid rise in labor and operating costs
the good news is
this price adjustment
to put this increase in perspective,
to keep the price as low as possible
to provide the best service possible
to produce a high-quality product
to increase our prices by
will be filled at current prices
will discuss the proposed increase
will guarantee shipment at the old prices
2

. Express good will and appreciation.
Sentences
We appreciate your understanding and are confident that you will find the enhanced quality of our printing to be worth the increase.
We value you as a customer and hope to meet your needs for years to come.
Thank you for your understanding patronage during this market fluctuation. We will inform you immediately of any future changes.
Thank you for buying Doe drinks. We trust you agree that these beverages are still a wonderful bargain.
We will do our best to work with growers who can produce high quality produce at reasonable prices.
Phrases
appreciate your understanding
appreciate your continuing patronage
appreciate the opportunity to
are confident that you will find
are still a wonderful bargain
cater to the discriminating customer
continue to enjoy our volume discounts
finest quality available
have been a loyal customer
hope to continue to
is a pleasure to serve you
keep our service impeccable
thank you for
this market fluctuation
to keep prices reasonable
trust you will agree that
value your business
value you as a customer
well worth the increase
will do our best to
Related Articles
Related Resources
Still can't find the right words for your announcement letter?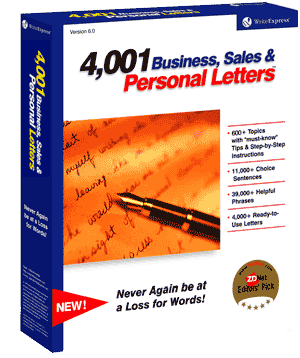 You will with our 500 letter-writing tutorials!
Find the announcement letter that fits your needs and copy it directly into Microsoft Word or your favorite word processor.
Or let our 500 letter-writing tutorials guide you step-by-step through the writing process, suggesting sample phrases and sentences for each writing step. In minutes, you can write an effective announcement letter.
Print your announcement letter and send it!