Tips
This announcement is good news, but you must write it carefully to clearly communicate, as needed, amounts involved, appropriate uses of funds, and procedures for accessing and using the funds.
Steps
1

. Inform the reader that a surplus exists, and explain how the funds may and may not be used.
Sentences
Thanks to the careful scheduling of our business travel, we are ending the year with a modest surplus that may be used for travel expenses only.
We are fortunate to have excess monies in our capital equipment account. These monies may be used for purchases of larger items such as computers, copy machines, fax machines and the like. Routine office supplies must be purchased from the Supplies account.
We have a budget surplus that can be used in your department.
Your diligent efforts have helped us stay well within budget this year; in fact, we have a surplus that you may use at your discretion.
We overestimated the cost of advertising this year, so we have an excess of $30,000 that we would like you to use to improve the work environment.
Phrases
are fortunate to have
are ending the year with
authorize additional spending
can be used in any way except
diligent efforts have
expect to see an excess of
have a budget excess that
have a modest excess
have an excess of
have extra money in our
have stayed well within budget
like you to use this to
may be used only for
may be used for
may submit proposals for
may use at your discretion
overestimated the cost of
thanks to careful
that you may use for
that can be used for
have projected a
within the following guidelines
2

. If necessary, explain the period of time during which the funds must be used.
Sentences
These funds must be expended by December 31.
Unused funds will carry over to next year's budget, so we have ample time to allocate the money wisely.
In order to take advantage of this rare opportunity, you will have to submit your request before July 15. I know time is limited, but this deadline is still a reachable goal.
These funds must be spent before the next budget cycle, which begins January 1.
Our Springfield office has requested additional funds, and we have promised to give them whatever we do not use by August 31.
Phrases
act as quickly as possible
allocate the money wisely
an unusual situation
deadline for requests is
does not allow much time
will transfer funds to
has requested additional funds
in order to take advantage of this
make careful assessment of needs
may be a good time to
must be spent before
need to use it by
need to act before
submit your request by
the next budget cycle
there is no hurry
this rare opportunity
to evaluate your department's needs
will lose any money not assigned by
will lose these funds unless
will carry over to
3

. Encourage wise use of the funds, or suggest ways in which the funds may be used.
Sentences
If you are planning travel in the new year, I suggest that you buy the tickets as soon as possible. This would ease the burden on our travel budget for next year, too.
Evaluate any problems you may have had with equipment this past year, and let me know if this is a good time to consider replacement purchases.
If you need help in upgrading equipment, please send your request and justification for additional funds to my office. We will evaluate all requests and let you know our decision.
Since we cannot predict when additional funds will become available, perhaps it is time to consider buying the new computers that you have talked about.
I suggest you consider using this windfall money to raise the salaries of part-time personnel. It would be appropriate to discuss the matter with John Doe.
Phrases
appropriate to discuss the matter with
consider replacement of
considering some of the problems with
discuss this with
good time to look at capital needs
handle the details through
if you need help in
if you are planning any
may be a good time to
may wish to make advance purchases of
merits careful consideration
might consider using this windfall to
might be a suitable use of the money
move purchases forward a few months
opportunity to upgrade
please send in requests and justifications
request for additional funds
unusual opportunity to
very unusual situation
will evaluate all requests
would ease the burden on next year's budget
Related Articles
Related Resources
Still can't find the right words for your announcement letter?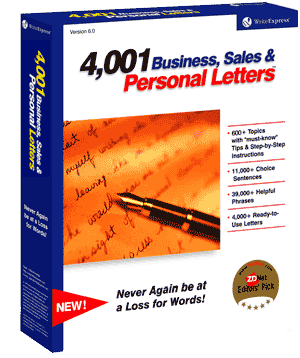 You will with our 500 letter-writing tutorials!
Find the announcement letter that fits your needs and copy it directly into Microsoft Word or your favorite word processor.
Or let our 500 letter-writing tutorials guide you step-by-step through the writing process, suggesting sample phrases and sentences for each writing step. In minutes, you can write an effective announcement letter.
Print your announcement letter and send it!