Tips
This announcement is generally in the form of a memo, and should carry the tone of a sales pitch. It can help increase business and employee morale, especially if there can be more than one winner.
Steps
1

. Announce the contest with a brief description of what the sales personnel must do, and what they can win.
Sentences
Sign up 20 new subscribers for a year and win a mountain bike!
Sell $30,000 in tire products by May 30, and win a trip for two to Hawaii!
Raise your group's sales to level three and win a Cadillac for your personal use for the year!
Land five new accounts by Christmas and win a ski vacation for two in the Rockies!
Win two tickets to the playoff game by selling 50 units this week.
The High Achiever contest begins on May 1. Develop three new<br />accounts and win a prize of $150.
Phrases
all you need to do is
by selling more than
for your entire group
for your personal use
how would you like to win a
land five new accounts this month
now is the time when extra effort
quarterly sales contest
raise your group's sales to
reach 120% of your quota this quarter
salesperson of the year
sell $20,000 or more in products this
sign up twenty new subscribers by
the winner will automatically be eligible for
win an all-expense-paid vacation for two to
win two tickets to
win a trip for two to
win an exciting getaway vacation for two
win yourself a two-day stay at
your special touch can really pay off
2

. Explain the contest rules, including restrictions, and make the deadline clear.
Sentences
Anyone who meets the goal between now and July 1 will win.
The contest begins today and ends on Friday, July 30. Winners will be announced at the summer picnic on August 5.
Only salespersons are eligible to win. Managers and supervisors will have their own opportunities in the next round.
This offer is available only to new salespersons who have joined the company since January 1 of this year. Winners will be notified by mail and announced in our weekly bulletin.
All sales must be on new accounts. Renewal accounts, even though there has been a time lapse, do not qualify.
All sales must be verifiable with receipts in the main office before August 1, when the contest ends.
Contest rules are as follows:<br />All sales must be complete and payment received by July 31.<br />All sales must be new accounts.<br/>Managers and their families are ineligible.
Phrases
all sales must be on new accounts
all salespersons are eligible to win
contest rules are as follows
contest begins today
contest is open only to
each new account must place an order of at least
everyone who meets the goal
five products will count in the first quarter contest
just meet or break quota
must be verifiable with receipts
must receive payment before
prospects you are currently working are okay
quarterly sales contest
sale must have been completed by
sales contest involving our new line of
temporarily providing price breaks on
the rules are simple
want to broaden our customer base
will end on
winners will be announced on
3

. Add details about the prizes and encourage participation.
Sentences
Winners will stay in the Doe Hotel and will also receive $500 cash. Start your campaign today!
Prizes may be taken in merchandise or in cash, so either way you're a winner. Indicate your intention to participate in this annual event by signing up with your supervisor today!
In addition to the new car, you will be eligible for additional prizes to complement your wardrobe. The Doe fashion houses are joining us in this effort.
As part of our effort to serve the community, we will contribute a percentage of each sale to the winner's favorite charity.
Get on the phone and be one of those who will spend three days and two nights at the Doe Marina Hotel. All meals and a cruise around the island will be included for qualifying winners.
Phrases
a few new sales will entitle you to
be one of the winners
can earn you a substantial cash reward
eligible for additional prizes
every one of you is a likely candidate
everyone can be a big winner
go get those new accounts
know you are as excited as I am about
if you have any questions, call me at
in this contest you can't lose
lucky winners will fly to
make your prize a sure thing
prizes may be taken in merchandise or cash
sign up with your supervisor
start your campaign today
this is a great contest
will be flown at company expense to
will receive $500
win your way to a well-deserved vacation
winners will stay in the
will win a
Related Articles
Related Resources
Still can't find the right words for your announcement letter?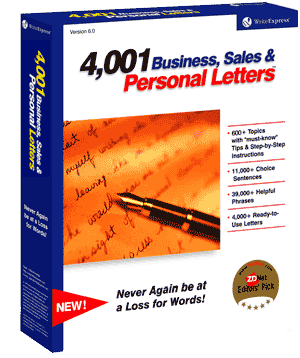 You will with our 500 letter-writing tutorials!
Find the announcement letter that fits your needs and copy it directly into Microsoft Word or your favorite word processor.
Or let our 500 letter-writing tutorials guide you step-by-step through the writing process, suggesting sample phrases and sentences for each writing step. In minutes, you can write an effective announcement letter.
Print your announcement letter and send it!