Tips
For extended family and close friends who live out of town, handwritten notes are appropriate, and the tone should be very personal. Sometimes printed announcements (often black-banded) are sent to other out-of-town friends and acquaintances. These announcements are somewhat more formal. Both contain essentially the same information, but differ in degree of familiarity. For those who may want to attend the funeral, an immediate telephone call will usually be necessary in place of or preceding the announcement.
Steps
1

. Make the announcement in a direct, yet sensitive, way.
Sentences
Last Thursday our father passed away after suffering a stroke. We held the funeral on Friday at the Springfield Church. We appreciated all the family who were there to support Mother. (This tone is appropriate for extended family and close friends.)
It is with great sadness that we announce the death of our father, John Doe, who died suddenly of a cerebral hemorrhage on December 1, 2001. Funeral services were held Monday, December 5, in the Sunset Funeral Home in Springfield. (This is a formal tone for persons other than close friends and family.)
We are all saddened by the death of John Doe who was fatally injured in a hiking accident in the Himalayas last week. John's body is being returned to Kansas for a memorial service, June 30, at 10:00 a.m., in the Heavenly Rest Funeral Home, 1800 Main Street in Springfield. Contributions to the Doe Children's Hospital are preferred in place of flowers.
Our sweet Grandmother Doe returned to her heavenly home on May 15, following a brief illness. She recently celebrated her 95th birthday with thirty grandchildren and five great grandchildren in attendance. A funeral to honor this grand lady's life and her unselfish contributions to us all was held on Thursday, May 21, in the Springfield Funeral Home.
After a long battle with cancer, Uncle John died at his home last Sunday. We grieve at his leaving, but we are relieved that his suffering is over and he is with his wife, Emma, who preceded him in death in 2001. In accordance with his wishes, we held a private memorial service for immediate family members on May 7, at the Springfield Cemetery.
Phrases
a memorial service will be held on
after a long battle with
age-related causes
an end to his suffering
announce the death of our
are all saddened by the death of
as a result of a
body will be returned to
celebration of her life
died suddenly of a
died at his home on
following a brief illness
funeral was held
funeral services were held
graveside service
hope all the family can be there
in place of flowers
it is with great sadness that
passed away after suffering a
preceded him in death
private memorial service
returned to her heavenly home
returned to the arms of
sorrow at his passing
to honor her life
Related Articles
Related Resources
Still can't find the right words for your announcement letter?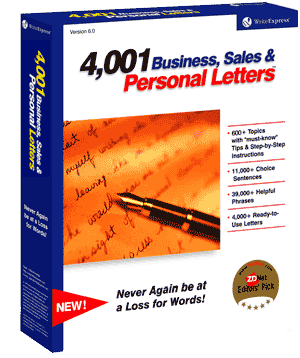 You will with our 500 letter-writing tutorials!
Find the announcement letter that fits your needs and copy it directly into Microsoft Word or your favorite word processor.
Or let our 500 letter-writing tutorials guide you step-by-step through the writing process, suggesting sample phrases and sentences for each writing step. In minutes, you can write an effective announcement letter.
Print your announcement letter and send it!