Tips
This letter gives you an opportunity to advertise the success of your business, to inform the reader of your history, and to give a sales pitch. See also "Write a news release."
Steps
1

. Announce which anniversary you are celebrating and give the relevant dates.
Sentences
It all starts at 8:00 a.m., Saturday, May 15, when Doe Hardware opens its doors to a celebration of serving Springfield for 20 years!
You are invited to help us celebrate 30 years of continuous service to the residents of Monroe County. Join us at the Fairgrounds Friday evening from 7:00 to 9:00 p.m. for an evening of family fun.
On June 22, Doe Construction will celebrate its 50th anniversary of bringing quality materials to the builders of our city. We think the occasion deserves a celebration, and you are invited to drop in and join us.
Doe Furniture, a world leader in manufacturing quality furniture for the home and office since 1920, is celebrating its 50th anniversary during the month of June.
Doe Gardens is proud to announce the celebration of its 10th anniversary of serving excellent food in exotic surroundings to the business community of Springfield. During the month of June the Gardens will serve a complimentary drink with each meal.
Phrases
all those years ago
anniversary of our opening
are cordially invited to attend
candles on our cake
celebrate 20 years of service to
first started operations
has become a community tradition
has now been in business for
help us celebrate
is proud to announce the
it's our birthday
join us in celebrating
long-time residents will remember
now a world leader in
occasion deserves celebration
things have certainly changed since
this makes us the oldest
those were the days when
are 30 years new
are providing the gifts
want to show our appreciation
will be celebrating by
will celebrate its
will kick off our anniversary by
with a whole month of
years of growth and service
2

. Explain what the business has accomplished over the years.
Sentences
Building on a reputation of quality products and service, Doe Hardware has grown to become the state's leading provider of tools and hardware for the home. For the past ten years it has received the Governor's endorsement for providing work for the handicapped, and it continues its commitment of providing excellent service and products to the community.
With its headquarters located in the old town hall in Springfield, Kansas, Doe Cosmetics employs over 200 people in its laboratories and corporate offices. Doe Cosmetics is a leader in providing nonallergenic, organically based health care products. It has grown from a small family business just ten years ago to its present stature as a leader in the industry. Health-conscious consumers are recognizing the superior quality of Doe products.
Doe Motors was born in the imagination of two brothers who were playing with their toy cars in a sandbox. They wanted their own automobile agency when they grew up--and now they have it. They love cars and they love to take care of them. Taking pride in making people happy with their purchases is their hallmark.
The Doe reputation goes back to the early settlers of our county. It was Joshua Doe, the great grandfather of John Doe, our current president, who was the first blacksmith and wheelwright for the early residents of Springfield. His descendants have continued to serve the transportation needs of our community and are pleased with the success of their newest automobile dealership.
It all began in June of 1985, when the founder of Doe Software, John Doe, decided to take his word processing idea to members of the City Council. They agreed to invest in its further development, and thus began a revolution in the word processing industry. After this modest meeting, John and his associates were able to develop and market some of the finest software products in the world.
Phrases
a small family business
adapting to a changing environment
as we have grown
began from the dream of
commitment to provide
employs more than
first began offering services
has been years since
have backed up every
has grown from
has grown to become
have continued to serve the
have developed and marketed
headquarters located in
heart of the community
is a leader in providing
is their hallmark
moved into larger quarters
opened its doors for business
pioneers in the industry
present stature as
quality products and service
quickly established a reputation for
recognized for the superior quality of
reputation goes back to
take great pride in our reputation for
take pride in
3

. Explain any special offers you are making as part of the celebration.
Sentences
To celebrate the event we are offering 20% off all merchandise that we have in stock. Hurry in while supplies last.
In honor of this event, we have received a special shipment of all-terrain mountain bikes. These will be sold at $1.00 over invoice price when you purchase a second mountain bike.
The first 100 customers to visit our store on Friday will receive a complimentary bag of health care products valued at $100.00.
To show appreciation to our valued customers, we are offering an unprecedented 30% discount on all garden tools and motorized equipment. This discount is good only through May, so act now.
As one of our valued customers, you are to be complimented on driving one of the finest automobiles money can buy. In recognition of our anniversary, we are offering free state inspection service to all our loyal customers. Please call for an appointment between now and June 30 to take advantage of this offer.
Phrases
a complimentary
a free gift
a tour of the
as a token of our appreciation
as one of our loyal customers
as one of our valued customers
convey our heartfelt thanks
deep discounts on all
first 100 customers
free refreshments will be
in honor of this event
in recognition of our
please stop by for
products valued at
special shipment of
that we have in stock
the open house will feature
throughout our anniversary week
to take advantage of this offer
to celebrate this event
to visit our store between
are offering
while supplies last
will host an open house
will receive a
will be served to all
would like to offer you a
are invited to
4

. Close with a positive statement such as thanks for support or a statement about the future.
Sentences
Thank you for making our first 25 years such a success! We will look forward to seeing you at our celebration.
Again, we appreciate your loyalty to Doe's! We look forward to serving you in the future.
We hope to see you at the open house, and I look forward to our continued association as Chamber members.
We appreciate the loyalty of our customers. As we continue to grow, we want you to know that one thing will never change: our commitment to Grandpa Doe's old-fashioned values.
We look forward to celebrating our stellar year with you.
Phrases
a big thanks for
as growth continues
continue to offer you the best service
continue to serve your needs
continued association with
continuing to serve you
convey our heartfelt thanks
have appreciated your business
hope to see you soon
keep your needs in mind
keep listening to your needs
look forward to
one thing will never change
ongoing commitment to
our association means a great deal to us
our main concern will always be
pledge to you our continued and best service
sincerely appreciate your loyalty
thank you for making our first years a success
thank you for your patronage
the service you have come to expect
very kind regards and best wishes
Related Articles
Related Resources
Still can't find the right words for your announcement letter?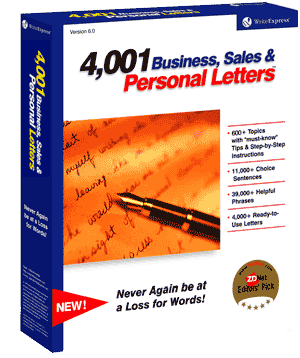 You will with our 500 letter-writing tutorials!
Find the announcement letter that fits your needs and copy it directly into Microsoft Word or your favorite word processor.
Or let our 500 letter-writing tutorials guide you step-by-step through the writing process, suggesting sample phrases and sentences for each writing step. In minutes, you can write an effective announcement letter.
Print your announcement letter and send it!