Tips
The information in this announcement should be clear and concise so the reader can get the information quickly and be able to refer to it easily.
Steps
1

. State what kind of training will be offered, for whom, the day, date, time, and location (if necessary), and indicate whether the training is voluntary or mandatory.
Sentences
We will hold a mandatory training session on emergency procedures for all new employees Wednesday, May 15, in the small auditorium.
We will hold a training session on the use of the new word processing software each Monday morning at 9:00 a.m. in the new computer room. This is an opportunity for you to improve your computer skills.
John Doe, the top field representative in the company, will hold a special training session for area representatives on Friday, March 13, at noon in the executive lounge. We expect all representatives who are in town to attend.
If you could use a refresher course on business writing, please come to room 23 on Monday, April 30, from 9:00 a.m. until noon when John Doe from the Business Department of the Community College will be giving a very informative lecture.
Our accounting department is offering a special course on individual tax preparation next Friday, February 1, in Room 45.<br />Mark this date on your calendar and give John a call. Seating is limited to the first thirty people.
Phrases
a short course in
a training session on
a refresher course in
a mandatory training session
a very informative lecture
are invited to attend
attendance is mandatory
course will highlight
expect all to attend
give you an overview of
have scheduled a meeting for
offering a special course on
on the use of
on how to use our new
on emergency procedures
opportunity for you to
plan to attend
plan to join us for
required to attend a
session will be repeated on
sign up for
to answer your questions
to explain the features of
to attend a workshop on
to be in attendance
training department has prepared
will hold the training for
will hold a special training session
will limit the numbers to
will be on hand to
2

. Explain what the training will consist of and how it can benefit participants.
Sentences
Several computers will be set up for your use, and John Doe will teach us the basics of the word processing program that we expect all offices to implement. If you are unable to attend, please contact your division supervisor.
Since we live in an area that has a history of earthquakes, it is imperative that we all understand how to respond in such an event, and that we also learn how to function in other kinds of emergencies. Some of the local civil defense personnel will be here to explain how we fit into the emergency preparedness plan.
John will take us step-by-step through the sales procedures that have proved so successful in his latest campaign. Those who have attended his workshops and followed his suggestions have reported significant increases in their sales volume. We hope you will too.
With so many new tax laws, we felt it would be a service to our employees to provide some professional tax help before they file their returns this year. A tax accountant will explain the new laws and will be on hand to answer your specific questions.
Phrases
a service to our employees
benefit from his insights into
better equipped to deal with
changing over to this new system of
entertaining audio-visual presentation
entertaining as well as informative
expect all departments to implement
have proved so successful
it is important that we
not be repeated this year
previous participants have reported
take us step-by-step through
the wave of the future
understand how to respond
will receive useful
will learn the correct procedure for
will lead to
will teach us the basics of
will explain how
will be set up for your use
will learn how to
will be on hand to
3

. Indicate whether participants need to prepare for the training in any special way.
Sentences
Please bring your personnel directories and be prepared to take notes.
All training materials will be provided, but you may wish to familiarize yourself with the program in the lounge before class.
Please bring your account profiles and be prepared to explain them to the group.
It will not be necessary for to you to bring materials other than a pencil and paper.
Bring your best smile and a positive attitude.
Phrases
all participants should
be prepared to
be sure to bring your
bring along your
can be checked out from
complete and return the enclosed
familiarize yourself with
has requested that we
indicate the date you prefer
not be necessary to bring
please read through
please bring your
prerequisites for the seminar include
read through the
will extend after normal hours
will receive reference materials on
will cover all costs
will provide lunch
will need a sack lunch
will provide materials
Related Articles
Related Resources
Still can't find the right words for your announcement letter?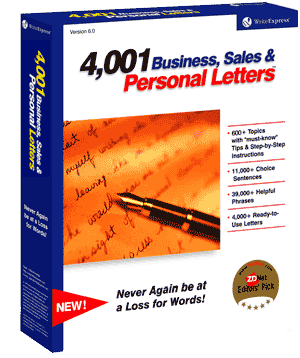 You will with our 500 letter-writing tutorials!
Find the announcement letter that fits your needs and copy it directly into Microsoft Word or your favorite word processor.
Or let our 500 letter-writing tutorials guide you step-by-step through the writing process, suggesting sample phrases and sentences for each writing step. In minutes, you can write an effective announcement letter.
Print your announcement letter and send it!