Tips
Give enough information for the recipient to gain a clear understanding of what you need, but keep your letter fairly short. Ask for an explanation of anything you don't understand. You will probably receive the appropriate forms or brochures in response to this letter.
Steps
1

. Explain what you want to do or achieve. It is often a good idea to mention the name of the university.
Sentences
I am interested in attending Springfield University to work towards a Bachelor's degree in plant genetics.
I would like to attend Springfield University to do graduate work in Technology Management.
I want to obtain a degree in Political Science from Springfield University.
I have been informed that you offer an intensive 18-month MBA program, and would like to apply for admission.
I need to improve my English skills before I can attend Springfield University, and believe that you offer an eight-week class to prepare for the TOEFL.
I wish to spend a year working in a state-of-the-art Pediatric Intensive Care Unit, so that I can use this experience in my own country. Can you help me?
I want to apply to become an exchange student.
I believe that your company offers internships to foreign Computer Science graduates, and would like to be considered for one of these internships.
In response to your advertisement in my local newspaper, I would like to apply to attend your Hotel Management School.
I would like to be considered for the internship program for foreign Computer Science graduates that was announced in the November 1 Chronicle.
Phrases
after seeing your brochure
am most interested in
am interested in
am informed that
apply for
become involved in
do graduate work in
for admission to
gain on-the-job experience in
have the opportunity to
improve my skills in
in response to
is my intention to
is my wish to
join your
obtain a degree in
participate in
pursuing a degree in
request your consideration
spend time working in
study in the field of
that was announced in
want to apply to
wish to improve my
wish to apply for
work towards the degree of
would like to attend
would like to be considered for
your advertisement in
2

. Briefly describe your reasons for wanting the work or study experience, and/or your qualifications.
Sentences
I will complete high school in November, and want to work in the field of agriculture. I have heard about the genetic engineering work being done by your department, and would like to study with you.
I believe you have a Master's Degree program in this area. I graduated from the University of Kansas two years ago with a B.S. degree in Electronic Engineering Technology and would now like to study further.
I have a Bachelor's degree with two majors, in Economics and Spanish, and would now like to improve my English with a view to teaching English as a second language.
I have taught the equivalent of fourth grade for the past ten years and would like to certify as an elementary school teacher in Kansas so that I can seek employment there.
I speak English, French and Japanese fluently.
Fifteen years ago I spent three very happy months in Kansas as an exchange student, and have always wanted to return there.
My degree is in software engineering, but I would like to improve my hardware skills.
I am friendly and outgoing, with excellent grades, and am eager to spend time in the United States to learn about your language and culture and to share a little of mine.
Your program is known throughout the world as one of the best, and I would like to study at such a renowned institution.
Phrases
am eager to
am interested in
eventually would like to
have heard a great deal about
have always wanted to
interests lie in
is my intention to
is known throughout the
much praise for
on the cutting edge of
such a renowned
the excellent reputation of
the finest program in
to gain further experience in
to learn more about
to seek employment as
want to work in
was recommended by
will complete my
wish to expand into
with a view to
would like to study further
3

. Make your request.
Sentences
Please send me application forms, along with information on financial aid and any other information that you think may help me.
Please send me the necessary materials so that I can apply for admission into your program.
I would appreciate your sending me an information packet.
Can you send me more information about your program? I would especially like to receive information about tuition costs and admission deadlines.
Please tell me how to apply for admission.
Please send me information about your MBA program.
Would it be possible for you to send me more information about your Technology program? I would prefer to start next fall, if that is possible.
Please send me the free information packet mentioned in your ad.
I would be most grateful if you would send me further information.
What do I need to do in order to qualify for this program?
Please include the application deadlines for the internship program.
Please include information on any scholarships available to foreign graduate students.
Please also indicate whether your company assists interns with travel or living expenses.
Phrases
about financial aid
about your graduate program in
about application deadlines
an admissions packet
an information packet
application forms for
as described in your advertisement
as soon as possible
at your earliest convenience
could you send me
in order to
including information about
information about
let me know how
on financial requirements
on employment opportunities
on financial aid
please include information on
please send me
so that I can apply for
tell me how to
the necessary information
the information packet
to apply for admission
to qualify for
what I need to do
whether financial assistance is available
would appreciate your sending me
would be grateful if you would
4

. Make it easy for the recipient to contact you or send you information. In addition to your mailing address, give your e-mail address and phone and FAX numbers, if you have them. Universities, colleges and large companies will almost always send free information packets to describe their programs. It is sometimes appropriate to offer to pay for this service.
Sentences
My address is: 1600 Main Street, Springfield, Kansas 12345
You can reach me by e-mail at HDoe@xyz.edu.
I will be happy to cover any postage or printing costs.
I will be happy to pay airmail postage, in order to receive the material as quickly as possible.
As requested, I am enclosing a self-addressed envelope. I could not affix stamps, as I live outside the USA, but have also enclosed two international postal coupons. If this is not sufficient, I will gladly pay any additional costs.
You can reach me at the above address, or as follows:<br />Phone: 555-5555<br />Fax: 555-5555<br />E-mail: HDoe@xyz.edu
Phrases
am willing to
as requested in your
as soon as possible
at the above address
can reach me at
cover any costs
e-mail address is
have enclosed a
international postal coupons
look forward to receiving
mailing address is
postage or printing costs
send it care of
will be happy to cover
will gladly pay
Related Articles
Related Resources
Still can't find the right words for your application letter?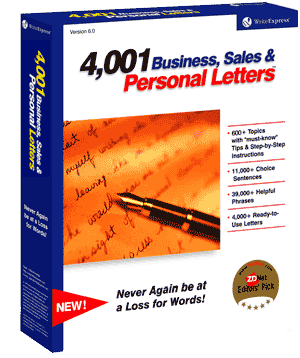 You will with our 500 letter-writing tutorials!
Find the application letter that fits your needs and copy it directly into Microsoft Word or your favorite word processor.
Or let our 500 letter-writing tutorials guide you step-by-step through the writing process, suggesting sample phrases and sentences for each writing step. In minutes, you can write an effective application letter.
Print your application letter and send it!