Tips
Immigration and visa laws vary from country to country, and requirements tend to be both strict and precise. If possible, acquaint yourself with the regulations of the country in which you wish to work before applying for employment.
Steps
1

. Explain what you wish to do or achieve. If possible, mention specific employment-related goals, not simply your desire to work in a foreign country.
Sentences
I have been most impressed by the work your company is doing with the use of neural networks in industrial process control, and would like to spend a year working with you.
As we work towards modernizing our Springfield agricultural practices, I have become aware of how much I have to learn. Would it be possible for me to work with you for a year, so that I can gain firsthand experience with up-to-date wheat farming techniques?
In response to your advertisement for educators willing to work in Springfield for a two-year period, I am both qualified and interested.
With the current shortage of trained construction workers in your area, I wonder if you can use an expert roofer? I would be pleased to come work in your country for up to two years.
I am a registered dietician with four years of hospital-based experience, and will be living in Centerville for at least the next eighteen months while my husband is pursuing a graduate degree. I have a special interest in children's nutrition, and would like to work at Centerville Children's Hospital. I anticipate no difficulty in acquiring the appropriate visa.
I have been working my way around the world for the past two years and would like to spend the next four months living and working in Edinburgh. Do you have an opening for a cashier?
I have always wanted to spend time in Sweden, and wonder if your agency could send me information about working there as an au pair or nanny?
Your ad for English-speaking summer camp counselors in the January 14 Springfield Chronicle sounds exactly like what I am looking for. I would thoroughly enjoy spending next summer working with French teenagers, helping with both outdoor activities and English classes.
Phrases
a great opportunity to
am aware that there is a need for
have an abiding interest in
have a special interest in
have a strong desire to
have always been interested in
opportunity to serve
tailor-made for me
gain firsthand experience
spend a year or to
use my education in this fashion
be a part of
spend a few months
spend some time
gain on-the-job experience in
apply my skills and training
use my skills in
with the current shortage of
would be delighted to participate in
would like to
would enjoy the experience
would be pleased to
would thoroughly enjoy
2

. Point out your qualifications for the job.
Sentences
I have a degree in Computer Engineering from the University of Kansas and would like to pursue a Master's Degree in the future. In the meantime, I am eager to learn all I can about the practical applications of neural networks, and would be delighted to work for a company as widely respected as yours is.
I have worked on my family's farm since early childhood and have served on a state agricultural task force for the past eighteen months. I am not afraid of hard work, and am both eager and quick to learn.
I have Kansas State certification for teaching junior high school math and science, and have done so for the past thirteen years. I have also spent hundreds of hours teaching English as a second language to both adults and children on a volunteer basis. I enjoy most sports and have swum competitively and coached soccer teams in our city-wide league.
I spent six years working for Doe Roofing Company and then ran my own roofing business, with four employees, for the next four years. I would be most interested in working in your country for a time.
I received my degree from Springfield University and am well acquainted with the cuisine of China, Vietnam, and Indonesia, as well as western favorites. I believe that I could be an asset to your dietetics department in planning attractive and nutritional meals to tempt the generally poor appetites of sick children.
I have had considerable experience in both checking and customer service, and would need little or no training.
I graduated from high school eighteen months ago, and have worked in a day care center since then. I am hardworking and good with children, and have a good driving record.
I am presently working on a degree in Recreation Management. I enjoy hiking and camping in my free time and participate in many different sports. I also took four years of French in high school, which may prove useful in an emergency, although I understand that the purpose of the program is to improve the student's conversational English, and not my French!
Phrases
am qualified to
am a journeyman
am a certified
am well acquainted with
am eager to learn
am an experienced
clean driving record
completed my apprenticeship in
ever since completing
hardworking and responsible
have served on
have an associate degree in
have had considerable experience in
have had four years of experience
have a bachelor's degree in
on a volunteer basis
received on-the-job training
was responsible for
was trained by
worked for
would need little if any training
3

. Refer to your enclosed resume or a single letter of recommendation or reference. Limit your resume to a single sheet of paper. Do not include copies of certificates or diplomas unless these have been specifically requested.
Sentences
I have enclosed my resume, which summarizes my experience and qualifications.
Please refer to the enclosed resume for further details.
As you will see from my resume, I have had wide experience in working with teenagers.
I am enclosing a copy of my resume.
The details of my work experience are listed on the enclosed resume.
I have enclosed a letter of recommendation from my last employer.
I spent my last two summer vacations working for Doe Corporation, and have enclosed a copy of the reference letter Mr. John Doe wrote for me.
I will be happy to provide letters of reference and college records or transcripts on request.
Phrases
a copy of my resume
are listed on the enclosed
as you will see from
for further information
for details of my
for a complete list of
have provided details of my
have enclosed my resume
if you would like to see
letter of recommendation
letters of reference
please find my resume
qualifications and experience
refer to the enclosed
to provide further information
to send you my
which summarizes my
will be pleased to
will be happy to
wrote the enclosed letter of recommendation
4

. Make it easy for the reader to contact you or send you information. Give your e-mail address if you have one, as well as your mailing address. If possible, give phone and FAX numbers. Many large businesses will send a free information packet, but you could offer to pay any expenses if it seems appropriate.
Sentences
I will call you in about two weeks to check if you have a suitable vacancy.
My address is: 1600 Main Street, Springfield, Kansas 12345
You can reach me by e-mail at HDoe@xyz.edu.
I am enclosing a self-addressed, stamped envelope, and would appreciate hearing from you soon.
You can reach me at the above address, or as follows:<br />Phone: 555-5555<br />Fax: 555-5555<br />E-mail: HDoe@xyz.edu
I look forward to hearing from you.
I will be traveling through Centerville at the end of the month and will call you then, but if you would like to contact me in the meantime, please leave a message at 555-5555.
Phrases
at the above address
can reach me at
can leave a message for me at
e-mail address is
for your consideration
for taking the time to
have enclosed a
look forward to
mailing address is
please leave a message at
thank you for
to your response
to hearing from you
would appreciate hearing from you
Related Articles
Related Resources
Still can't find the right words for your application letter?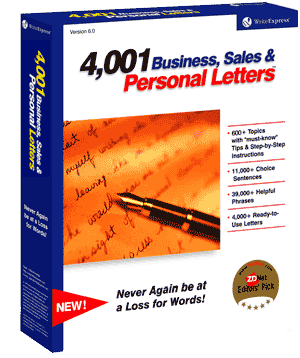 You will with our 500 letter-writing tutorials!
Find the application letter that fits your needs and copy it directly into Microsoft Word or your favorite word processor.
Or let our 500 letter-writing tutorials guide you step-by-step through the writing process, suggesting sample phrases and sentences for each writing step. In minutes, you can write an effective application letter.
Print your application letter and send it!