Tips
You may wish to check with the educational institution, prospective employer, or agency to find out whether they will assist you in obtaining a visa. Work through the consulate or embassy in your own country before writing overseas. Explain your intentions briefly but clearly, and if you have received an offer of employment, say so.
Steps
1

. Explain what you wish to do or achieve. If family members intend to accompany you, explain your situation.
Sentences
I wish to spend a few months traveling in Kansas and intend to apply for temporary employment while there.
I have been offered a job by Doe Corporation and wish to obtain a visa to work in Kansas for 18 months.
I need a visa that will allow me to work in Kansas for 6 months.
I need a student visa so that I can complete a doctoral degree at Springfield University.
I intend to pursue post-graduate studies at the University of Springfield and need the appropriate visa.
I will be participating in an international internship program and need information on how to apply for the necessary visas.
My wife has been accepted for admission to Springfield University, which is organizing the paperwork for her visa. I would, however, like to be able to work while we are living in Springfield, if it is possible to arrange this.
Phrases
am in the process of arranging
am preparing to
am in a position to
for permission to
for temporary employment
for a work permit
for an appropriate visa
have been offered
have the opportunity to
have the intention of
how to apply for
how to obtain
in order to complete
is my intention to
need information about
need to arrange for
the necessary visas
the opportunity to
to allow me to
to spend a few
to apply for
to be able to
to work for a while in
will be participating in
would like to
2

. Ask for the information or application forms you need and give your mailing address. Government agencies are unlikely to send a FAX or make a long-distance call under normal circumstances.
Sentences
Please let me know what I need to do in order to receive a work permit, and send me the necessary papers. My mailing address is 1600 Main Street, Springfield, Kansas 12345.
Please advise me how to acquire the appropriate visa. I would very much appreciate your sending the information to my address below.
I would appreciate your sending me the necessary forms and information.
I need to know how to proceed in order to arrange this. Would you please send information and forms to me as soon as possible?
Please send the information to:
I would appreciate receiving information and advice on the best way to accomplish this.
It would help me greatly if you would send the information to me at the above address.
Phrases
advise me how to
along with instructions as to
as soon as possible
at the above address
forms and information
how I should proceed
in order to
mailing address is
need information about
please let me know
receiving information and advice
send it care of
send me the necessary
send the information to
the best way to accomplish
what do I need to do
what to do next
would very much appreciate
your timely response
your sending this information
your sending me the
3

. Close with an expression of thanks or anticipation.
Sentences
Thank you for your help.
Thank you.
I look forward to hearing from you.
I will greatly appreciate any assistance you can give me.
Thanks for your assistance.
Thank you for any help you can give me.
I would appreciate your help in expediting this matter.
I will be grateful if you can send this as soon as possible.
Phrases
any help you can give
any advice you can offer
as soon as possible
at your earliest convenience
for your assistance
for your help
for your cooperation
in expediting this matter
in organizing this
look forward to
many thanks for
thank you for
to being able to proceed with
to hear from you
will be grateful
will appreciate
will greatly appreciate
would appreciate
Related Articles
Related Resources
Still can't find the right words for your application letter?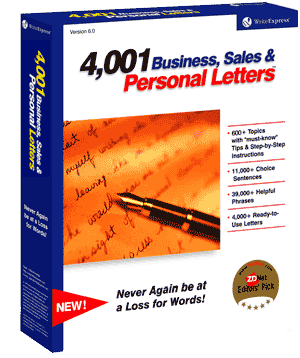 You will with our 500 letter-writing tutorials!
Find the application letter that fits your needs and copy it directly into Microsoft Word or your favorite word processor.
Or let our 500 letter-writing tutorials guide you step-by-step through the writing process, suggesting sample phrases and sentences for each writing step. In minutes, you can write an effective application letter.
Print your application letter and send it!