Tips
This letter may be friendly or formal, but should state the details of the transaction, including the amount, the interest to be paid, and the repayment requirements. Remember that the law treats consumer and commercial credit differently. Make sure any credit approval complies with applicable state and federal laws. Consumer credit, in particular, requires a variety of disclosures that are beyond the scope of this program. In cases where such disclosures are required, the letter you write would be only a cover letter discussing the general terms of the loan and referring to attached disclosure forms.
Steps
1

. Inform the reader that the loan has been approved.
Sentences
We are happy to grant you the automobile loan you applied for on June 4.
Your loan has been approved subject to the terms on the disclosure form.
I am pleased to inform you that your loan application has been approved.
Your application for a loan has been approved on the following terms:
It will be a pleasure to lend you the money you requested, and I have enclosed a check for $4,444.00.
I am glad to be able to respond favorably, and enclose a check for the amount you requested.
Phrases
am pleased to grant you
am pleased to inform you
am willing to lend you
are able to lend you
enclosed is a check for
funds will be available to you on
has been approved
have approved your loan
loan has been approved
money you requested
on execution of a
the loan you applied for
want to let you know
will be a pleasure to
will be happy to lend you
wish to notify you
your loan application
your loan has been approved
your application for a loan
2

. Discuss repayment terms.
Sentences
As we discussed, the term of the loan will be eighteen months, with the first monthly payment of $444 due on February 1. The annual interest rate on the unpaid balance will be 12%.
Come in soon to complete the paperwork, and we will transfer the $15,000 directly into your account. The monthly payment will be $330, with an annual interest rate of 12%. The term of the loan is five years.
The term will be 60 days, and we will charge 3% interest with full payment due on or before April 30.
The funds will be available at 11% interest per annum upon your execution of a loan document.
The term will be 60 months, with interest accruing at 18% per annum.
Interest at a rate of 16% per annum will be paid annually before October 1 each year. The balance will be due upon the maturity of the note, October 31, 2009.
It would be great if you could start paying me back in June, but if that is not possible, please call to work out another arrangement.
I find the repayment terms you suggested quite acceptable.
Phrases
according to the terms set forth
APR will be
at an annual interest rate of
balance will be due on
first payment is due on
funds will be available on
interest at a rate of
it's okay to pay
on the application form
payment will be due on
repayment period will be
repayment terms will be
start paying me back
subject to the terms of
unpaid balance will accrue interest at a rate of
will repay me by
will be compounded monthly
will transfer the amount directly into your account
with interest accruing at
3

. Offer assistance or a friendly comment, if you wish.
Sentences
Please call me if you have any questions.
We are happy to work with you on this project.
We are pleased to help supply the financial needs of our community.
If I can be of any further assistance, please call me at the bank.
You have always been willing to help me when I needed it, and I am glad to be able to give you a hand now.
Phrases
always happy to
am happy to work with you
am happy to be able to
are pleased that you chose us
glad to be able to
have always been willing to help
have always been there for me
have always considered you
if I can be of further assistance
if you have any questions
my turn to help you
please call me
please keep me up-to-date on the progress of
to assist you in this matter
to give you a hand now
to supply the financial needs of
to help with such a worthwhile project
when I needed help
wish you all the best
wish you the best of luck
Related Articles
Related Resources
Still can't find the right words for your approval letter?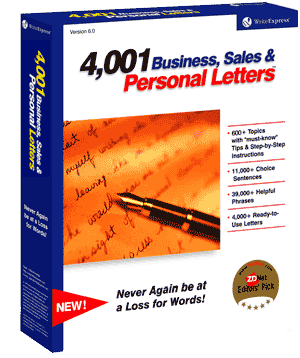 You will with our 500 letter-writing tutorials!
Find the approval letter that fits your needs and copy it directly into Microsoft Word or your favorite word processor.
Or let our 500 letter-writing tutorials guide you step-by-step through the writing process, suggesting sample phrases and sentences for each writing step. In minutes, you can write an effective approval letter.
Print your approval letter and send it!