Tips
Be thorough, but concise. Lists are often helpful. Include any affidavits or permits needed, so work can begin as soon as possible.
Steps
1

. Authorize the reader to do the job. Include all necessary details.
Sentences
Congratulations! We are awarding your company the contract to build our new facility in Springfield. We anticipate that the project will take eighteen months to complete. We authorize the following:<br /> 1. Building the new plant, including subcontracting<br /> 2. Providing finish work and cleanup
The board of directors has authorized funding to proceed with your remodeling project. The stipulations are as follows:<br /> 1. that you finish the project at a cost not exceeding $300,000<br /> 2. that you obtain the necessary permits<br /> 3. that you complete the project no later than March 17 of next year
I would like you to install a security system at my home. I agree to your advertised hourly rate and would like you to begin the project no later than April 23, and finish by May 15.
I authorize you to work full time on creating an on-line demonstration and tutorial for our product line. We would like you to begin this project immediately and have it finished by August 12, in time for the Trade Show in Springfield September 5.
I would like to commission a mural with a Southwestern motif for my restaurant. Although we are still in the construction phase, the area for the mural is complete. You can begin work on it immediately. We plan to open no later than November 1.
Phrases
accept your bid
accept your estimate and agree to the terms
agree to pay the fees you listed
agreement includes the payment of
anticipate that the project will take
are only provisional estimates
are authorized to proceed with
authorize you to
award your company the job
award the subcontract to
based upon the written estimate
can begin work
commission you to
company is awarded the contract to
contract includes but is not limited to
following terms apply
grant permission to
has authorized me to offer
have it completed by
have it finished by
includes the following features
letter constitutes authorization to
letter authorizes your company to
may begin work immediately
personnel will accept direction from
please sign the
please respond by
please proceed as planned
the following payment terms
the following conditions apply
will provide all necessary permits and licenses
will provide you with
would like you to
2

. Describe any enclosures.
Sentences
We have used your bidding figures to project costs and anticipated payments and have included a breakdown of each with this letter.
I have included a list of features I require and a list of products I want installed.
I am enclosing a written statement of authorization and copies of the city, county, and state permits. I have also included the name of a distributor for the electronic equipment. We have worked with this company before and value their service. We recommend ordering equipment through them, but feel free to use any distributor in which you have confidence.
I have included schematic drawings of the store and a final list of materials.
Enclosed is your copy of the contract, diskettes for the product, and a company phone list. Please feel free to contact me or my operations manager to answer any questions regarding software.
Phrases
a provisional estimate of
a final list of
according to the terms on the enclosed
am enclosing a
enclosed is a copy of
enclosed are official statements of authorization from
have enclosed your copy of
have included a
have included a list of
here are the documents you requested
in the enclosed contract
included is a breakdown of the costs
included is a list of
necessary permits are attached
note the marked provisions
note the enclosed list of
please sign the enclosed
please find enclosed a
the conditions on the attached document apply
the enclosed contract
will need the following materials
3

. Ask the reader to reply to your letter and close on a positive note.
Sentences
Please sign this letter in the space provided and return the signed copy to our office. We look forward to working with you.
When you have reviewed the contents of this package, please respond by sending a fax to inform us whether you agree to the terms. We hope to hear from you soon.
I would appreciate hearing from you after you have reviewed the material I've included. Please call me.
Please review the schedules and tell us when we can get together to discuss the project in greater detail. Thank you again for your cooperation.
After you have decided how you would like to proceed, please give me a call so we can work out the details.
Phrases
appreciate your cooperation
arrange a time for us to meet
call so we can work out the details
decide how you would like to proceed
feel free to contact
hope to hear from you soon
if you will comply with these terms
if you agree to the terms
if any problems arise
if you have questions
if you are willing to
in the event of an emergency
let us know
look forward to working with you
please read this contract carefully and respond by
please sign and return
please return the original to
please sign this letter in the space provided
please respond as soon as possible
please respond before
provide copies of
time is of the essence
Related Articles
Related Resources
Still can't find the right words for your authorization letter?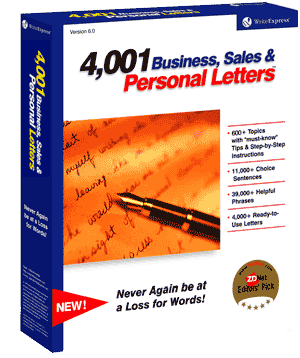 You will with our 500 letter-writing tutorials!
Find the authorization letter that fits your needs and copy it directly into Microsoft Word or your favorite word processor.
Or let our 500 letter-writing tutorials guide you step-by-step through the writing process, suggesting sample phrases and sentences for each writing step. In minutes, you can write an effective authorization letter.
Print your authorization letter and send it!