Tips
Do not give a lengthy explanation. Because canceling your account will cost the provider business, maintain a respectful tone. You may have future dealings with the same company.
Steps
1

. Tell the reader why you are canceling your account with them.
Sentences
Because we are moving our offices to Springfield, and we would like to work with a local distributor, we have decided to close our account with your company.
Because of recent budget changes, we have decided to cancel our account with you.
In my last correspondence I indicated that if deliveries continued to be late, we would have to terminate our account. I am sorry to report that the problems persist, and have caused a loss of clients. We cannot continue this way, so we are closing our account.
In order to simplify my financial affairs, I have decided to close my credit account with you.
Due to our corporation's changing needs, we have decided to cancel our account.
Phrases
business will be on a cash basis
cancel our credit account
company's changing needs
continuing problems with
decided to close our account with
forced to cut off lines of credit to many of our
general economic situation dictates that we
have not used our account for
have been obliged to simplify
moving our offices to
no longer require credit
obliged to terminate your
please understand that we value your business
recent budget changes
regret that we have to terminate your
simplify my financial affairs
sound financial footing
terminate our credit arrangement
this will be effective on
too many credit lines
until further notice
will no longer honor charges on
effective immediately
would prefer to work with a local
2

. State how you would like to pay off your account. If necessary, ask for verification of your final balance.
Sentences
According to my calculations, I still owe you $894.46. I have included a check for this amount. If your records do not agree, please send me an itemized statement.
Please calculate the balance remaining on our account and send it to our new address at 1600 Main Street in Springfield.
We have calculated our final balance as $3,672.28. We will pay as soon as we receive verification of this amount. If you wish, you may call and give the information to John Doe in our main office.
According to my last bill, I owe you $962.73. Since that billing I have charged an additional $236.09. I have enclosed a check for the amount of $1,198.82, which should cover the total that I owe you. If I owe any more on my account, please notify me immediately.
I believe my last payment covered the remaining balance. If I still owe anything, please send me the bill.
Phrases
according to my last statement
according to my calculations
advise me of total amount due
as of today's date
balance is overdue
calculate the balance remaining
have charged an additional
have calculated the final balance as
have destroyed my credit cards
have included a check for
how you will pay off the balance due
still owe you
please notify me of the final balance
please contact us to determine
please calculate the final balance
send it to our new address at
should cover the amount we owe
when we receive verification of this amount
will settle the final statement
will pay you promptly
your outstanding balance is
3

. Close the letter on a respectful note.
Sentences
I have valued your service over the past nine years.
We have enjoyed doing business with you.
Perhaps we will be able to open another account with you in the future.
We would appreciate your prompt attention to this matter and thank you for your services.
Thank you for providing me with such excellent service.
We wish you continued success.
Phrases
after we have completed our reorganization
always appreciated your service
enjoyed doing business with you
have valued your service
hope this setback is temporary
hope to do business again soon
hope that we can work with you again soon
if you feel that this is an error
our best wishes for the future
providing such excellent service
regret having to take this action
sympathize with your recent setbacks
thank you for your prompt attention
trust that this situation will be temporary
wish you continued success
would appreciate your prompt attention to this matter
Related Articles
Related Resources
Still can't find the right words for your cancellation letter?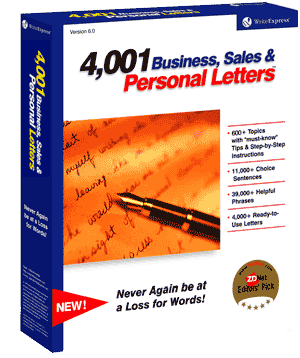 You will with our 500 letter-writing tutorials!
Find the cancellation letter that fits your needs and copy it directly into Microsoft Word or your favorite word processor.
Or let our 500 letter-writing tutorials guide you step-by-step through the writing process, suggesting sample phrases and sentences for each writing step. In minutes, you can write an effective cancellation letter.
Print your cancellation letter and send it!