Tips
Keep in mind that the other party has counted on your participation, so your cancellation will be at least an inconvenience, if not an expense. In this case, offering a reasonable explanation is a courtesy.
Steps
1

. State that you must cancel your reservation and give a reasonable explanation.
Sentences
I regret having to cancel my travel reservations for March 17 to March 30. My company is reevaluating the budget, and all travel privileges have been suspended until further notice.
My organization was planning to use your banquet hall for its awards dinner on Thursday, June 11. We have just been informed, however, that because of financial considerations, we will not be able to hold the event. Regretfully, we must cancel our reservation.
My wife and I have reservations at your hotel for the night of August 21, but because of a change in our schedule we will not be able to keep our reservation.
Because my husband was recently involved in a serious automobile accident, we must cancel our reservations for the St. Thomas cruise departing June 12.
Because of business commitments, I regret that I will be unable to attend your daughter's wedding on June 15.
Phrases
because of a change in our schedule
confirm that we have had to cancel
because of financial considerations
due to business commitments
due to my spouse's sudden illness
due to financial difficulties
has been postponed indefinitely
must cancel our reservations
not be able to keep our reservation
our plans have been put on hold
our situation has changed and
our plans have had to change and
please cancel our reservation for
postponing the conference until
reevaluating the budget
regret that we must cancel our
regret that I will be unable to
request that you cancel our
serious automobile accident
sorry to have to cancel
travel privileges have been suspended
written confirmation of my phone call
2

. Comment on any actions to be taken as a result of the cancellation.
Sentences
My wife is still planning to attend the wedding, so please change our family's reservations from two to one.
According to my records, I have paid $200 beyond my deposit. Please check your records and reimburse me that amount.
Would you please credit my account for the amount of the tickets?
Since I am canceling before the posted deadline, I would appreciate a full refund of my preregistration fee.
Since my cancellation is late, I understand that my refund will be reduced by $10.
Phrases
according to my records
apply deposit to a later date
appreciate it if you would reimburse
appreciate a refund of my fee
because this is due to a medical emergency
before the posted deadline
early enough to merit a refund
expect no refund
had not yet picked up the tickets
had not yet paid the fee
have made payments beyond the deposit
less the processing fee
less the late cancellation fee
my records show that
please credit my account
please return the amount that exceeds the deposit
refund my deposit
return those payments that were beyond the deposit
the size of the group has been reduced to
tickets are enclosed
understand that the deposit is transferable
understand that the deposit is not refundable
understand that our deposit is partly refundable
3

. End on a positive note.
Sentences
Thank you for all the trouble you went through to make the arrangements. Next time we travel, we will certainly keep your agency in mind.
Again, I am very sorry for any inconvenience I may have caused. If you have any questions, please feel free to call me.
Please give your son my best and tell him I am very sorry that my family cannot be at his graduation.
You have been very helpful. When we do plan our cruise, we will think of you first.
We appreciate your willingness to work with us. The next time we need accommodations, we will definitely consider your hotel.
Phrases
appreciate the effort you put into our
are very disappointed that we cannot
had looked forward to this
have always enjoyed your
have appreciated your professional approach to
have been very impressed by your
hope to reschedule the
hope to proceed with our plans in the future
please feel free to call if necessary
regret the inconvenience
relieved to know that you have a waiting list
sorry for any inconvenience
thank you for all your trouble
trust that this is only a postponement
trust that we will be able to reschedule
will recommend your service to
will think of you first
working with you has been a pleasure
you have been very helpful
your willingness to work with us
your staff has been
Related Articles
Related Resources
Still can't find the right words for your cancellation letter?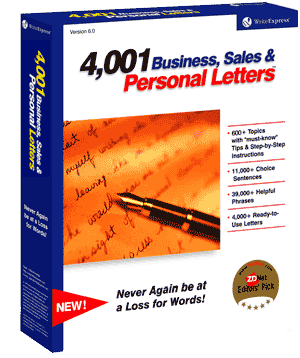 You will with our 500 letter-writing tutorials!
Find the cancellation letter that fits your needs and copy it directly into Microsoft Word or your favorite word processor.
Or let our 500 letter-writing tutorials guide you step-by-step through the writing process, suggesting sample phrases and sentences for each writing step. In minutes, you can write an effective cancellation letter.
Print your cancellation letter and send it!