Tips
This letter compliments an employee's family members for their part in the employee's success. It is an excellent way to develop good rapport with those whose support is very important. Mention the employee by name and keep the tone of the letter friendly and informal.
Steps
1

. Mention the employee by name and discuss how much you value him or her.
Sentences
Jane has been a wonderful employee these past five years and has contributed a great deal to our firm, especially in product research. We have greatly benefited from her insights. Not only is she bright, but she works long, productive hours and often gets so involved in her work that she doesn't notice that five o'clock has passed.
Your son John has been a tremendous asset to our company since his first week on the job. He knows how to work well with others and always has excellent suggestions to offer.
As you already know, John is a model employee. I am sure he must succeed not only at work, but in many other areas of life as well.
It seems that Jane comes up with fresh, exciting ideas every day. She arrives at the office each morning full of energy and enthusiasm. We are fortunate to have her work with us.
John is one of the most effective managers we have had at Doe Associates. He has a warm, personable style that motivates workers to do their best.
When John applied for work at Doe Corporation last year, we had no idea he would change the very structure of our organization. We greatly value his contributions.
Phrases
a model employee
a remarkable talent for
am confident that
an exceptional young
an excellent work ethic
are glad to have
can certainly be proud of
feel fortunate to have
has succeeded in
has contributed so much
has been a wonderful
has become a great asset
have benefited a great deal from
have come to value
how much we enjoy
is highly valued
one of our most
will succeed in whatever
works diligently and well
2

. Thank the family member(s) for his or her contribution to the employee's performance.
Sentences
In some of our personal conversations, Jane has told me how she has appreciated the support of her family in her career. We too are grateful.
His ability to empathize with others' concerns reflects well on the kind of environment in which he was reared. Thank you for your part in his success.
We thought you would like to know what a remarkable job he is doing. Thank you for your support.
We know that balancing the demands of family and career is never easy, but it appears that her family is a great support. Thank you for helping her be so productive.
Thank you for helping him give his best.
We know that no one can accomplish what he has without solid support from his family. We thank you.
Phrases
a bright future
an exceptional family
an outstanding future
appreciates the support
are aware of the occasions when
are grateful to you
are the beneficiaries of
being there for
giving us the opportunity
have brought up such a fine
how proud you must be
how much we appreciate
is a reflection
look forward to
makes a significant difference
reflects the values of
solid support from
the support you give
the way you help
Related Resources
Still can't find the right words for your compliment letter?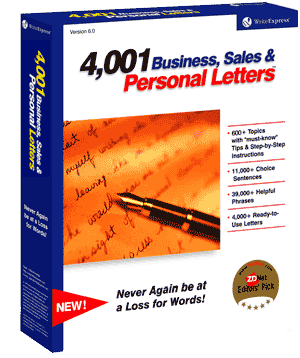 You will with our 500 letter-writing tutorials!
Find the compliment letter that fits your needs and copy it directly into Microsoft Word or your favorite word processor.
Or let our 500 letter-writing tutorials guide you step-by-step through the writing process, suggesting sample phrases and sentences for each writing step. In minutes, you can write an effective compliment letter.
Print your compliment letter and send it!