Tips
A complimentary letter shows support for the issue at hand and encourages more of the same. Your letter should be direct and sincere, without being self-serving.
Steps
1

. Tell the reader that you enjoyed or appreciated his or her work.
Sentences
I read your recent article about unemployment in our community and sincerely appreciated its message.
Your article on business expansion in our area was very enlightening.
I just finished reading your book Doe's Ways and wanted to tell you how much I enjoyed it.
I compliment you on the way you handled that difficult interview with John Doe.
Thank you for the update on white collar crime. It was a sobering report.
I appreciate your covering the Doe merger in your recent telecasts.
I commend you for your excellent report on the homeless in our city.
Phrases
add my praise to
admired the way you dealt with
appreciate your coverage
are to be commended for
commend you for
congratulate you on
excellent series of
for the update on
have long admired your
how disturbed I was
how much I enjoyed
just finished reading
read your recent
sincerely appreciated the message
such an outstanding
want you to know
was a first-rate
was most enlightening
2

. State specifically what you liked about the reader's work.
Sentences
The article clearly showed each side of the issue and raised many questions that most voters have not considered.
The report was well documented, so no one can claim that it was just one person's opinion.
The timing for the article was perfect, and your arguments were compelling.
Your piece was very revealing. I had never heard the issue presented in that light.
Your topics are always interesting and educational. We have especially enjoyed the nature programs. Our entire family sits down each Monday evening to watch them.
Phrases
clear, incisive analysis of
clearly showed both sides
complete and accurate
easy to understand
excellent background information
expertly researched and written
explained so clearly
helped me to see more clearly
intelligent and articulate
most refreshing
raised some important questions
seeing different points of view
seem to have a gift for
such a clear depiction of
such a concise explanation
the skill with which you
this vitally important topic
was well documented
was most thought-provoking
will surely be of great value
3

. Close by thanking the writer for his or her work.
Sentences
Thank you for making me aware of such an important issue.
I appreciate your insights.
Thank you for adding local interest stories to the evening news.
I am grateful that we have such a strong voice in the media, someone who does not hesitate to speak her mind on the importance of the family.
Reports like yours help support the efforts of small businesses like mine. Thank you.
Thank you for your weekly column. I look forward to it every Sunday.
You deserve thanks for your commitment to bringing the public such vital information.
Phrases
am grateful for
best wishes for
congratulations
for a job well done
for speaking your mind
for having the courage
for making me aware
for your insights
hope you will continue to
how much I appreciate
keep up the good work
keeping us informed
look forward to
raising public awareness
seeing more of your work
thank you for
your skill and effort
your professional approach
your further success
Related Resources
Still can't find the right words for your compliment letter?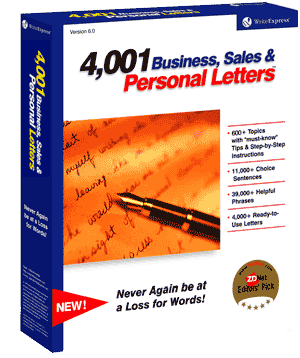 You will with our 500 letter-writing tutorials!
Find the compliment letter that fits your needs and copy it directly into Microsoft Word or your favorite word processor.
Or let our 500 letter-writing tutorials guide you step-by-step through the writing process, suggesting sample phrases and sentences for each writing step. In minutes, you can write an effective compliment letter.
Print your compliment letter and send it!