Tips
This letter is written confirmation of something with which your reader is already familiar. Provide only minimal instructions and information.
Steps
1

. Confirm the transfer, promotion, or relocation.
Sentences
Your transfer from Research and Development to Marketing has been approved and confirmed.
This letter is to confirm your promotion to assistant manager.
Your relocation to Springfield has been confirmed.
This letter is to confirm our conversation of July 3, in which we decided that you would relocate to our Springfield office.
This letter is to confirm your promotion to station chief, as well as to confirm your transfer to our office in Springfield.
Phrases
appreciate your willingness to
are pleased to confirm
as was mentioned
as we discussed
extend a warm greeting to
extends congratulations on
following up on our
has been approved
has been confirmed
has been promoted to
once again, congratulations on
pleased to have you along
this letter is to confirm
to our office in
to confirm and clarify
to confirm your transfer to
to confirm our conversation
your relocation to
your promotion to
your transfer from
2

. Mention when the change will become effective.
Sentences
Your relocation to our Springfield office becomes effective on July 7.
Your reassignment becomes effective on Monday, April 4.
We expect you to begin work in your new office on July 7.
This change will become effective next Monday, June 6.
The marketing team in Springfield is looking forward to you joining them, starting July 7.
Phrases
are looking forward to
as soon as possible
as soon as you arrive
at the end of
becomes effective on
before the beginning of
by the end of
effective immediately
expected that
join them on
no later than
not until after
preferably before
to be in your new office on
will take effect on
will start on
will have ample time to
will become effective on
with the arrival of
within thirty days
without delay
3

. Mention any other pertinent information or instructions.
Sentences
Congratulations on your promotion.
Be sure to see John in payroll to fill out a new withholding form.
Make sure that you see Jane in Human Services to get a copy of our company's help video on foreign relocations.
Since Jane's old office has become available, feel free to move your things there.
Please see Jane Doe early Monday morning before you start your new assignment. She would like to meet you and has some materials to give you.
Phrases
be sure to see
before you start
can put you in touch with
feel free to
for the necessary training
for orientation on
get in touch with
if you have any questions
make sure that you see
on the particulars
please meet with
please arrange to
please report to
please consult with
set up an appointment with
the enclosed materials
unless we hear otherwise
will give you additional details
will fill you in
will receive training on
will answer any questions you may have
will make an appointment
would like you to meet with her
would like to meet you
Related Articles
Related Resources
Still can't find the right words for your confirmation letter?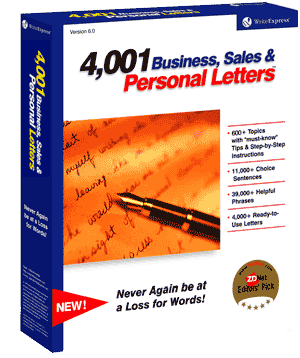 You will with our 500 letter-writing tutorials!
Find the confirmation letter that fits your needs and copy it directly into Microsoft Word or your favorite word processor.
Or let our 500 letter-writing tutorials guide you step-by-step through the writing process, suggesting sample phrases and sentences for each writing step. In minutes, you can write an effective confirmation letter.
Print your confirmation letter and send it!