Tips
This letter confirms the reader's reservation or registration. You should repeat the details of the agreement so your reader can respond to any misunderstandings that may have arisen. Your letter should be brief, positive, and businesslike.
Steps
1

. Provide the confirmation and review the details of the agreement that you worked out in earlier communication. Mention specific dates, times, and prices.
Sentences
This letter is to confirm your reservation at the Springfield Hotel for three suites and four regular rooms on the night of April 1, 2007. The price will be $80 for regular rooms, and $110 for suites.
This letter is to confirm last Friday's telephone reservation for two tickets on the Caribbean Spectacular Cruise. Since you are among the first 200 ticket buyers, the cruise line has authorized us to give you a 20% discount. Your tickets will now be $1,760 each for a total of $3,520. See the enclosed information packet for the details of your departure and itinerary.
This letter is to confirm your preliminary reservation for the 2007 Lincoln County Egg Judgers' Convention. Thank you for joining us!
We received your deposit and are happy to confirm your reservation for one suite at the Springfield Hotel with arrival June 16, and departure June 19.
This letter is to confirm your Council Hall reservation. We will arrange the tables in the manner you requested and will make sure that someone is on the premises at 3:00 p.m. to admit the caterer.
Phrases
are pleased you will join us for
are pleased you will be attending
as agreed in our conversation on
ask that you please read
check-in time is
confirm your reservations at
for the reservation that you made
is my pleasure to
no cancellations after
no refunds will be given after
please feel free to
price per person will be
received your deposit
reservations are in order
see the enclosed information packet
the following details
the price per room will be
time of your departure
to confirm your reservation
will depart at
will arrive at
2

. Mention any minor changes, special instructions, or other information that your reader might need to know.
Sentences
Even though you are officially registered, please check in at the desk to pick up your name tag and conference packet.
Enclosed is a packet of conference materials, a program of the weekend's events, and a receipt for your preregistration fee.
Unfortunately, the Avocado Room is not available, but the Papaya Room is. This room has the same dimensions as the Avocado Room and is typically cooler in August. Unless you inform us otherwise before June 1, we will assume that this arrangement meets with your approval.
To complete your registration, a $50 conference fee is due on April 1. Please make your check payable to the Lincoln County Egg Judgers' Association, and mail it to the Lincoln County Egg Judgers' Association, 1600 Main Street, Springfield, KS, 123456.
In order to ensure that you gain the most benefit possible from the workshop, we suggest that you carefully look over the materials in the enclosed packet before arriving in Springfield.
A continental breakfast will be available in the lobby from 5:00 a.m. to 10:00 a.m.
Check out time is at 12:00 noon.
If you must cancel your reservation, please inform immediately so we can refund part of your payment.
If you need to cancel your registration, you must let us know before April 1 to receive a refund of your preregistration fee.
Phrases
a receipt for
a continental breakfast
a program of the events
are authorized to
call before arriving
carefully look over the
check-out time is
complimentary breakfast served
enclosed is a packet of
fee is due on
free shuttle service to and from
if you must cancel your reservations
in the enclosed packet
must inform us before
no refunds after
please let us know immediately
please check in
please make your check payable to
to complete your registration
will provide a
your preregistration fee
3

. Close with a positive expression.
Sentences
We look forward to serving you at our resort.
Enjoy your cruise!
For further information please call the agency at 555-5555.
We are pleased that you have chosen to stay with us at the Doe Resort. If there is anything else we can do to serve you, please do not hesitate to contact us at our toll free number: 1-800-555-5555.
I look forward to meeting you at the convention in Springfield.
Rest assured we will do everything we can to ensure that your stay is comfortable.
We look forward to serving you.
Thank you again for choosing Doe Suites.
Phrases
are pleased to
are looking forward to
be glad to serve you
call if we can help you
can take care of
do not hesitate to contact
enjoy your stay
enjoy serving you
feel free to call me
for choosing us
happy to be of service to you
having you at our
if you need further information
look forward to
our toll free number is
our pleasure to serve you
rest assured that
thank you for
that you have chosen to
to ensure that your stay is
Related Articles
Related Resources
Still can't find the right words for your confirmation letter?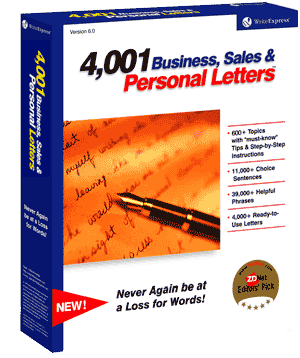 You will with our 500 letter-writing tutorials!
Find the confirmation letter that fits your needs and copy it directly into Microsoft Word or your favorite word processor.
Or let our 500 letter-writing tutorials guide you step-by-step through the writing process, suggesting sample phrases and sentences for each writing step. In minutes, you can write an effective confirmation letter.
Print your confirmation letter and send it!