Tips
In confirming the receipt of something as important as a resume, contract bid, or application, your letter should let the reader know that he or she has been taken seriously. Your letter should be brief and businesslike.
Steps
1

. Acknowledge having received the item.
Sentences
Thank you for your resume which we received today.
I received your resume and application materials this morning.
I received your packet of application materials this morning.
Thank you for the contract bid you submitted.
This letter is to confirm that the contract bid you submitted arrived in our office before the deadline.
This letter is to let you know that we received your grant application on May 21.
We wanted to let you know that your application has arrived and we have it on file.
Thank you for your application to Springfield University's Business School.
Phrases
before the deadline
for your application
for the materials you sent us
for the bid you submitted
for sending us your
have received many responses
have received your
reached our office on
received your application materials
received your resume
seemed to be in order
thank you for
that we received on
that you submitted
to inform you that your
was received on
wish to confirm that
with the following documents
your application has arrived
your packet of
2

. Tell the reader what to expect next.
Sentences
We will review your resume carefully.
We will keep your resume on file and contact you if a position that requires your specific qualifications becomes available.
For the time being we have put your application on file. After the May 20 deadline, we will begin reviewing all of the applications.
I will study your proposal carefully and let you know on Friday whether we can work with your plan.
I have looked over your proposal and am eager to discuss it in greater detail.
I can make no promises as to what Jane will think, but I will bring up your idea in Tuesday's planning meeting. I will let you know what happens.
You referred to your resume n the cover sheet, but it was not in the packet.
Until your application is complete, we can take no action on your case.
Jane Doe, our personnel chief, will contact you to set up an interview.
Unfortunately, we have already filled the position.
Unfortunately, the position is no longer open.
The response to our advertisement for this position has been overwhelming. Since we plan to review each application carefully, it will be some time before we can start calling applicants for interviews.
To be included in our pool of potential new employees, you need to fill out the enclosed forms and return them with your application.
As you know, we will announce which proposal will receive the contract on February 3. Since your bid is complete, there is nothing else you need to do until then.
We hope to inform each applicant of the hiring committee's decision around the end of July.
The admissions committee has its final meeting on July 30. We hope to start notifying applicants soon after this date.
Phrases
after this date
all of the applications
application is in order
are planning to review
around the end of
becomes available
can start calling in applicants
estimate it will take a few weeks
expect to hear from us by
for the time being
has its final meeting on
has been overwhelming
has been much greater than expected
have put your application on file
hope to start notifying
hope to inform everyone
if and when a position opens up
in our pool of potential
is very impressive
it will be quite some time before
more than we expected
response has been overwhelming
review each application carefully
seems to be complete
select candidates for interviews
since your bid is complete
status of our application
status of your
the response to our
the response has been
the note you included indicated that
to complete your
to begin the interview process
will get in touch with you
will write or call
will let you know
will keep your resume on file
will review it carefully
will look over your proposal carefully
will begin reviewing applications
will contact you
will notify you when
Related Articles
Related Resources
Still can't find the right words for your confirmation letter?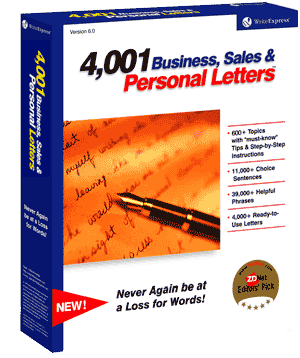 You will with our 500 letter-writing tutorials!
Find the confirmation letter that fits your needs and copy it directly into Microsoft Word or your favorite word processor.
Or let our 500 letter-writing tutorials guide you step-by-step through the writing process, suggesting sample phrases and sentences for each writing step. In minutes, you can write an effective confirmation letter.
Print your confirmation letter and send it!