Tips
If your letter reaffirms a complex agreement, you should repeat the details as you understood them in the body of your letter so your reader can respond to any misunderstanding that may have arisen. Your letter should generally be brief and businesslike. However, since confirmation letters are the result of previous contact, you may wish to write with a personal tone.
Steps
1

. Open your letter with a "thank you" and a compliment, if appropriate.
Sentences
We are delighted that you will be coming to the Lincoln County Egg Judgers' Convention as our keynote speaker. I have written this letter to confirm the details of the convention program.
We are so pleased that you have agreed to speak at our conference. Your topic has been one that has generated quite a bit of discussion around the office. We will be glad to hear your views in person.
Everyone is delighted that you can be with us on February 29. Thank you for accepting our invitation.
We are very pleased that you have agreed to speak on "The Growing Salary Disparity between CEOs and Managers" at our First National Convention of FATCATS. I have written this letter to confirm the details of the convention program.
We just received your letter agreeing to speak at our awards banquet on March 1. We are all very pleased that you accepted our offer. We have heard wonderful reports about your presentation and are looking forward to enjoying it in person.
I am very pleased that you accepted our invitation to the symposium, and I look forward to hearing you elaborate on the ideas we discussed on the phone.
This letter is to confirm yesterday's conversation. We are thrilled that you will be performing at our annual banquet.
Phrases
are delighted you agreed to
are looking forward to
are so pleased that
are eager to hear you speak
are planning to attend our
are thrilled that
as our guest of honor
as our keynote speaker
at our upcoming
can be with us on
delighted that you
everyone is delighted that
excited about your
for accepting our invitation to
for agreeing to
has generated a great deal of discussion
have heard good reports about
have agreed to
in having you come
just received your letter
look forward to
thank you for
to confirm the details
to hear you in person
will be coming to our
willing to participate in
your topic is one that
2

. Repeat the pertinent details of the program and offer appropriate assistance.
Sentences
You are scheduled to speak at 7:30 p.m. on Friday, June 3rd. We have enclosed a conference schedule. It should answer any questions you might have about where you need to be and when. If you have any questions, please contact me at 555-5555.
During the banquet, John Doe, Sr. would be honored if you and your wife would join him and Jane at their table.
I will introduce you when your turn comes to speak. Could you please send me a brief biographical sketch to which I could refer?
Our representative, Jane Doe, will be wearing a name tag and will meet you in the lobby of the Hotel Springfield at 7:30 and escort you to the conference room.
Our meeting will be very informal. Those attending will be casually dressed.
The snack bar will begin at 7:30 and you will be introduced at about 8:15. Plan on giving a 30-minute presentation, followed by a one-hour question and answer period.
About 80 people will be present, most of whom are unfamiliar with your work. I would suggest that you spend some time reviewing the fundamental principles of your program. You may expect some skeptical responses from the audience, but I can assure you a friendly and positive response overall.
As you requested, there will be a slide-projector set up and ready for your use ten minutes before your presentation.
As you requested, we will have a VCR and television projector ready so you can show your video.
Jane Doe, from our travel office, will soon send you another letter with travel information.
Phrases
a brief biographical sketch
anticipate an attendance of
are unfamiliar with
are scheduled to speak at
are familiar with
as you requested
at our upcoming
be prepared to
bring copies of
can assure you that
for your presentation
have agreed to the terms
have enclosed a
if you have any questions
in the space provided
may I suggest that
please send me a
question and answer period
reviewing the fundamental principles
scheduled to speak at
the equipment you requested
will introduce you
will be set up and ready
will begin at around
will meet you at
your equipment needs
3

. Clarify the details concerning any financial compensation you plan to offer.
Sentences
In case it was not clear before, please let me reiterate that Doe Inc. would like to reimburse you for your meal, lodging, and travel expenses. Please keep a record that you can submit to us at the end of your stay.
As we discussed on the phone, there will be no honorarium; however, we plan to publicize your engagement widely and are confident that you will attract many interested in your service. We hope you are looking forward to meeting many new clients.
As we discussed, you may bring copies of your book to sell at the convention. We will have a table set up in a prominent place to display them.
Please keep an account of your expenses while you are here in Springfield so we can reimburse you. We will gladly cover the cost of your food, mileage (at 30 cents per mile), taxis, etc. You may mail me a statement upon your return to Centerville. I will have your $1,000 honorarium check ready for you at the banquet tonight.
All of your meals at the Hotel Doe Restaurant are free during your stay as part of your complimentary conference registration.
We would appreciate it if you would make your own flight and hotel arrangements. We will of course reimburse you.
As we agreed, we will cover your travel expenses to Centerville in addition to paying you an honorarium.
Could you please sign this letter in the space provided and return it, so I will know that we have agreed to the same terms?
Phrases
an advance against
as part of your
as we discussed
at the end of your stay
can provide an advance
can reimburse you for
can submit your expenses
during your stay
in case it was not clear
in addition to your honorarium
just to clarify
keep an account of
let me reiterate that
mail me a statement
make your own arrangements
publicizing your engagement widely
retain all receipts
will cover your travel expenses
will be happy to
will cover all your expenses
will provide an honorarium of
will gladly cover the costs of
will provide all of your
will be reimbursed for
wish to confirm our financial arrangements
4

. End on a positive note that expresses your confidence and offers additional assistance, as appropriate.
Sentences
Please let me know if there is anything I can do to make your stay more comfortable. Once again, we are pleased to have you with us.
We are very interested in what you have to say. Please let me know if I can be of any further assistance.
We are eager to hear your presentation. Many of us here at Doe Inc. have enjoyed your book, The Positive Principles of Better Business. We are looking forward to hearing you explain your ideas in person.
Thank you again for your gracious acceptance of my invitation. Please let me know if there is anything else I can do to make your stay in Springfield more pleasant.
I look forward to meeting your group.
Our invitation reflects our division's keen interest in your expertise and our confidence in your ability as a public speaker.
For several years our members have expressed great interest in having you speak at this event. It is exciting to see our plans finally become a reality.
Phrases
any last-minute requests
anything else I can do
are delighted that
are looking forward to
are excited about your visit
are so pleased you agreed
can reach me at
eager to hear you
feel free to
for your gracious acceptance
have enjoyed your
have expressed great interest
if there is anything I can do
if you have any questions
look forward to
of any further assistance
thank you again
to have you with us
to make your stay more
to hearing from you
to meeting you
want to express my
your ability as a speaker
Related Articles
Related Resources
Still can't find the right words for your confirmation letter?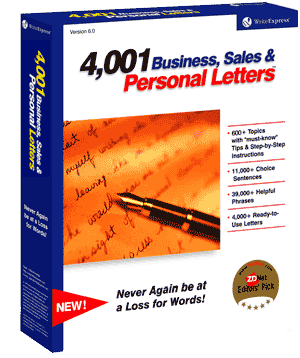 You will with our 500 letter-writing tutorials!
Find the confirmation letter that fits your needs and copy it directly into Microsoft Word or your favorite word processor.
Or let our 500 letter-writing tutorials guide you step-by-step through the writing process, suggesting sample phrases and sentences for each writing step. In minutes, you can write an effective confirmation letter.
Print your confirmation letter and send it!