Tips
If your letter reaffirms a complex agreement, you should repeat the details as you understood them in the body of your letter, so your reader can respond to any misunderstanding that may have arisen. Your letter should be brief and businesslike. However, since confirmation letters are the result of previous contact, you may wish to be friendly and personal.
Steps
1

. Open your letter by confirming your intent to attend, and thank your reader, if appropriate.
Sentences
This letter is to confirm my intent to speak at the Doe Marketing Conference on June 1. Thank you again for your invitation.
I will be delighted to attend the Lincoln County Egg Judgers' Convention as your keynote speaker. This letter is to confirm the details of my arrival.
I am pleased that you have asked me to speak at your national convention on "The Growing Salaries of CEOs."
This letter is to reaffirm my intention to speak at your awards banquet on March 1, as we discussed on the phone yesterday. Thank you for your gracious invitation.
I am very pleased to be coming to your language symposium and am looking forward to elaborating on the ideas we discussed over the phone.
Thank you for the banquet tickets and the invitation to speak. I will be delighted to come!
Phrases
am always happy to
am looking forward to
am delighted to be coming to
am flattered that
am very pleased to
am delighted to
as your keynote speaker
assure you that
consider it a privilege to
is always a pleasure to
my intent is to
reaffirm my intention to
shall be happy to
terms of our agreement
thank you for
the details of my
to be able to attend
to participate in
will be a pleasure to
wish to confirm that
2

. Repeat all pertinent details of your presentation and arrival, and request assistance or equipment you might need.
Sentences
As you suggested, I have prepared a two-hour multi-media presentation on our organization's philosophy of "Preparing Managers to become CEOs."
Could you please have a slide projector set up and ready for my use ten minutes before my presentation is scheduled to start? I make a habit of checking all my equipment before I speak.
Thank you for the conference schedule and the information packet that you sent me. I think it is clear from these materials where I need to be at what time.
Could you please clear up one thing for me. Will someone pick me up at the airport (I will arrive at 7:00 p.m. on Springfield airlines flight #123), or should I rent a car and drive to the hotel?
Will you please arrange to have an overhead projector set up and ready for my use in the room when I arrive.
All of the details of my travel arrangements seem to be in order.
As you mentioned, I will plan to meet Jane in the Springfield Suites hotel lobby at 3:00 p.m. on Monday.
I would be honored to sit with Mr. Doe and his wife at their table.
I will bring the biographical sketch you mentioned and give it to Mr. Doe before the banquet.
Could you please let me know what kind of dress would be appropriate for the occasion? I have the impression that the affair will be quite formal, but I am prepared to come dressed in any manner suitable to the occasion.
Phrases
all of the details
arrange to have
as you suggested
as we agreed
because of time constraints
could you arrange for
is scheduled to start at
make my own arrangements
make my own reservations
my travel arrangements will
my flight number is
need the following equipment
need clarification on
plan to stay at
return flight will depart
seems to be in order
set up and ready
set up in advance
the information you requested
to enhance the experience for
will require a
will bring my own
will need assistance with
will arrive at
would appreciate your assistance with
would like to know
would be helpful to have a
3

. Mention or ask for clarification of any financial compensation you expect to receive, if appropriate.
Sentences
John informed me that my travel, food and lodging expenses would be covered. Am I right in assuming that I should submit a log of my expenses to you for reimbursement after my return to Springfield?
Thank you for your offer to pay my hotel expenses in addition to my speaker's fee, but I have relatives in Centerville with whom I will be staying. However, I will need transportation to and from the convention center. Would it be appropriate to use the hotel expense money you offered for a rental car?
I understand that Mr. Doe will present me with an honorarium check after the banquet.
Regarding my honorarium, I would appreciate it if you made the check out to "the Doe Foundation," rather than to me personally.
Regarding my honorarium, I would appreciate it if you made the check out to "the Doe Foundation," rather than to me personally. Since we are a nonprofit, charitable organization, we wish to avoid any appearance of impropriety.
Phrases
a log of my expenses
accept your kind offer to
after my return to
an advance of
appreciate the honorarium
in addition to my fee
make the check out to
regarding my honorarium
thank you for offering to
to pay my travel expenses
to pay my hotel expenses
transport to and from the
understand that you will
will meet me at
will stay at
will need transportation
will handle flight arrangements
will give you my receipts
will purchase my own
will not be necessary to
4

. End on a positive note that expresses your eagerness to participate.
Sentences
Thanks again for your invitation. I look forward to seeing you in Centerville.
I look forward to seeing my old friends and acquaintances in the egg-judging community.
I am putting the final touches on my presentation and hope it will prove valuable to your staff.
Thank you again for this wonderful opportunity.
Thank you for the invitation. I look forward to the convention and am eager to address those in attendance.
Phrases
a pleasant evening
a memorable occasion
a worthwhile event
am looking forward to
appreciate this invitation
being a part of your
delighted to be of assistance
delighted to help
help your organization
hope my performance will
hope to be able to
hope my contribution will
it sounds as if
it will be a most
motivating your guests
participating in your
thank you again for
this exciting opportunity
this wonderful opportunity
to further the aims of
very happy to be able to
will add to your
will do my best to
your gracious invitation to
Related Articles
Related Resources
Still can't find the right words for your confirmation letter?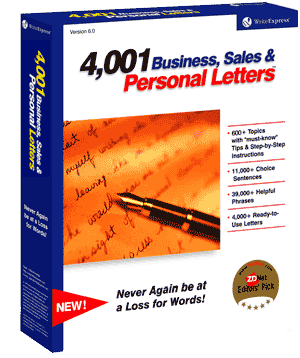 You will with our 500 letter-writing tutorials!
Find the confirmation letter that fits your needs and copy it directly into Microsoft Word or your favorite word processor.
Or let our 500 letter-writing tutorials guide you step-by-step through the writing process, suggesting sample phrases and sentences for each writing step. In minutes, you can write an effective confirmation letter.
Print your confirmation letter and send it!