Tips
It is not generally necessary to provide written confirmation of an order; however, in a case where you have had previous problems such as late delivery, details of the order being changed, or a customer asking for confirmation, it is wise to provide written confirmation of receiving an order.
Steps
1

. Mention your last contact with the person placing the order. Review what was discussed or decided at that time. Repeat specific details such as time, place, amount, and price.
Sentences
Thank you for your telephone order for two copies of our Admiral Aardvark's Awesome Avengers video. Enclosed is a bill for $35.11.
We received your order for an engine rebuild, job #1234, on account #16661, and we have already begun the rebuild, using the materials you specified.
We received your order to rebuild your Doe engine 1600 (serial #12345), and we thank you for the $100 prepayment check that you included.
Thank you for your gift subscription order for the Springfield Times.
We received your check for $11.98. Jane Doe will begin receiving the Times on January 1, 2002. At the end of the year we will send subscription renewal forms to you.
The shipment of your order No. 1234 is scheduled to leave Springfield Harbor on July 1.
Enclosed with this letter are the following items for your records:<br /> - a copy of the invoice<br /> - a copy of the bill of lading<br /> - a copy of the inspector's W123 form
This letter may be used as your confirmation of shipment.
Thank you for your order. It will be shipped in 2-3 weeks by Doe Express. You should receive your dryer before Christmas.
Phrases
along with your check for
along with your prepayment of
anticipate being able to deliver by
are currently processing
as we agreed
as soon as we receive
as we discussed
confirming your order of
has already been processed
have enclosed the following
received your order for
received your check for
shipment is scheduled for
should receive your order by
thank you for
this is to confirm that
which we received on
will be shipped on
your order for
your telephone order of
2

. If necessary, amend your previous agreement and mention any special steps you are taking with this order.
Sentences
Demand for porcelain our dolls have been exceptionally high, so our stock is currently low. We can send you half of your order now and the rest in a few weeks. Thank you for your patience in this matter.
In your order you requested a class A mount on your motor. Our standard mount is class B and has a higher stress rating, which can extend the life of your motor at little extra cost. Unless you indicate otherwise within 10 days, we will include a class B mount with your order.
Due to an overwhelming number of orders, please expect delivery in 3-5 weeks, rather than the 2-3 mentioned in our advertisement.
We now offer a color choice. Please let us know whether you would prefer red, blue, or green. If we don't hear from you by March 15, we will ship our original color, blue.
Things are going well with the rebuild, but when the time comes to recalibrate the torsion reamer, we will offer you several options on how to proceed.
As you requested, we will send your video via express mail rather than by regular post.
There has been a slight delay in production, but your treadmill will be ready in two weeks, at which time we will promptly ship it.
Phrases
a slightly less expensive
as you requested
due to exceptionally high demand
for express delivery
has been a slight delay in
have arranged for
have made some changes to
if you would prefer
is nonstandard and therefore
is, however, a surcharge for
may be more appropriate for
new model has
offer several options
please let us know
please expect delivery in
unless you indicate otherwise
whichever you prefer
will be happy to
will otherwise assume that
will ship the remainder on
3

. Mention any relevant sale or promotion your company is offering.
Sentences
Since you are a valued customer, we want you to know that we are introducing a new computer this season--the Doe Computer 2000. For a limited time we are offering them to our regular customers for $1,100. Call us at 1-800-555-5555, if you would like some included with your order.
We have an overstock of crystal glassware and are, therefore, able to offer sets at a 30% price reduction.
In your order you specified that you wanted a Class E water pump. We are out of Class E pumps at the moment, but would gladly upgrade your order to a Class F pump at no extra charge. We will assume that this is a suitable substitution unless you contact us within 10 days.
With this purchase you have earned 250 bonus points. You now have accumulated 5,400 points to use toward the purchase of any outdoor equipment.
Since you were one of the first 1,000 customers to order during this special offer, you will receive the unbreakable aquarium as a bonus gift. It will arrive in the mail shortly.
Phrases
able to offer them at
all you need to do is
are therefore able to
are introducing a new
are being offered at a discount
are sure you will be pleased with
are overstocked with
as a bonus gift
at no extra charge
during this promotion
for a limited time
for our preferred customers
if you would like to
now qualify for
special introductory price
substantial discounts on
the enclosed brochure
to take advantage of this
to celebrate our
want to let you know that
will be glad to hear
4

. End with an expression of good will and anticipation.
Sentences
Thank you again for your order. We look forward to a smooth start-up and are pleased to do business with a firm of your reputation.
Thank you for selecting Doe Lumber for your building needs. We look forward to serving you.
It is a pleasure doing business with you. Please do not hesitate to call if you have any questions.
If you have any further questions, or need any more information, please use our customer service line at 1-800-555-5555.
We appreciate your order and hope we can serve you again.
Phrases
answer any questions you may have
appreciate your order
are always pleased to
are confident that
look forward to serving you
are sure that
call our customer service line at
feel free to
for choosing our
for your order
if you have any questions
is always a pleasure to
it is a pleasure to
mutually beneficial relationship
please do not hesitate to
thank you again for
to do business with you
will be delighted with
will be pleased with
would be happy to
Related Articles
Related Resources
Still can't find the right words for your confirmation letter?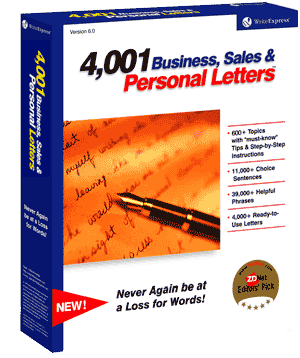 You will with our 500 letter-writing tutorials!
Find the confirmation letter that fits your needs and copy it directly into Microsoft Word or your favorite word processor.
Or let our 500 letter-writing tutorials guide you step-by-step through the writing process, suggesting sample phrases and sentences for each writing step. In minutes, you can write an effective confirmation letter.
Print your confirmation letter and send it!