Tips
The purpose of this letter is to confirm that you have sent an item or items to your reader. Your letter should be brief and businesslike.
Steps
1

. State specifically what you mailed and when. Refer to previous contact with your reader, if necessary.
Sentences
My records show that on July 9, I sent a packet of graduate program applications to the Doe American Studies Department at Doe University.
Last Wednesday, July 6, I sent a small package to Doe Enterprises at 1600 Main Street, Springfield, Kansas 12345, per the instructions on your e-mail message. The package should have arrived with the express morning delivery on Thursday, July 7.
As you requested during our phone conversation last week, I sent you forms A and D to complete my application for the sales position that you advertised. On the envelope I wrote "ATTN. Jane Doe." The envelope was included in Friday's mail.
I mailed the package you requested last Friday. Because of the sensitive nature of the material, I wanted to assure you that I had shipped it.
I trust you received the promotional kit we sent you. To be sure that everything was included in your kit, let me review the items that should have been included:<br /> - five golden rings<br /> - four calling birds<br /> - three French hens<br /> - two turtle doves<br /> - a partridge in a pear tree
This letter is the confirmation you requested that unit #123 was sent to you on July 9.
Phrases
as you requested
as per your instructions
as we discussed
because of the nature of the
contained the following
during our phone conversation
included the following items
records show that
sent a packet of
sent you the
should have been included
should arrive by
the confirmation you requested
trust that you received
want to confirm
want to be sure that
want to make sure that
was sent to you on
were included in
were mailed on
wish to confirm that
2

. Suggest what your reader should do if he or she has not received the item(s), or if there is a problem with the item(s) received.
Sentences
If you have not received your box, please call us at 555-5555.
Please confirm whether you received this package.
Please let us know if your package is incomplete or damaged in any way, and we will send you replacement items immediately.
If you have not received the package by the time you get this message, please call me immediately at 555-5555.
John will bring your package with him when he flies in from Springfield.
If you did not get the packet we sent, or you would like extra copies of any of the documents inside, please call me at 555-5555 or e-mail me at Doej@Doe.inc.
Please let me know if you do not have the item in your possession now. If you have not received it, we will trace it immediately.
Phrases
am concerned that
by the time you receive this
do not have the item
do not hesitate to call me at
e-mail me at
expected to hear from
if you would like extra copies
if it is incomplete or damaged
if you have not received it by
if you did not get the packet we sent
it should have arrived by
let us know whether
please let me know if
please call us at
should arrive soon
whether you received
will respond promptly
will send a replacement
will put a tracer on it
3

. State what, if anything, you plan to do next.
Sentences
Unless I hear otherwise, I will call you sometime around July 18 to arrange a meeting.
We will wait to hear whether you have received it before we send another.
We plan to ship one item per week until the first week in June, at which time we will review the arrangement and see whether that number can be increased.
If I do not hear from you by April 4, I will call to see if there is anything we need to do.
I will wait for your response before taking further action.
Phrases
arrange a replacement or refund
as we agreed
at which time
before we send another
cover the cost of
if there is anything
if I do not hear from you by
send a replacement
to follow up on
to arrange a meeting
unless I hear otherwise
unless you call me earlier
will assume that
will call you in a week
will call to see if
will not take action I hear from
will wait for your response
will send a duplicate
will meet with
will be necessary to
will look into your situation
will investigate the situation
will wait until
will review the arrangement
4

. End with a pleasant expression.
Sentences
As always, it is a pleasure doing business with you.
Thank you again for your order. We are looking forward to doing business with you again in the near future.
I am pleased that you will finally get your package.
It is rewarding to see this project completed.
It has been a pleasure working with you.
If you have any questions, please don't hesitate to call.
Phrases
a pleasure to work with
always appreciate your
are looking forward to
doing business with you
don't hesitate to call
eager to see this resolved
enjoy working with
for your order
if you have any questions
in the near future
is always a pleasure to
is rewarding to
it has been a pleasure to
pleased that you thought of us
thank you for
to your complete satisfaction
unless we hear otherwise
want to be sure that
will finally get your
Related Articles
Related Resources
Still can't find the right words for your confirmation letter?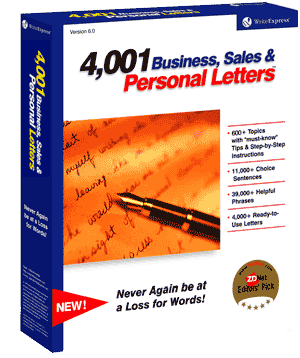 You will with our 500 letter-writing tutorials!
Find the confirmation letter that fits your needs and copy it directly into Microsoft Word or your favorite word processor.
Or let our 500 letter-writing tutorials guide you step-by-step through the writing process, suggesting sample phrases and sentences for each writing step. In minutes, you can write an effective confirmation letter.
Print your confirmation letter and send it!