Tips
The main point of this letter is to close the communication circle, so the sender knows the package or item has arrived. The letter is generally very brief.
Steps
1

. State specifically what was received and when. If necessary, refer to any previous contact with your reader.
Sentences
Thank you! I just received your package today. It looks as if everything is here. I will get to work right away.
This letter is to confirm that I received the following items from your warehouse:<br /> - five golden rings<br /> - four calling birds<br /> - three French hens<br /> - two turtle doves<br /> - a partridge in a pear tree
As you requested on the phone, I am writing to confirm that I received your package on April 4. Its contents were complete and intact.
As you requested on the invoice, this letter is to confirm that the package you sent arrived at our office before 5:00 p.m. today, April 10.
Your package arrived early this morning by Doe Express.
Phrases
arrived promptly
as you requested
contents were complete and intact
everything was intact
everything is here
glad it arrived before
has arrived at last
just to verify
just received your package
package finally arrived
received the following items
received your catalog
received the package on
thank you for the
that you sent last week
the package you sent
took delivery on
was pleased to receive
want you to know that
wish to confirm that
2

. Mention or review any other details of the arrangement, as necessary.
Sentences
As we discussed, I will take the samples with me on my tour and promote them in conjunction with my book.
John is going through the contents of the package right now and installing the handles so we can sell them next week.
I will let you know soon if all the items in the package are in working order.
Everything seems to be in order, except that you sent us two oversize handles, and we ordered only one. Did you send two on purpose, or should we send one back?
My check for $60.00 is enclosed.
Phrases
all in good working order
am enclosing a check for
as we arranged
as we discussed
as your warranty states
everything seems to be intact
have already paid in full
if all the items are
looks as if everything is
note our billing address
on our usual terms
our financing arrangements
seems to be in order
send a separate bill to
still have to check the
the invoice you enclosed
will send back the
will not be necessary to
withheld payment until
will start marketing the
3

. End with a positive expression.
Sentences
I look forward to representing you.
Thanks again for the prompt delivery.
We look forward to our next shipment in April.
Now that we have all the materials we need, we can devote our full attention to this project.
As we agreed, your $50.00 check is enclosed.
Phrases
appreciate your help with
appreciate the prompt delivery
are now in a position to
are relieved that
are most satisfied with
as we arranged
as we agreed
for sending us the
in accordance with our contract
look forward to
now that we have all the
thank you for
to doing business with you again
to working with you
will stick to the terms of
Related Articles
Related Resources
Still can't find the right words for your confirmation letter?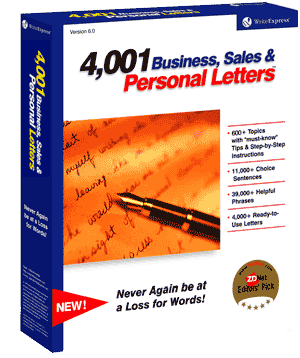 You will with our 500 letter-writing tutorials!
Find the confirmation letter that fits your needs and copy it directly into Microsoft Word or your favorite word processor.
Or let our 500 letter-writing tutorials guide you step-by-step through the writing process, suggesting sample phrases and sentences for each writing step. In minutes, you can write an effective confirmation letter.
Print your confirmation letter and send it!