Tips
Write this letter to reaffirm information exchanged in a previous meeting or communication. Your letter should be brief and businesslike.
Steps
1

. Repeat the details of the exchanged information as you understood them, so your reader can respond to any misunderstanding that may have arisen.
Sentences
Thank you for agreeing to send your maintenance person to take a look at our sauna. We understand that she will come Friday morning. Please have her check in with John at the reception desk before beginning work. He will be able to answer any questions she might have.
You may extend John Doe's temporary employment beyond the ordinary two-month period.
I hereby confirm that you specifically requested not to purchase an extended warranty for your Doe compressor.
This letter is to confirm our agreement to set a frozen exchange rate of 2.97 Dutch Guilders to 1 Canadian dollar for the duration of our purchasing trip from 11 August to 16 August.
The closing time and date that we established on the phone yesterday is 11:00 a.m. on July 24. The Does have also agreed to this time. We will meet in the conference room next to my office at Doe Realty.
Phrases
am happy to approve
as you requested
confirm our agreement to
for agreeing to
for offering to
has been approved
in accordance with your
is my understanding that
look forward to
my phone request for
on which our agreement is based
our mutual understanding
serves as confirmation of
specifically requested that
thank you for
the terms of our
to confirm that
want to confirm that
will meet in the
will be renewed
wish to confirm
2

. Give any other information or instructions and explain all contingencies that might change the agreement.
Sentences
According to the warranty papers, both parts and labor are still covered. Please talk to us first if you feel any work needs to be done.
I encourage you to submit a request to hire John as a permanent employee if a) you regard him as an asset to our company and b) you foresee needing his services beyond the two-month extension that this letter authorizes.
You may still elect to purchase our five-year extended warranty for $500 up to 14 days after the date of purchasing your compressor.
We will hold to this contract unless the exchange rate deviates beyond 15% of the rate cited above before August 16, 2002. If a fluctuation of over 15% occurs, we will negotiate a new exchange rate.
Mr. and Mrs. Doe have requested that you bring copies of tax papers, utility bills, insurance policies, and other documents pertaining to the house.
Phrases
any changes should
are in a position to
are willing to
as soon as possible
at your earliest convenience
can guarantee shipment by
for our records
has requested that
have enclosed an
if you agree
kindly advise me
make the following changes
please cancel our
return a signed copy to
should you decide to
sign the attached
terms of our agreement
the contract as written
this will apply to
understand that you will
3

. Close with final requests or comments.
Sentences
A reliable, fully functioning sauna is crucial to our gym's success. Thank you again for your prompt attention and courteous service.
We are glad John is still with us. Please have him sign the attached contract extension and return it to the personnel office before Friday, July 24.
Thank you for your purchase. We trust that you will get many years of satisfactory use from your Doe compressor. Please sign in the space provided below to indicate that you do not wish to purchase extended warranty coverage. If you wish to change your mind and purchase the coverage, please fill out the form provided and return it to us before July 24.
We are looking forward to doing business with you in Springfield.
I am confident that the closing will go well. The Does have expressed great interest in your house.
Phrases
am looking forward to
appreciate your patronage
are glad to see that
are confident that
can rest assured that
for your prompt response to
for thinking of us
hope you will
if you decide otherwise
if you have any questions
if there is any problem
keep us informed of
let me know as soon as possible
make certain that
mutually beneficial project
thank you for
the attached contract
to doing business with you
trust that you will
will be happy to
will be delighted to
Related Articles
Related Resources
Still can't find the right words for your confirmation letter?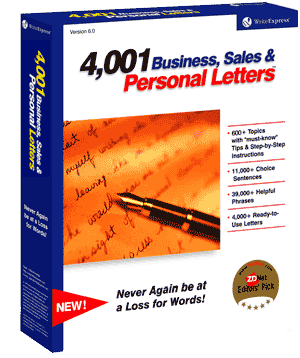 You will with our 500 letter-writing tutorials!
Find the confirmation letter that fits your needs and copy it directly into Microsoft Word or your favorite word processor.
Or let our 500 letter-writing tutorials guide you step-by-step through the writing process, suggesting sample phrases and sentences for each writing step. In minutes, you can write an effective confirmation letter.
Print your confirmation letter and send it!