Tips
When congratulating a friend, employee, family member, or associate on winning an honor or scholarship, express only the most sincere sentiments. You should not be excessively effusive in your praise, since such language is usually considered phony, nor should you overstep the bounds of decorum by using more familiar language than your relationship warrants.
Steps
1

. Start with a direct statement of congratulations, specifically identifying the celebrated event.
Sentences
Congratulations on winning the company's Salesperson of the Year Award.
I just found out that you were awarded the company's Manager of the Year Award, and I would like to congratulate you.
Nice work! The news of your full-ride scholarship was no surprise to me. I know that you are both capable and deserving.
Way to go! I'm impressed with the news of your recent award from the State Bar Association.
Congratulations on winning the Employee of the Year Award.
Phrases
allow me to extend
are very happy for you
congratulations on winning
extend my warmest congratulations to
happy to see you receive
honoring your achievements
just found out that
made my day
my heartiest congratulations on
offer my sincere congratulations
on this outstanding achievement
please accept my congratulations
so pleased that you won
think it's great that you won
this significant achievement
this well-deserved recognition
want to add my congratulations
was impressed when I heard
was certainly well-earned
was delighted to hear
was delighted to read
was with great pleasure that
was no surprise to
was indeed a pleasure to learn
was no surprise to me
was so pleased to hear
would like to congratulate you on
2

. Acknowledge such things as the effort, dedication, energy, sacrifice, or skill necessary for the achievement.
Sentences
I have been hoping you would win the award for several years now.
No one deserves this award more than you.
I know how hard you work, and I know you deserve the award.
We appreciate your dedication to the company and the long hours you devote to your projects.
Everyone knows of your dedication and sacrifice.
It is good to have someone of your caliber in the office, and I appreciate the suggestions and advice you have given me.
Phrases
a tribute bestowed only on those who
admire your effort and dedication
appreciate your dedication to
can all be justly proud
certainly deserve the award
comes as no surprise to
commitment to excellence
could not be awarded to a more deserving recipient
good to have someone of your caliber
has certainly paid off
have worked so hard
is richly deserved
is a great achievement
know how difficult it is
know how hard you work
must be very proud
my hat's off to you
no small achievement
no one deserves it more
proud to have you represent our
the long hours you devote to
tremendous contribution you have made to
truly deserve this recognition
wish you continued success
3

. Express good wishes for future successes.
Sentences
I look forward to hearing about many more of your successes.
Best wishes for more successes in the future. You have my full and complete confidence.
Please keep me informed of your future successes.
Keep up the good work!
I wish you all the best in your future endeavors.
Phrases
a stellar future
am confident that you
best wishes for
express our very best wishes for
for continued success
for success in your new
hearing about many more of your achievements
in the future
in your future endeavors
keep up the good work
look forward to
please keep me informed
such skills are sure to take you far
to bragging about
will continue to do well
will lead to a bright future
wish you all the best
your future looks bright
your impressive accomplishments
Related Articles
Related Resources
Still can't find the right words for your congratulation letter?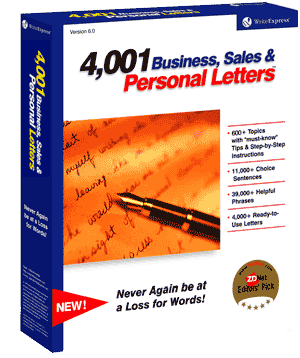 You will with our 500 letter-writing tutorials!
Find the congratulation letter that fits your needs and copy it directly into Microsoft Word or your favorite word processor.
Or let our 500 letter-writing tutorials guide you step-by-step through the writing process, suggesting sample phrases and sentences for each writing step. In minutes, you can write an effective congratulation letter.
Print your congratulation letter and send it!