Tips
This letter is an opportunity to acknowledge excellence in the work of a friend, associate, or employee.
Steps
1

. Start with a direct statement of congratulations that identifies the speech or presentation.
Sentences
Congratulations on the professional quality of your presentation to our club last Thursday.
Way to go! I was so glad to finally hear someone talk in a sensible way about the company's production problems.
I appreciated your excellent speech last week. Congratulations on a job well done.
Good job! I want to congratulate you on the excellent quality of your presentation in the staff meeting last week.
I thoroughly enjoyed your talk at the club the other night.
Congratulations on your speech to the board last night. It hit the nail right on the head.
Phrases
a job well done
appreciated your excellent
congratulations on
did a great job
ever had the privilege of hearing
feel fortunate to have heard your
heard you speak on
hit the nail right on the head
how much I enjoyed
let me congratulate you on
on the excellent quality of
on giving one of the finest
on the subject of
on your outstanding speech
on your speech
on your presentation
thoroughly enjoyed your
to hear your speech about
want you to know
want to thank you for
want to tell you
was glad to have the opportunity to
was greatly impressed with your
2

. Discuss the qualities of the presentation that were especially good.
Sentences
I told my wife that if they trotted out one more slide show I wasn't coming back. Thank goodness you were on the program.
You addressed the problems directly and perceptively.
You spoke clearly and concisely.
You made the topic come alive for me.
Your visual aids were interesting and easy to read.
I liked the way you responded to the questions from the audience.
You found a way for everyone to participate; I think everyone felt that the meeting was very rewarding.
Phrases
addressed the problems of
an innovative approach to
both informative and entertaining
came together very well
clearly and concisely
came alive for me
could have gone on all night
directly and perceptively
found a way to
in addition to keeping our attention
liked the way you
lively and informative
opportunity for everyone to participate
particularly admired your
remarkable powers of persuasion
stimulated further thinking
such a sensible approach to
the way you responded to
the audience was practically spellbound
think everyone felt that
was the highlight of
was right on the money
your astute analysis of
your delivery was
3

. Acknowledge such things as the effort, dedication, or skill that went into the presentation.
Sentences
I honestly don't know how you do it. Whenever I stand up in front of a group my knees start banging together so loudly I am afraid people can hear them.
I appreciate the time and energy you put into preparation. It really showed.
I admire your skill as a public speaker.
I know how much effort and energy you put into your work. When you spoke I felt I was in the presence of a man who really loves his job.
We all recognized the tremendous effort you had put into the presentation. You are to be thanked and complimented.
Phrases
appreciate the time and energy you put into
envy you your knowledge of
had put into the presentation
hours of research
in-depth knowledge of
it takes hard work as well as talent to
know how much work you put into
really paid off
spent a lot of time
the tremendous effort
the way you managed to
the effort you put into
took the time to
was skillfully crafted
was readily apparent
was so well-researched
was a stirring speech
we all recognized
your skill as a
your dedication to
your effort and energy
4

. Express good wishes for future successes.
Sentences
Keep up the good work.
Good luck in your future endeavors.
Please let me know when you are on the program again.
If all the speakers are half as good as you, I will attend the meetings every week.
I am eagerly awaiting your next appearance at the podium.
I hope you will consider speaking to us again.
Let's stay in touch, because we would like you to appear on our program again.
Phrases
appear on our program again
at a future time
at the next
good luck with
have a bright future
hearing you again
hope you will consider
hope you will
in your future endeavors
keep up the good work
look forward to
next time you speak
on the program again
please let me know
speak to us again
sure you will go far
want to thank you for
wish you continued success
would definitely enjoy
would like to stay in touch
would like you to
your speaking to us again
Related Articles
Related Resources
Still can't find the right words for your congratulation letter?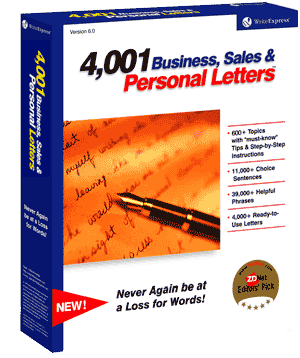 You will with our 500 letter-writing tutorials!
Find the congratulation letter that fits your needs and copy it directly into Microsoft Word or your favorite word processor.
Or let our 500 letter-writing tutorials guide you step-by-step through the writing process, suggesting sample phrases and sentences for each writing step. In minutes, you can write an effective congratulation letter.
Print your congratulation letter and send it!