Tips
This letter's purpose is to remind or notify a customer that if you receive payment within a certain period, you will give him or her a discount on the purchase. Be specific about the conditions for the discount.
Steps
1

. Express appreciation for the customer's purchase.
Sentences
Thank you for your recent order!
We appreciate your order.
Your order is enclosed. We hope you enjoy it.
Thank you for requesting our services.
As always, I have enjoyed serving you. Thank you.
We extend a warm welcome to you as a new customer.
Phrases
appreciate your order
as a new customer
enclosed is your order
enclosed are the
extend a warm welcome to
for requesting our services
for your prompt payment
for your recent order
for your recent remittance
glad to be of service
happy to supply you
hope you enjoy
is always a pleasure to
should receive your order within
thank you for
to do business with you
to serve you
your order is enclosed
your order has been shipped
your order is greatly appreciated
2

. Remind or notify the customer of the discount for early payment on the product or service. Be specific about the conditions for the discount as well as the discount amount.
Sentences
Please remember that if we receive payment for this order within one week, you will receive a 5% discount off the regular price.
If we receive your payment within twelve days from the shipping date, we will deduct $10.00 from your next bill.
We want to remind you that we offer a 4% discount for early payment. You will receive the discount if we receive your payment by November 10.
We invite you to subtract 2% from your purchase amount if you send payment within seven days of the invoice date.
Remember, you will receive $5.00 off your next purchase if you return full payment by November 22.
Phrases
are you aware that
can save 3%
could have saved
deducted from the total due
double our usual discount of
encourage all of our customers to
for payment within
from your next purchase
from your regular purchase amount
if we receive payment by
if you pay us within
in order to receive the discount
invite you to subtract
off the original price
offer an additional 2% discount for
our early-payment discount
pay invoices within
please remember that
postmarked within ten days
send full payment by
take a 5% discount from
take advantage of
the greatest possible savings
want our customers to
want to remind you of
will deduct this amount from
3

. Urge the customer to send the payment immediately and offer additional assistance.
Sentences
We urge you to take advantage of this offer.
I hope you will take advantage of this offer by sending in your payment within the specified time period.
We await your payment. If it arrives within the next ten days, we will be happy to credit your account 5% of the purchase price.
If you have any questions, you can reach me at 555-5555.
We are happy to offer this discount on your payment. Please call us at 555-5555 if you have any questions. We hope you enjoy your order.
We look forward to receiving your check for the discounted amount of $45.50 by May 2.
Thank you in advance for your prompt payment.
Phrases
are confident that you will be pleased with
as soon as it arrives
can reach me at
give you prompt and satisfactory service
happy to serve you
hope you will take advantage of
if I can be of any help
if you have any questions
look forward to
our way of saying thanks for
please call us at
receive the discounted amount by
receiving your check
send payment immediately
send your payment within
take advantage of this
thank you in advance for
urge you to
within the specified time period
would be most happy to
your prompt payment
Related Articles
Related Resources
Still can't find the right words for your credit letter?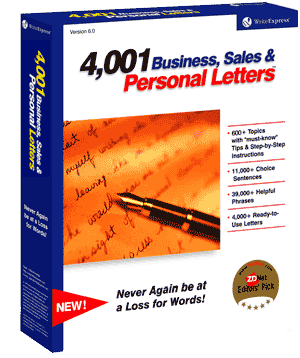 You will with our 500 letter-writing tutorials!
Find the credit letter that fits your needs and copy it directly into Microsoft Word or your favorite word processor.
Or let our 500 letter-writing tutorials guide you step-by-step through the writing process, suggesting sample phrases and sentences for each writing step. In minutes, you can write an effective credit letter.
Print your credit letter and send it!