Tips
Sometimes a creditor will turn down an application for credit because someone made an error in evaluating the applicant's qualifications. Sometimes credit is denied for a reason that the creditor fails to explain. If you feel that one of these situations applies to your case, this letter should help you get an answer and a reconsideration of your application.
Steps
1

. Acknowledge having received the denial.
Sentences
I received your denial of my request for credit on August 30.
I was dismayed to discover that you turned down my credit application.
We were surprised to learn of your decision not to grant us the credit account we requested.
I applied for a charge account on May 15, and have just received your prompt reply denying my request.
Your letter informing us that our request for a credit account had been denied arrived yesterday.
We have just received your refusal of a credit arrangement with our company.
Phrases
based upon credit information
denied my request for
had been denied
had been turned down
have just received
informed us that
my request for credit has
my credit application has
my application for a charge account
received your letter turning down my
received your denial of
the credit account we requested
was amazed that
was distressed to receive
was dismayed to discover
were surprised to learn of
your denial of
your reply to our
your refusal to grant us
your decision not to
2

. Request an explanation for the denial.
Sentences
Since this questions our integrity, we respectfully request an explanation of why we have been denied this consideration.
May we inquire as to why you made that decision?
I would like to know on what information you based this decision.
I would like to know why you decided against our request, so I can correct the problem.
Because our credit history is excellent, we are puzzled that the Doe Corporation would deny us an account. Perhaps there has been a misunderstanding. Would you please explain your decision?
Since we have been profitable customers of yours for two years, I think you can understand our dismay at having received your negative response to our credit application. Would you be so kind as to tell us why you have made this decision?
Phrases
are puzzled as to why
are wondering why
made the decision based on
may we inquire why
must have been a misunderstanding
on what information you based this
please explain your decision
request that you explain
respectfully request an explanation
send me an explanation
since this reflects on
so I can correct the problem
the reason for denial
the basis on which you made
the reason for your decision
was there perhaps
why you decided against
why this request has been denied
would appreciate your
would you be so kind
would like to know
3

. If you think the creditor has received faulty information about your credit history or financial standing, say so.
Sentences
Because our credit history is spotless and we have never made a late payment, we can only conclude that there must have been an error in your information.
Since I have asked for a low initial credit line, and I have a substantial income and a good credit rating, I question whether your credit information is correct.
Your letter states that because of our present obligations, you cannot grant us a credit account. I have no idea what you are referring to and can assure you that we are not involved in any heavy obligations. I am resubmitting the form showing all our financial obligations at this time.
We are shocked that the Doe Corporation gave us such a negative reference because we have been an exemplary credit customer for the past five years. I think there must be some mistake. It would not be the first time my name was confused with another person's.
There must have been an error at some point in my credit evaluation. Perhaps I or someone else made a mistake. Enclosed is another copy of the forms you asked me to complete. I have checked all the information and it is correct.
Phrases
according to your letter
based on erroneous information
can only conclude that
certainly not overextended
do not understand
given such a negative review
have never made a late payment
have no idea what
have been exemplary customers of
is difficult to understand
must have given you
must have been an error
must be some mistake
my credit evaluation
our spotless credit history
perhaps someone made a mistake
question whether your information is
received faulty information
some incorrect information
there must have been
was, perhaps, confused with
your reference to
your letter states that
4

. Request that the creditor reconsider your application.
Sentences
We would like you to reconsider our application with the addition of my father, John Doe, as a cosigner. As you will discover in your review of his credit history, he has very strong credit and, in the unlikely event that we could not make our payments, would be in a situation to ensure the payments are made.
If your decision was based on erroneous information, I would appreciate your prompt reevaluation.
In your reconsideration of our application, please note that we would like to offer an additional down payment of $1,000.
We ask that you reconsider our application.
I trust that you will take appropriate action to correct this error.
To help you improve your assessed risk in granting us credit, we would like you to reconsider our application with the addition of our offering your company a full lien on our 2002 automobile, which we own free and clear.
I would like you to reconsider my application for credit with an offer of an additional $500.00 as a security deposit.
In light of this new information, I trust you will reconsider your decision.
I will be happy to supply you with additional information for your reconsideration of my application.
Will you review your decision and contact me as soon as possible?
Phrases
as soon as possible
ask that you
based on the following information
enclosed another application form
enclosing a copy of
have my application reconsidered
in light of
in view of the
let me know
please do whatever is necessary
please contact me
reconsider our application
reconsider your evaluation
reconsider your decision
request that you
review your decision
this time, I trust you will
this new information
to correct this error
trust that you will
will take appropriate action
will be happy to supply you with
would appreciate your
would like to reapply
your prompt evaluation
Related Articles
Related Resources
Still can't find the right words for your credit letter?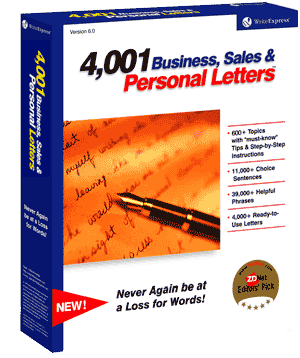 You will with our 500 letter-writing tutorials!
Find the credit letter that fits your needs and copy it directly into Microsoft Word or your favorite word processor.
Or let our 500 letter-writing tutorials guide you step-by-step through the writing process, suggesting sample phrases and sentences for each writing step. In minutes, you can write an effective credit letter.
Print your credit letter and send it!