Tips
This letter should assure your creditor that you are still committed to making prompt payments on your account. Use this opportunity to discuss the reasons why your payment is late.
Steps
1

. Refer to the current payment enclosed.
Sentences
Enclosed is a check for $1,000.00, the full amount due on my account. Please notify me of any late charge I may have incurred.
Please accept the enclosed check for $200.00 as payment toward my account balance.
I have enclosed $550.00 with this letter to pay off my account.
Please find enclosed a cashier's check in the amount of $1,556.00, which includes the late charges of $56.00.
Per our telephone conversation, I have enclosed a check for $200.00 as partial payment to be applied towards the outstanding balance of $500.00.
Enclosed is a check for $120.00 to be applied to my account balance.
I am happy to say that we are overcoming our financial difficulties. Enclosed is a check for $2,309.58 to pay off January's balance.
I have been eager to pay off this debt and am relieved to enclose a check for the entire amount.
As agreed, I have enclosed a cashier's check for $500.00 to cover one half of the total amount owed on our account.
Phrases
am glad to get this to you
am delighted to
as payment in full
as payment toward
enclosed is a check for
expect to be able to
current payment enclosed
for the amount due
for the entire amount
glad to finally
have been eager to
have enclosed a check for
if there are any late fees
our delayed check for
to pay off our debt
please let me know
please accept the enclosed
still owing on my account
towards the outstanding balance of
the full amount due
this amount covers
to be applied to
to be paid toward
toward my account balance
will be able to pay
2

. Apologize for your payment being late and explain briefly why it is late, if appropriate.
Sentences
I apologize for not being able to get my payments to you on time. Your patience and consideration have been most appreciated.
We apologize for the unexpected delays in getting our payments to you. We appreciate your willingness to work with us to find the best way to resolve this matter. Your kindness and amiable attitude have only strengthened our resolve to use your company's services in the future. We will be confident in referring others to you.
We are sorry for the delay. Because of a new government regulation, we have had to delay production for several weeks. As you can imagine, this has caused us grave financial stress.
Due to unanticipated financial difficulties, business has been slow. We apologize.
We are sorry for the delays that you have encountered with our payments. We realize that this has undoubtedly created an awkward situation for you. However, we appreciate the manner in which you have worked with us to get our account up to date.
As we discussed on the telephone, I have been struggling just to feed my family since the plant closed; however, I have just gotten a new job and anticipate no further late payments.
As you are surely aware, this city is experiencing a recession which has affected most of the businesses in the area, including ours. For this reason our payment is late. We are sorry for the inconvenience and assure you that this is a temporary condition.
Due to the unexpected illness of our son and the resulting hospital bill, we have been delayed in making our payments. However, we have sold one of our cars and are submitting all past due payments plus our next two payments.
Phrases
again, we apologize for
anticipate no further late payments
as you know
as we discussed earlier
as you can imagine
assure you that
because of a new
did not anticipate that
due to financial difficulties
for this reason
financial stress
has severely strained our
have had to delay
is a temporary situation
let you know that
made business really slow
our payment is late because
sure you are aware
understand our position
3

. Thank your creditor for his or her understanding.
Sentences
Please understand that even though this payment is late, we are committed to making prompt payments in the future.
Thank you for your patience and understanding during this difficult time.
We appreciate your willingness to work with us on this temporary problem and hope that we can continue to do business with you for years to come.
Thank you for your kind understanding.
You can expect our regular payments to resume on June 1. Until then, we appreciate your willingness to accept this late payment.
We want to express our gratitude for your understanding.
Thank you for working with me during this difficult time.
Phrases
can expect our regular payments
doing business with you
during this difficult time
even though this payment was late
for years to come
hope that we can continue
how grateful we are for
how much we appreciate
in the near future
making prompt payments
remain committed to
sorry for the inconvenience
thank you for
thanks for your kindness
thanks for working with me
want you to know
was so very nice of you
your patience and understanding
your allowing me to
your willingness to
4

. Reaffirm your ability and commitment to keep the terms of your agreement.
Sentences
Although we have experienced some temporary setbacks, we assure you that the circumstances that led to our delinquency have been resolved.
In addition to having the resources to keep all our payments current in the future, we are committed to making our account with you a high priority and will ensure that we are not late again.
I want to assure you that we will make all our future payments on schedule. In fact, if the pending sale of our home goes through, we will pay off our account early.
Although this layoff caused us some temporary difficulties, I am now in a position to keep all my obligations on time. My current work phone number is 555-5555. If you need to contact me, feel free to call me there during the day or at home in the evening.
You may rest assured that I will be prompt with all future payments.
Phrases
all future payments
can depend on
credit record
declare my intention
good intentions
my reputation
past history
please be assured
promise to make
received on time
return to prompt payment
scheduled future payments
solvent once again
vital credit
wish to assure you
Related Articles
Related Resources
Still can't find the right words for your credit letter?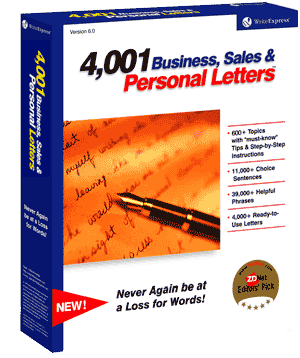 You will with our 500 letter-writing tutorials!
Find the credit letter that fits your needs and copy it directly into Microsoft Word or your favorite word processor.
Or let our 500 letter-writing tutorials guide you step-by-step through the writing process, suggesting sample phrases and sentences for each writing step. In minutes, you can write an effective credit letter.
Print your credit letter and send it!