Tips
This letter could come as a blow to the recipient if he or she has viewed the delegated responsibilities as a permanent assignment or as a promotion. It is important to show appreciation for what the employee has done and at the same time point out the excellent qualifications of the person who will take over the responsibilities.
Steps
1

. Express appreciation to the employee. State clearly that you always understood his or her help to be temporary.
Sentences
We very much appreciate your hard work as acting manager, which has helped us through a difficult period.
You have done an outstanding job of holding the section together these past few weeks until a permanent supervisor could be found.
You have done very well as temporary shift supervisor.
Thank you for the dedication you have shown the past two months in running the media center, in addition to your regular duties.
You have done an admirable job as acting director of Nursing Services this past month.
Phrases
a difficult time
accept my sincere appreciation
accept our thanks for
as a temporary
as our acting
for the dedication you have shown
for all your hard work
for a job well done
for your hard work over the last
have helped us through
have done very well
have done an admirable job
have done an outstanding job
holding things together
thank you for
these past few
until we could find a permanent
very much appreciate
want to commend you for
your efforts have
2

. If you have hired a replacement to fill the position, tell the employee about the person and specifically mention his or her qualifications.
Sentences
After a number of interviews with the many qualified applicants, we have chosen Jane Doe to run the media center. She received her Master's degree from Doe State and has had five years of library, archival, and multimedia experience.
I understand that John Doe, who has been with the company for nine years, has been invited to fill the position.
Jane Doe will start work on June 1. She has had five years of supervisory experience and will be an asset to the company.
Jane Doe will take over as shift supervisor on Monday. I believe you are already acquainted with her. She mentioned that she helped train you when you first joined the company, and she looks forward to working with you again.
Our new director of Nursing Services, Jane Doe, will start work on July 1. At that time you will be able to return to your duties as assistant director of Nursing Services. Ms. Doe has impeccable credentials and has had extensive experience in geriatric care.
Phrases
after extensive interviews
appointment is effective beginning
can then return to
has had fifteen years of experience in
have invited her to
has had extensive experience in
many qualified applicants
received her degree from
this highly qualified person
to your normal duties as
to fill the position
will take on the job
will take control of
will help with
will report to
will join us on
will start work on
will be an asset to
will take over as
will assume responsibility for
3

. Express confidence in the employee's cooperation and future success.
Sentences
I have worked with John before and know you will enjoy working with him. He will certainly have a very capable assistant!
Thanks again for your help. I believe you have an excellent future with the company.
We would appreciate your assistance in showing Ms. Doe the ropes. Thanks once more for your hard work and dependability.
I know you will help make the transition as smooth as possible.
She will certainly have a very fine assistant. We are confident that you will enjoy working with her.
Phrases
a very congenial
am sure you will be pleased to
an excellent future with
are confident that you
are sure that you
as smoothly as possible
for a transitional period of
leads us to expect
look forward to your development in
please be prepared to
please prepare some training notes for
should now focus your attention on
show him the ropes
trust that you will
want you to take on the task of
will return to your position as
will enjoy working with
will have a very fine assistant
will still need to take care of
will help to make this transition
would appreciate your further assistance in
your own successful performance
Related Articles
Related Resources
Still can't find the right words for your delegation letter?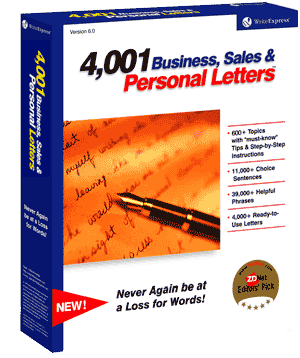 You will with our 500 letter-writing tutorials!
Find the delegation letter that fits your needs and copy it directly into Microsoft Word or your favorite word processor.
Or let our 500 letter-writing tutorials guide you step-by-step through the writing process, suggesting sample phrases and sentences for each writing step. In minutes, you can write an effective delegation letter.
Print your delegation letter and send it!