Tips
Issue a directive to see that someone performs a particular task. It may explain how and/or why the task is to be done.
Steps
1

. State what needs to be done. Add explanations or details as necessary.
Sentences
I have read your proposal, and believe that it presents a sound approach to dealing with the problem. Please proceed as you have outlined.
We are working with very strict deadlines and severe penalties on the Doe project. I need you to submit weekly progress reports, detailing what you have accomplished, what you are currently doing, and what remains to be done.
I have attached a rough draft of the Doe proposal for your examination. Please check the figures and, if everything is in order, get it ready to submit.
Please organize a tour of the plant for the Springfield High Science club. They are particularly interested in the manufacturing process.
Please plan to attend the management training course at the Springfield Conference Center on Thursday and Friday next week. The details are in the accompanying brochure.
Please study the attached proposal and let me know what you think of it.
After the recent rash of burglaries, it's obviously time to increase our security. Please see that the following safety measures are completed:<br /> 1. fence the job site<br /> 2. box and lock all tools at the end of the work day<br /> 3. hire a night watchman
Phrases
according to the enclosed schedule
have attached a copy of
important new procedure
is necessary to
is important that
make sure that
need you to
plan to attend
please proceed as outlined
please proceed with
please prepare a
please organize a
prepare a tentative
request that you
see that everyone
suggest that we
take the following steps
with the following
would like you to
you will need to
2

. Give a deadline or arrange for follow-up or evaluation. Offer to answer questions if you like.
Sentences
Let's get together in my office at 9:30 next Tuesday morning to discuss this matter further. If you have any questions in the meantime, feel free to call.
I will need to have these on my desk by Thursday afternoon of each week so that I can report to the board.
Please be ready to report on this subject at our regular meeting on June 20. If there are further losses before then, please call me immediately.
If you have questions about the schedule, please let me know.
The bids are due by March 15, so you will need to begin work as soon as possible.
I am sure you will find the course valuable to you, especially as you continue to rise in the company.
We ask all our new employees to attend this course, and hope you will find it very worthwhile. If for any reason you are unable to attend, please speak to Jane Doe today.
We need to make a decision by the end of next week.
Please coordinate your work with Mrs. Jane Doe. You could leave a message for her at the school or call her at home after 3:00 p.m.
Phrases
a considerable penalty for
as soon as possible
be prepared to
discuss this further
feel free to call
for final approval
get together on
if you have any questions
if you need help
is available to
must be completed by
need to have this by
need any further information
our deadline is
plan to present
please let me know
please coordinate your work with
will meet on
will improve our
will review this procedure on
would appreciate hearing your opinion
Related Articles
Related Resources
Still can't find the right words for your directive letter?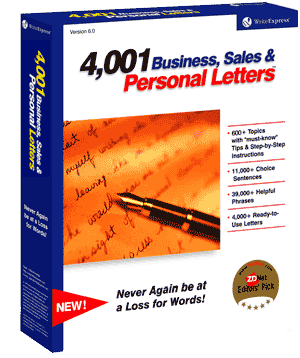 You will with our 500 letter-writing tutorials!
Find the directive letter that fits your needs and copy it directly into Microsoft Word or your favorite word processor.
Or let our 500 letter-writing tutorials guide you step-by-step through the writing process, suggesting sample phrases and sentences for each writing step. In minutes, you can write an effective directive letter.
Print your directive letter and send it!