Tips
These changes may be threatening to some of the people involved, so explain the rationale behind them with as much sensitivity as possible.
Steps
1

. Identify the problem which has made the directive necessary.
Sentences
Because of several changes in personnel during the last few weeks, we must reorganize the area you supervise.
Recent downsizing in the company has necessitated some reshuffling of territories. We appreciate your recent suggestions and recommendations, and after careful thought have arrived at the following decisions:
I appreciate your recent report on problems in your area, and agree that opening an office in Springfield would be a good move.
You are no doubt aware that our recent merger with Doe Corporation has resulted in a number of changes to our organization. The most painful of these, the layoffs, are now complete. For the next few weeks we will be restructuring the affected departments.
Our most recent studies suggest that there is strong market potential in the western states, just beyond the region that you now serve. To exploit this potential, we are restructuring sales territories.
You have done a wonderful job with your territory, but we now have so many customers that it is no longer possible for you to keep in touch with all of them.
Phrases
after discussions with
after our discussion
appreciate your suggestions
are no doubt already aware
as you are aware
because of several changes
for optimal use of
have made this change necessary
in order to
must agree that
need to reorganize
no longer possible to
our recent merger with
recent downsizing
recently completed a
restructuring our territories
serve our customers more effectively
strong market potential
studies suggest
the recent changes in
to make better use of
to improve efficiency
use of our resources
will surely agree that
your report on
2

. Specify what will change.
Sentences
Jane Doe will replace Robert Johnson as your assistant and Robert will receive a transfer to the Chicago office, as he requested.
It is necessary for us to close the Springfield office. Please put this into motion, transferring active accounts to our Centerville branch. Make every effort to reassign those employees who are willing to relocate.
Go ahead with establishing a branch office in Springfield. Please advertise the new office positions to current personnel first.
Please reorganize your staff to fill vacancies created by the layoffs. Any serious gaps need to be filled from within the organization. If you can't find qualified people in your current labor pool, submit a request to the central personnel office to see who is available.
Your territory will now include Utah and Nevada to the west, while we will reassign your two Midwestern states, Indiana and Ohio, to John Doe. You will keep your current sales force, except those in the "lost" states. Those people will now work for John. You may reassign existing personnel and hire new people as necessary to get the new area going.
I realize it is hard to lose territory, but we would like you to focus your energies on your northern customers. John Doe will take over everything south of Springfield. With this route division you will keep 70% of your established customers with less than half of the travel.
Phrases
adjust your staff assignments to
changes are necessary if we are to
close down the
establish a hiring freeze
go ahead with
hire new people to
if you are unable to
in the future please
increase our overall efficiency
is necessary for us to
make every effort to
need to focus our efforts on
need to reassign
new responsibilities will include
reassign existing personnel
will increase our effectiveness
will no longer be
will replace
will transfer to
will now include
will take over from
3

. Close by expressing confidence in the reader and offer to answer any questions.
Sentences
Thanks for all of your good work. You are welcome to have people call me if they have questions or problems with their new assignments.
Again, we appreciate your work in this area. If you have questions or problems, please contact me immediately.
I am confident that you will make a success of this. If you have questions, please fax them to me. I will get back to you as soon as possible.
Now that the disruptions are over, we need to build morale and boost productivity. I am confident that you are the right person for the job. Contact me if you have questions.
Good luck with the new territory. Please call me if you have any questions or problems with this assignment.
I trust this will be a lucrative change for you, as you will be spending more of your time selling.
Phrases
although change is always difficult
am confident that
appreciate the fine job you do
are welcome to
best wishes for
call me if
can't think of a better person to
feel free to
good luck with
have confidence in
if you have any questions
in the long run
iron out any problems
is important that we
please contact me
right person for the job
thank you for
trust that you
want you to know that
will make a great success of
will all benefit from
Related Articles
Related Resources
Still can't find the right words for your directive letter?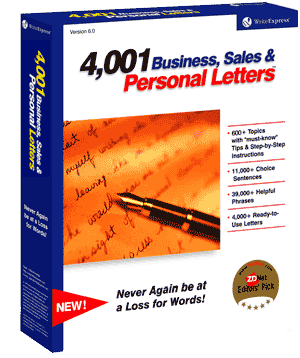 You will with our 500 letter-writing tutorials!
Find the directive letter that fits your needs and copy it directly into Microsoft Word or your favorite word processor.
Or let our 500 letter-writing tutorials guide you step-by-step through the writing process, suggesting sample phrases and sentences for each writing step. In minutes, you can write an effective directive letter.
Print your directive letter and send it!