Tips
Policies establish general guidelines for handling various situations. Deviation from these can cause far-reaching disruptions within the organization. Thus, the directive must be clear and precise, to avoid misunderstandings.
Steps
1

. Identify the problem which has made the directive necessary.
Sentences
At Doe's we take pride in the service we provide for our clients. We need to look and act like the professionals we are.
As you are aware, the company has received some unflattering publicity recently. The media has distorted comments made by several employees.
This company's policy has always been to consider education and/or training, experience, and job performance in hiring and advancement decisions. Considerations of race and gender do not enter the picture. In recent months, however, questions have arisen about race and gender quotas.
I would like to remind you that Doe Corporation is an equal opportunity employer.
In a manufacturing company like Doe Corporation, where moving machinery and equipment makes alertness essential, the use of drugs and/or alcohol creates danger for everyone. In the last two months several employees have been injured due to drug use either on or off the company property.
A recent study of company phone use reveals a number of abuses that need to be corrected.
Phrases
a recent study
appears to be a misunderstanding
are concerned about
are of major concern to
as you are aware
company policy is
find it necessary to
has become necessary to
has come to my attention
has been some uncertainty about
have occurred recently
have expressed concern that
our policy has always been to
problems have arisen
questions have arisen
several breaches of
take pride in
the policy of this company is
the events of recent
we need to
would like to remind you that
2

. State, summarize, or enclose a copy of the policy. Itemize the essential elements, if appropriate.
Sentences
We request that all employees adhere to the following dress and grooming policy:
From now on, the following policies will be in effect:<br /> 1. Do not respond to any questions from reporters. Media Relations will handle all queries from the press and issue statements representing our position.<br /> 2. If any reporters persist in annoying you, please call my office.
Please be assured that our long-standing policy has not changed. We will continue to hire and promote according to ability and will not practice any racial or gender discrimination.
Our policy with regard to hiring and promotion is outlined on page twelve of the Employee Handbook. Please read and adhere to the guidelines.
Consequently, a zero-tolerance drug policy has been put into place. This means that you are subject to immediate termination and loss of all benefits if you are arrested for drunk driving, dealing in or possessing drugs, or if you test positive on a random drug test. Refusing to take the test or tampering with test instrumentation will also result in termination.
You are welcome to make local, personal phone calls during your break time. Making personal calls on company time is not acceptable. In an emergency, consult your supervisor, who has the authority to make an exception.
Phrases
adhere to the
are welcome to
be assured that
effective immediately
from now on
has been put into place
in the future
in order to qualify for
is outlined in
is essential that
is not acceptable
is an important part of
must be arranged through
need to be consistent with
policy with regard to
policy will be enforced from
read and adhere to
request that all
well in advance
will continue to
will not accept
will help us to
3

. Close by expressing appreciation and reiterating the importance of the information you have conveyed. Offer to respond to questions and problems.
Sentences
Thank you for your help in maintaining a professional atmosphere in the office.
You have witnessed the problems that arise when employees share their opinions with reporters. We are proud of our work force and the excellent way you carry out your assignments. Please keep up the good work, stick to this policy, and let Media Relations do its job.
If you believe you have been discriminated against, contact my office immediately. We treat all allegations of discrimination seriously, and we will investigate.
Drugs and alcohol create serious problems, not just for the users but for everyone. The zero-tolerance policy will make Doe Corporation a safer workplace. Call the personnel office if you have any questions.
Most employees use the telephones with intelligence and good sense. However, those who abuse the phone system will be subject to disciplinary action.
Phrases
a safer workplace
appreciate your cooperation
are proud of
confirm in writing that
cooperation is essential
expect that
for your cooperation in this regard
for your help in this matter
for your assistance
for your protection and safety
for further information
if you have any problems with
if you need any
if you have any questions
if you believe that
no further breaches of this kind
please see to it that
thank you for
will be happy to
will be more pleasant for all
will be subject to
Related Articles
Related Resources
Still can't find the right words for your directive letter?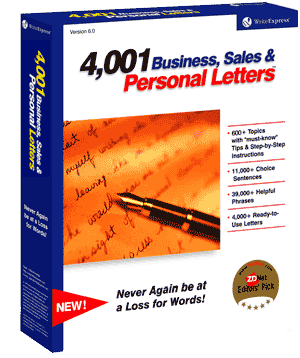 You will with our 500 letter-writing tutorials!
Find the directive letter that fits your needs and copy it directly into Microsoft Word or your favorite word processor.
Or let our 500 letter-writing tutorials guide you step-by-step through the writing process, suggesting sample phrases and sentences for each writing step. In minutes, you can write an effective directive letter.
Print your directive letter and send it!