Tips
Written encouragement can be very powerful. It gives the reader something to keep, share and review. The tone is always positive, focusing on things have been or can be done. Avoid direct or implied criticism.
Steps
1

. Explain the new opportunity you want your reader to look into.
Sentences
I just read an article in the trade journal today about some of the new developments at Doe Inc. I think now is a good time for you to call them to see if we can reopen our account with them.
I clipped the enclosed scholarship information from a newsletter that I receive. This scholarship looks as if it were tailor-made for you.
If you have not already done so, I think the time is right for you to contact Doe Inc. and explain the advantages of our delivery service. Here is their address and phone number:
You mentioned the other day that you have always wanted to study French. Did you receive the community schools brochure? They're offering a beginner's French class this spring.
On the flight to Springfield yesterday, I met a retailer who expressed an interest in our line of coffee machines. I gave her your number as our sales rep in her area. If you wish to contact her, her e-mail address is Jane@Doe.com. She would prefer e-mail to faxes or phone calls.
The auditions for "The Importance of Being Ernest" are next Saturday.
Good News! We have managed to obtain 50 tickets for the Springfield vs. Centerville game in November. Please distribute these among customers and prospective customers.
Enclosed are the display materials for you to use at the convention.
Phrases
a terrific opportunity for
a window of opportunity
are sure that you will
as you may be aware
be prepared for
be sure to
can expect a
climate may be right for you to
explain the advantages of
expressed an interest in
happy to inform you
have always wanted to
have enclosed information about
have no doubt heard that
have you considered
is a good time to
know that you are interested in
read an article about
some new developments in
time is right to
to take advantage of
will be pleased to hear that
wonder if you have heard
2

. Offer any other relevant information or instructions that may help your reader approach the situation. Offer assistance, if appropriate.
Sentences
Call John Doe, who is already acquainted with the situation.
You will need to act immediately because the deadline is next month. I will gladly supply a letter of reference if you need one.
You may have heard through the grapevine that they have been having problems with late deliveries. This is a great opportunity to get a new account, but we need to act fast.
I will also be signing up for the class, and would be very happy if you would join me. After all, there's no time like the present!
If you can't contact her immediately, please let me know by tomorrow so I can pass her name on to someone else. I think this is an excellent opportunity to secure a new account.
Call me for further details. I do hope you will audition--you have great talent.
Rather than handing these tickets out to friends, use them as incentives to close sales. We encourage you to call now so your clients will have time to plan to attend the game.
This display has been proven to produce outstanding results, and we strongly urge you to use it. On Friday, John will hold a workshop on how to use the display to its full potential, and will be available to answer any questions you might have.
Phrases
answer any questions
as we discussed
attend a workshop on
call me if
can fill a need
could establish a
discuss this further
encourage you to
excellent opportunity to
has been proven to
has been a change in
have an excellent chance of
having problems with
if you need help
if you are unable to
is well acquainted with
in a position to
jump on the bandwagon
let me know
must act fast
need to act immediately
need a polished presentation
no time like the present
please go ahead with
will help you with
will be open to
will be happy to
3

. Express anticipation for success.
Sentences
I look forward to hearing your report.
You have my best wishes, now and in the future.
I'll be watching your reports to see how this turns out. I am sure you will do your usual excellent job.
I look forward to seeing you there.
I am eager to see how this turns out. Please let me know what happens.
Keep up the good work!
We are sure you will find the materials useful on your trip to Springfield. Please let us know if we can help.
Phrases
a great opportunity to
am sure you will
am confident that you
best wishes for this venture
if you have any questions or concerns
if we can be of help
keep in touch
keep me posted
keep up the good work
let me know
let's plan to
look forward to
make a real difference to
now and in the future
take advantage of this
this unusual opportunity to
to receiving your report
trust that you will
will follow your progress
will do a great job
wish you the best of luck
your usual excellent
Related Articles
Related Resources
Still can't find the right words for your encouragement letter?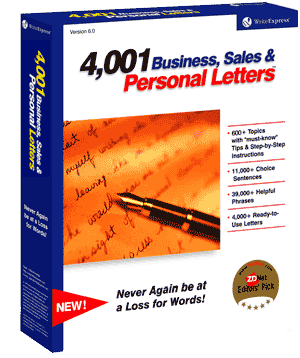 You will with our 500 letter-writing tutorials!
Find the encouragement letter that fits your needs and copy it directly into Microsoft Word or your favorite word processor.
Or let our 500 letter-writing tutorials guide you step-by-step through the writing process, suggesting sample phrases and sentences for each writing step. In minutes, you can write an effective encouragement letter.
Print your encouragement letter and send it!