Tips
A good credit rating is enormously important in today's world, and an error in a credit report needs to be addressed as early as possible. See that the credit bureau corrects the error promptly and sends corrected statements to everyone it has misinformed.
Steps
1

. Point out the error, presenting evidence that it is an error.
Sentences
The information in your files on our car payment history is incorrect. I am enclosing copies of all our statements from the financing company, and as you will see, all the payments were made on time. We paid off the debt two months early, in June 2001.<br />We were certainly never notified of repossession proceedings, as your report indicates.
Please add this letter to our company's file. Our company, "Doe International," changed its name from "Doe Corporation" in January 2004, the date you have given for the company's inception. Doe Corporation has been in business since April 1952, and is thus not a new company at all.
There is an inaccurate entry on my credit report, and I must request that you remove it. The report shows a tax lien against my property at 648 Maple Lane, Centerville, Kansas, for the year 2005. I have spoken with the county recorder, who agreed that this was an error. You can expect a letter from her soon.
I would appreciate your assistance in correcting an error on my credit report, which shows an outstanding balance of $987.65 owed to Doe Corporation. I am enclosing copies of my cancelled check and their final two statements, the second one showing the amount as "paid in full.."
There is a great deal of erroneous information on my credit report, which shows accounts I have not opened and debts I have not incurred. Are you perhaps confusing two different people? I am enclosing a copy of the report you sent me with the incorrect items marked, and the following information, which may be of assistance:<br /> My full name is John Eric Doe.<br /> My Social Security Number is 555-55-5555.<br /> I have lived at the above address for the past 30 years.
Phrases
a serious error in my credit report
am sure you appreciate the seriousness of
appear to have been mishandled
as you can see
as reflected by the county records
attached statements from the bank
attached is a copy of canceled check #222
balance was paid in full on
can expect a letter from
changed the company name
could be detrimental to
could jeopardize my financial future
credit report does not accurately reflect
discovered an inaccurate entry in
disturbed by the inaccuracies in our credit report
enclosed are copies of
enclosed statements of payments received
have been erroneously penalized for
have spoken with the
have an impeccable credit record
have made an error in
included all statements from the financing company
including copies of all statements
incurred no debt during this time
kindly add this letter to our file
made all payments on time
must realize the importance of an accurate credit history
my former name was
our records show that
payment record is exemplary
payment history is incorrect
shows an outstanding balance of
the following information may be of assistance
was shocked to receive
would appreciate your assistance in
2

. Explain how you wish the bureau to correct the record.
Sentences
Kindly correct your records, send us a corrected report, and notify all those to whom erroneous reports have been distributed.
Please send us a revised summary, including the above information.
Please take any necessary steps to correct my credit report, and send me an amended copy.
Please delete the erroneous information and send me a copy of the corrected report.
Please examine your records and send me a copy of the corrected report.
Phrases
contact the county records office
correct my credit report
delete the erroneous information
detail the correct credit information
do not hesitate to contact me
examine your records
help us get to the bottom of
hope this will not have a negative effect on our
kindly correct your records
let me know when this has been corrected
look forward to receiving a revised report
nip this problem in the bud
notify all those who have received this erroneous information
please update your credit records
refer this problem to
refer to the enclosed copies of
remove the outstanding balance
request your assistance in
request a complete investigation into
send me a copy of the corrected report
send me a corrected copy of
send us a revised report
take the necessary steps to
take measures to avoid future inaccuracies
to anyone you have misinformed
would appreciate your
your prompt attention to
Related Articles
Related Resources
Still can't find the right words for your error letter?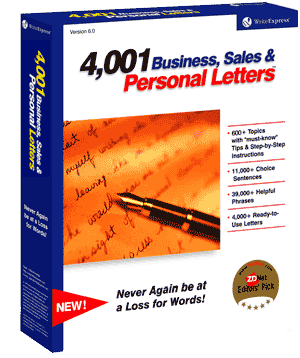 You will with our 500 letter-writing tutorials!
Find the error letter that fits your needs and copy it directly into Microsoft Word or your favorite word processor.
Or let our 500 letter-writing tutorials guide you step-by-step through the writing process, suggesting sample phrases and sentences for each writing step. In minutes, you can write an effective error letter.
Print your error letter and send it!