Tips
When a customer complains about an error, or if an error affects several people, it is wise to take the trouble to explain and probably apologize. The letter needs to be detailed enough to explain what happened, but should not be lengthy.
Steps
1

. Explain the error.
Sentences
The booklet you ordered contains several typographical errors.
We changed our payroll program this month, and unfortunately made an error in transferring data. Consequently, we did not withhold your FICA tax this month, so we must withhold a double amount next month.
I made an error in booking your symphony season tickets. You asked for the second Friday night of each run, and I inadvertently booked your seats for the first Friday night.
I made an error in booking the room for our September meeting. I booked the conference room for the wrong date and by the time I realized my mistake, another group had reserved the room. We will have to meet in the media center instead.
Thank you for your call. I did indeed make an error in your flight bookings and am grateful that you caught it so early.
Phrases
after checking our records
after reviewing your statements
after reviewing our records
an embarrassing oversight
an embarrassing situation
an unusual but nonetheless inconvenient error
assumed you had coverage
assumed the information was correct
booked for the wrong date
data transmission was unsuccessful
did not deduct the
did indeed make an error
error resulted from
error led to money being withheld from
has come to my attention that
has had several repercussions
has a number of typographical errors
have discovered that
have found an error in
in transferring data between
in your booking
in calculating the
inadvertently made your booking for
information had not been processed
information was missing from
made an error in
miscalculated the total
mistake resulted in
number of grammatical errors
processed your claim incorrectly
regret the inconvenience
regretfully underpaid you
result of a clerical error
some of the data are missing
such mistakes seldom happen
such errors seldom occur
thank you for calling our attention to
unfortunately undercharged you for
unfortunately made a mistake
was an unfortunate mix-up
when the change was made
2

. State how you plan to correct the error.
Sentences
Please return the proofs so that we can correct them and send you a second set without delay.
This error will be corrected with your July paycheck. We have been working overtime to make the necessary adjustments, and the program is now running as it should. Please do not hurry to spend your "raise," because your July paycheck will be short by the amount that we failed to withhold in June.
The amount involved is fairly small, $75.45, and we would like to simply forget it, but the law will not permit us to do so. Would you please send us a check for the $75.45 at your earliest convenience?
The seats you have already received for first Friday nights are excellent ones. I am holding second Friday tickets for you, but their location is ten rows farther back. Would you prefer to keep the tickets you have or attend on your first choice of nights? Please call me at 555-5555. I will hold these tickets for you for three weeks.
I thought it would be better to adhere to our prearranged date, and change the venue, but I will be more careful in future.
Your new flights are detailed on the enclosed sheet.
Phrases
an itemized statement of
at your earliest convenience
can easily be corrected
happy to answer your questions
have input the missing data
have enclosed a check for
have made alternative arrangements
have already corrected the
if you would prefer to
late charge will be deleted
law will not permit us to
offer you first choice of
outstanding balance will be adjusted
please send us the balance
please return the proofs
please send us a check for $450.08
will ship the missing
will clear up the matter
will not occur again
will work overtime to
will be reflected on
will make the necessary adjustments
will compensate you for
will hold the replacement tickets for
will correct this without delay
will send you corrected copies
will send you an amended copy of
will be reimbursed for
will be no charge for the new
will conduct a thorough investigation into
will issue a corrected invoice
will send you a copy of the revised
will be up and running by
will show up on
will be reflected on your next statement
won't happen again
would appreciate your prompt attention to
3

. Apologize if necessary and offer reparation, if appropriate.
Sentences
We regret any inconvenience this may cause you. There will, of course, be no charge for the new set of proofs.
I am truly sorry for the mix-up.
We are glad that we could cover most of your costs from the accident, and only regret having to ask you to send a small portion back.
I apologize for the error. Thanks for supporting the Symphony.
I am sorry for any inconvenience this may cause you. We will see you in the media center next Thursday.
We will, of course, cover the penalty for changing the flights. Thanks again for pointing out the mistake.
Phrases
apologize for the mix-up
apologize for the error
are glad that we could cover most of your costs
are sorry about this oversight
are doing everything we can to
assure you of our complete cooperation
assure you that we appreciate your
at no additional cost
bringing this to our attention
dispatchers will in future
for your patience and understanding
for being so supportive
for bringing this error to light
for pointing out the mistake
happy to review your account
have enclosed a small gift
hope this will assist you in
hope you will accept our apologies
hope this will be satisfactory
how much we appreciate
most eager to get the matter corrected immediately
please let us know
please understand our position
realize the effects of such errors
regret the miscalculation
regret having to ask you for
regret the inconvenience
regret having made the mistake
sorry for the inconvenience
thank you for
this has caused you
to apologize for the error
trust that there will be no more errors in
want you to know
will make sure that
will, of course, cover any penalties for
will not happen again
will in future double-check all
your expressing your concerns
your cooperation in correcting this error
Related Articles
Related Resources
Still can't find the right words for your error letter?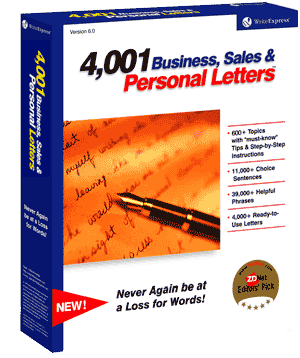 You will with our 500 letter-writing tutorials!
Find the error letter that fits your needs and copy it directly into Microsoft Word or your favorite word processor.
Or let our 500 letter-writing tutorials guide you step-by-step through the writing process, suggesting sample phrases and sentences for each writing step. In minutes, you can write an effective error letter.
Print your error letter and send it!