Tips
This letter is brief but courteous. It points out the error and requests review and/or correction.
Steps
1

. Give your name, policy number, and claim number if appropriate.
Sentences
Name: John Doe<br />Policy #123<br />Claim #456
2

. Point out the error.
Sentences
It appears that in compiling the list of damage done to my home by the May 31 storm, the adjuster missed several things.
I was dismayed to discover that after the fire you paid me the depreciated value of my household goods. For the past fifteen years, I have paid an extra $25 on each insurance premium in order to have my goods covered at replacement value.
I understand that you refused to pay for my son's eye test on the grounds that he did not have a referral from his primary care physician. I did not obtain a referral because the rules clearly state that a referral is not needed for a routine eye examination.
My recent premium notice did not include the discounts for safe driving and seat belt use. We still wear our seat belts and have not received any tickets in the past eight years.
I think there may have been an error in the amount you reimbursed me after my recent accident. The car was totaled, as the assessor agreed, and I expected to receive the book value less my $250 deductible. Instead, I received only $1,800--less than half the book value.
According to my last premium statement, my car is rated as being driven over 7,500 miles annually. Actually, I drive it less than 7,000 miles annually, as I indicated when I bought the policy. I only use it periodically to go to my part-time job a couple of miles away.
Phrases
a list of the damage done to
according to my last statement
according to my physician
after further review
always wear my seat belt
as I indicated when I bought the policy
asked to have my goods covered at replacement value
assessor agreed that the car was
dismayed by the unannounced rate increase
do not fit into this classification
expected to receive
filed a claim for
has come to my attention
have refused to pay for
have insurance rates doubled since the last
have enclosed a copy of
have included photographs of
have not included the discounts for
have been paying for the additional coverage
have discovered an error in
have not received any tickets
insurance premium bill states that
insurance should cover the costs of
less than half the book value of
mailed my premium payment on
need your help in correcting this
no referral is necessary for
noticed a discrepancy in
on the grounds that
paid the higher premium to ensure that
recent premium notice states that
rules clearly state that
the errors are as follows
think there may have been an error
understand that you refused to pay for
understood that I would receive
was not informed of this change
was dismayed to discover
was an error in
was paid only the depreciated value of
was not aware that we needed to
why was I not granted the discount for
3

. Explain how the error occurred or may have occurred.
Sentences
We were all so busy worrying about broken windows and the ripped awning, that we didn't concern ourselves with the roof. A hasty inspection showed that it seemed to be intact. Now, during the first heavy rainfall since the storm, the roof is leaking in several places.
Perhaps this is an oversight on the part of your staff? The endorsement should certainly appear on my policy, as you have billed me regularly for the extra amount.
The ophthalmologist did find some pathology during the course of the exam, and recommended treatment for that, but it started off as a routine exam. The misunderstanding may have arisen because the diagnosis was included with the billing report.
Is this simply a clerical error?
I have gone through my policy carefully and do not understand your refusal to cover the charges.
Perhaps my agent confused this car with the other one that my husband drives.
Phrases
a transposition of the numbers
a hasty inspection showed
advised me earlier that
assessors were in a hurry
complications arose after the
could conduct only a preliminary assessment
did not concern ourselves so much with
did not show up in the photographs
difficult to obtain an accurate assessment with
do not understand how
during the first heavy rainfall
during the course of the examination
endorsement certainly should have appeared on
found some pathology
has been a mistake in the reimbursement amount
have read through my policy carefully
information has changed
it appeared from the initial examination that
many other homes to inspect
may have confused this case with
missing data from our file
probably just an oversight
roof is now leaking in several places
since the accident
since our last billing statement
situation changed suddenly after the preauthorization
so much damage that
that we did not examine the
the initial inspection showed
throughout the initial tumultuous situation
took no more than a cursory look at
understood that the policy covered
was reimbursed only
4

. Request correction or action.
Sentences
I would appreciate your sending an assessor to examine the roof properly.
Kindly reassess my claim and send me the rest of the money that I am entitled to.
Please check the records as necessary and pay the claim.
Please send us an explanation or a revised premium notice.
Will you please reevaluate my claim? I hope you will find that you made a mistake, but would otherwise appreciate your explaining how you calculated my payment.
Please make the change and adjust my premium amount accordingly. I will be happy to provide you with odometer readings.
Phrases
adjust my premium accordingly
adjust the settlement accordingly
am sure you understand
assess the damage more thoroughly
avoid problems in the future by
can send photographs of the
check your records
confirm that the bill has been paid
correct the errors in
for your assistance in this matter
in the light of this additional information
inform us about changes to
kindly reassess my claim
need an itemized list of
please take a moment to review
put yourself in my shoes
recheck your paperwork
reevaluate my claim
request a correction in
request a reassessment of
request immediate action
review this claim
revise your estimate
send an assessor to
send us an explanation of
send the balance that I am owed
send a revised premium notice
send a copy of
send me money that is due to me
thank you in advance for
trust that you will find the error
want this cleared up
would be happy to provide
would appreciate your explaining
would appreciate your prompt attention to
would have one less thing to worry about
Related Articles
Related Resources
Still can't find the right words for your error letter?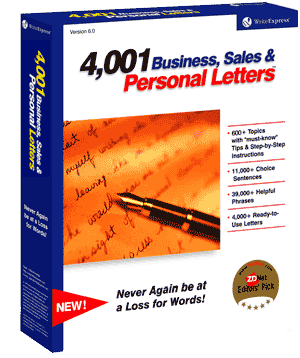 You will with our 500 letter-writing tutorials!
Find the error letter that fits your needs and copy it directly into Microsoft Word or your favorite word processor.
Or let our 500 letter-writing tutorials guide you step-by-step through the writing process, suggesting sample phrases and sentences for each writing step. In minutes, you can write an effective error letter.
Print your error letter and send it!