Tips
This letter is brief and to the point, giving sufficient detail to support one's contention that an error has been made, and explaining how it should or will be corrected.
Steps
1

. Describe the error.
Sentences
I should have received a tax refund of $853.25, but instead received $1,853,25.
I was told that I would receive a salary increase six months from my starting date, but there was no change in this month's check.
You were underpaid by $69.78 on May 16, when your eight hours of overtime were misread as three hours.
We inadvertently undercharged you $23 on your car insurance.
Thank you for your prompt payment of invoice #555, but there appears to have been an error. The amount due was $146.23. You paid $164.23.
Phrases
a change in our policy
accidentally overcharged you
accidentally overpaid you
after our current auditing
an error was made on your paycheck
apologize for the error
appears to have been an error
assumed my pay raise would come through by
check was for $100.00 more than
correct amount due was
correct base pay is
did not pick up all your overtime hours
different from what we agreed on
ended up overpaying us by
error occurred in transferring funds between
expected to receive a refund of
found an error in my
has been more than six months
has my salary just been cut
misread 5.0 hours as 3.0 hours
neglected to enter the change into our computer
note, however, an overpayment of
on the conversion of your stocks
premiums have been consistently low
raise is a month late
received a check for
resulted in an underpayment of
seems to be a mistake in
should have received a
should have paid
transposed the numbers while
underpaid us in
understood that my contract permitted me to
was supposed to receive
was supposed to receive a refund check for
was under the impression that
were inadvertently undercharged
2

. Explain what you intend to do or what you want the reader to do to correct the error.
Sentences
I have enclosed a check for $1000, the overpaid amount.
I spoke to payroll, but they have received no instructions about my raise. Would you please rectify this?
We will add the difference to your May 31 paycheck. I apologize for any inconvenience this may cause you.
You have been such good customers that our inclination would be to say "forget it," but insurance companies are governed by strict rules. We may not favor one customer above another. I am enclosing an invoice for the additional premium amount.
We have enclosed an $18.00 refund check for the difference.
Phrases
am pleased to enclose a check for
am enclosing an invoice for
apologize for any inconveniences
are governed by strict rules
can appreciate my predicament
contact your bank and resolve the issue
contact your insurance agent
contact our billing department at
correct and acknowledge the error
enter the missing data
fill in the marked items
have credited your account with
have enclosed our check for
have enclosed a check for the difference
have corrected your savings account balance
have enclosed a check for
have dropped the late charge
is time to resolve this
made out a check for the
matter warrants immediate attention
may not favor one customer above another
must ask you to return
need a copy of your
no interest accrued during this time
please fill out the enclosed form
review the statement and send me a check for
send me a corrected copy of
send us a detailed description of
send copies of all pertinent records
send me a check for the additional
send me a check for
should not take this long to
spoke to the payroll department
the additional premium amount
the balance due to you is enclosed
will be deducted from your next paycheck
will investigate the matter
will include the difference in your next paycheck
will add the amount to your next billing statement
will add the difference to
will reimburse you for
3

. Close with a positive expression.
Sentences
I trust this will be satisfactory.
Thank you for your help.
Please call if you have any questions.
Thank you for your understanding.
Thank you for your business. We look forward to serving you again in the future.
Phrases
accommodate your future needs
always happy to serve you
apologize for the confusion
apologize for any inconveniences
appreciate your patience and understanding
appreciate your choosing Doe Corporation
appreciate customers like you
appreciate your doing business with us
appreciate the opportunity to
call if there are further problems
do our utmost to avoid such errors
ensure that no other errors have crept in
for your understanding
for your business
for your patronage
for your patience
for allowing us to handle your
for your help
have exemplary patience
hope this will be satisfactory
hope it did not cause you too much inconvenience
if you have further questions
if you would prefer us to
if I can be of further service
if this is not satisfactory
it is said that patience is a virtue
look forward to
please accept our sincere apologies
review our corrections
take this very seriously
thank you for
to hearing from you
trust that this will close the matter
trust that this will be satisfactory
will appreciate your prompt attention to
your patience is commendable
Related Articles
Related Resources
Still can't find the right words for your error letter?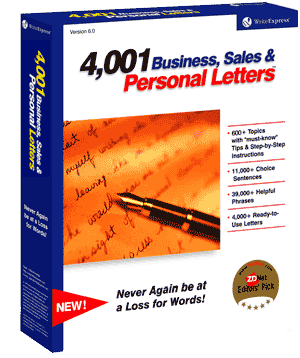 You will with our 500 letter-writing tutorials!
Find the error letter that fits your needs and copy it directly into Microsoft Word or your favorite word processor.
Or let our 500 letter-writing tutorials guide you step-by-step through the writing process, suggesting sample phrases and sentences for each writing step. In minutes, you can write an effective error letter.
Print your error letter and send it!