Tips
Fundraising letters demand exceptional sensitivity. They must be credible and persuasive without being manipulative or high-handed. Help the reader want to give from genuine caring rather than from pressure or guilt. Explain how the reader's contribution will improve your cause, rather than commenting on the negative results if he or she doesn't contribute. Avoid using expressions that may be interpreted as harassing, moralizing, or preachy. Help the reader see the benefit at each point in the letter. Keep the focus positive.
Steps
1

. Open with a statement that catches the reader's attention.
Sentences
You are among the truly loyal friends of Doe Conservatory whose generosity has meant so much to disadvantaged students.
You are cordially invited to a gala evening of song and dance at the Prospector's Palace, Saturday evening at 7:00 p.m. This annual event is our way of raising funds for the missionaries serving in Somalia.
I am writing on behalf of those Doe College students who may not be able to finish their schooling because of financial setbacks.
This is an invitation to lift a disadvantaged child to the heights you and I take for granted.
We are delighted to report that your gift last year made it possible for three little girls to attend summer camp.
It's true! We are finally going to build a new library for our kids!
We are excited that so many have helped us come so close to our goal of raising one million dollars.
As an alumnus of Doe College who participated in several of our musical productions, wouldn't you gain much personal satisfaction in helping us strengthen our music program even further.
Time is running out on our goal to buy emergency equipment at the lowest price of the decade.
It's a shame when bright kids don't have access to good books, but together we can change that.
It has been a sobering experience for all of us at the university to hear of the misfortune of our dear colleague John Doe.
Winter will soon be upon us, and many of our citizens will have no place to keep warm.
Phrases
a moving experience
a sobering experience
an unforgettable experience
are delighted to report
are excited that
are finally going to
are cordially invited to
because of financial setbacks
believe that you would gain
concerned people like you
have meant so much to
how much we appreciate
is our dream for
is an invitation to
look forward to a day when
made it possible for
make the difference between
on behalf of those
one of our loyal friends
our way of raising funds for
so close to our goal
so many have helped
time is running out
together we can
2

. If necessary, identify your organization and explain its purpose and activities.
Sentences
We are an ad hoc committee who, as students, personally benefited from contributions such as yours. We help the alumni association gather funds to help others who now follow us.
Mission Possible is a nonprofit organization in its tenth year of providing summer occupational training for disadvantaged youths.
We are Springfield County's emergency medical technicians and we have organized a task force to secure some much needed equipment.
A group from the English department has organized a committee to receive funds to help defray John's skyrocketing medical expenses.
The Doe Foundation coordinates all contributions to the University, so not every department that needs help will contact you.
The Civic Action Committee is a group of concerned citizens who volunteer their time to help those who have become homeless.
Phrases
a nonprofit organization
an organization of volunteers
are succeeding in making a difference
concerned citizens like you
donate our time to
for the past twenty years
for a much needed
for the disadvantaged
have established a foundation
have no doubt heard of our
have organized a committee to
have personally benefited from
have organized a
hearts have been touched by
to give something back to
to help others
to help defray the
to raise funds for
volunteer our time to
were responsible for
3

. Explain the urgent need for which contributions will be used. Be specific.
Sentences
We will use your contribution to buy new instruments for our beginning students.
The money contributed will be used to complete and equip a medical clinic that our missionaries are building for the local population.
The rapidly rising cost of tuition is preventing lower income students from enrolling. The money raised in this campaign will be used for tuition scholarships for qualified students with financial hardships.
Budget cuts have left us with no money to buy current texts for our students. We will use the money you contribute to purchase such texts so our students can continue to compete in our fast-paced world.
We will be buying two-way radios and state-of-the-art resuscitation equipment for each of the county's ambulances.
Your contribution will help us buy 200 sleeping bags for the homeless in our community.
Your help will allow us to complete the south wing of the library, which will house children's books and other educational resources.
Phrases
an urgent need for
are proud to say that
can specify where
desperately need help
every dollar you donate goes towards
help people help themselves by
make every penny count
makes such a large difference
receive no funding from
the entire amount will
where financial hardship prevents
will allow us to
will make all the difference for
will not be used for
will help us to
will open the way for
will change the outlook for
will use the funds to
will all be used for
your contribution will
your donation will provide
your help will
4

. Tell what your organization or efforts have already accomplished. It helps to relate personal success stories and present statistics.
Sentences
With contributions from alumni like you, we have been able to provide musical instruction for over 200 children who otherwise would have never had this exposure. Ten students who started in this program have gone on to major in music at the university.
Emergency teams who have used this equipment have documented a 25% reduction in fatalities due to heart attack.
You may recall the two boys who visited our congregation after receiving life-saving medical help in the clinic. Your contribution helped make that possible. We hope we can give the same gift to many others.
The help that contributors gave last year made it possible for 25 homeless persons to receive job training. Twenty of them are now employed and are able to pay rent.
Your contributions for textbooks last year made it possible for every math student to have a book to take home, rather than having to share it at school.
Phrases
are so grateful for
caring people like you
each individual that
each small triumph
even though there is
extend this gift to
has allowed us to
have achieved so much
have been able to
hope we can
how can we express
is heartwarming to
made it possible for
make this possible
may recall the
much more to be done
otherwise would never have
such a huge difference to
with the help of
with your help
your past contributions helped
5

. Explain what benefit will come to the person who contributes: personal satisfaction, benefits to family, an invitation to an event, membership in an elite group, a tax deduction, a gift etc.
Sentences
We know that those who contribute are rewarded with a satisfaction that money can't buy.
Of course, we all recognize that it is really our children that will benefit from our generosity at this critical time.
As a token of our appreciation we will send an autographed CD or a book by our resident baritone.
Knowing that you have helped a suffering person have an abundant life is a great feeling.
By contributing you will become a member of our Friends of Music Club, which will entitle you to have first choice seating for the 2002 concert series.
Your contribution is, of course, tax deductible. Please keep your receipt.
We will list all donors in our financial aids booklet, unless they ask to be excluded.
The names of all donors will appear on a plaque at the theater entrance.
Each donor will have his or her name engraved on a brick in the path leading to the entrance of the museum.
Phrases
all recognize that
consult your tax-advisor
donation may be tax-deductible
greatest reward will be
have the reward of knowing
have the satisfaction of
is no feeling quite like
know the joy of
know that you will
knowing that you have helped
opportunity to change a life
our true beneficiaries are all those who
reward lies in knowing that
that money cannot buy
token of our appreciation for
will benefit from our generosity
will send you reports on
will become a member of
will entitle you to
will be listed in our
6

. If necessary, reassure the reader of your organization's credibility and that you will use the contributions effectively.
Sentences
Since we are a volunteer organization, all contributions are used for the express purpose for which they have been given.
Checking with the local authorities will confirm that 98% of the donated funds reach their intended destination. Only 2% is used to administer the program.
Each year we publish a financial report of contributions and their uses. We will be happy to provide you with that report upon request.
We invite you to visit our class at any time to see firsthand the benefits of your contribution.
We will send you the names of those students who receive help from your contributions.
Phrases
a volunteer organization
administrative and fund-raising costs
all contributions are
are applied to our programs
call for a copy of
every penny we receive
for a copy of our latest financial report
for a complete breakdown of
happy to cooperate
invite you to
is good to be cautious
keep our costs down by
need to be accountable to
our income and expenditures
please write to
see for yourself
understand the need for
very low administrative costs
visit our offices
visit one of our
will be happy to provide you with
7

. Enclose a postage-paid envelope for the contributor's convenience, or explain an alternate way to make a contribution.
Sentences
Every contribution helps! We have enclosed a stamped pledge envelope for your convenience.
You may contribute by check or by credit card. Simply indicate your preferred choice on the pledge card and return it in the envelope provided.
If you wish, you may call in your pledge at 555-5555.
You may send your pledge in the enclosed envelope, or charge it for easy payment on your credit card by calling 555-5555.
If you prefer to make your contribution through payroll deduction, call 555-5555.
Call now and live with the satisfaction that you have lifted another's life.
Phrases
ask your employer about
can effectively double your
does your employer have
even the smallest contribution helps
have enclosed a
if you would prefer
if you wish
make your pledge by phone or mail
matching your donation
may contribute by
no matter what size
our matching funds program
pay in installments
please indicate your choice on
postage paid envelope
return your donation in the
stamped, preaddressed envelope
use your credit card
your preferred choice
your stamp adds to your donation
Related Articles
Related Resources
Still can't find the right words for your fundraising letter?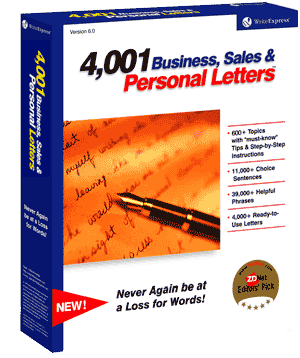 You will with our 500 letter-writing tutorials!
Find the fundraising letter that fits your needs and copy it directly into Microsoft Word or your favorite word processor.
Or let our 500 letter-writing tutorials guide you step-by-step through the writing process, suggesting sample phrases and sentences for each writing step. In minutes, you can write an effective fundraising letter.
Print your fundraising letter and send it!