Tips
Acknowledging the accomplishments and achievements of customers, business associates, and civic leaders is a valuable method of maintaining your business's goodwill. These letters are usually brief and personal, often use the friendly letter form, and generally use a warm complimentary closing.
Steps
1

. Begin by congratulating the recipient on his or her accomplishment or achievement. Specifically mention the achievement.
Sentences
I was so pleased to read about your well-deserved promotion to branch manager of the Springfield Corporate Offices!
Congratulations on your award as "Employee of the Year."
I was delighted to hear that your daughter, Jane, has received Springfield's Student of the Year Award.
It was a pleasure to be at the banquet last night and see you receive one of the Outstanding Leadership Awards.
Congratulations on a well-deserved award as teacher of the year.
Phrases
commend you for your
congratulations on
count it a privilege to
delighted to learn of
deserve this recognition
extend our heartiest congratulations
happy about your promotion to
happy to learn of your being honored for
have met the challenge of
is a pleasure to see you receive
is a significant honor
is a remarkable accomplishment
lucky to have you
must be very proud of
not at all surprised
on the occasion of
pleased to know of your success
public acknowledgment of your
such a prestigious award
this recognition of
to see you honored for
was delighted to hear that
was so pleased to
well-deserved promotion
well-earned commendation
wish you continued success
your outstanding achievement
2

. Expand or elaborate on your congratulations.
Sentences
Even when we were in high school together, you were always a mover and a shaker. I am sure you will relish the challenges of your new position as you continue to rise up the corporate ladder.
Your excellent customer relations skills are an example to all of us at Doe's, and your record-breaking sales are proof of our customers' satisfaction.
I know the award also honors her parents who have raised such a committed and hardworking student. In fact, all of your children do you credit, and I am pleased that they have all been our customers through the years.
Your efforts over the years to offer employment and recreation to the youth of Springfield has required enormous amounts of time and patience, as well as the skill of a diplomat. Not only have you helped our youth, but our entire community has benefited.
I still remember when you first began working in the mail room at Doe's. As I recall, you quickly became our most valued mail room employee. When you became supervisor, I remember how smoothly our mail service operated. Since then, you have gently but firmly led us all into the computer age.
Phrases
a significant and happy occasion for
a great deal of time and effort
am glad to see that you are so highly valued
am confident that even greater growth will
are recognized among your peers
are a credit to
are lucky to have you
are your most ardent fans
are an example to all of us
award is very timely
can hardly wait to
clearly result from your tireless efforts
continue to rise up the corporate ladder
have passed a milestone
have the qualities that everyone values
have long admired the quality of your
have become well known for your expertise in
helped us to find success
no one could do a better job
not surprised to learn that
solid record of progress and achievement
such an award honors not only
the careful attention you pay to
well on your way to stardom
wish we could have been there
wish you continued success in
your wonderful success with
3

. Close with a positive statement, often a repeated expression of congratulation.
Sentences
Congratulations again on your latest achievement.
I am glad this occasion gives me the chance to assure you of our high regard for your work.
I am sure Elaine will have an exciting and successful year at State in the fall. You certainly have reason to be proud of her!
I am glad that your fine work has now been publicly acknowledged.
Phrases
a highly valued colleague
accept our sincerest congratulations
applaud your accomplishment
assure you of our esteem and high regard
best wishes for the future
commend you for your excellent
congratulations once again for
deserve this recognition
enjoy a successful future as
every reason to be proud of
has now been publicly acknowledged
have passed this milestone
in years to come
is a pleasure to recall
keep up the good work
look forward to
many more years of association with
pleased to know of your success
record of achievement is an inspiration to
so pleased that you have been recognized for
this very special occasion
wish you continued success
Related Articles
Related Resources
Still can't find the right words for your goodwill letter?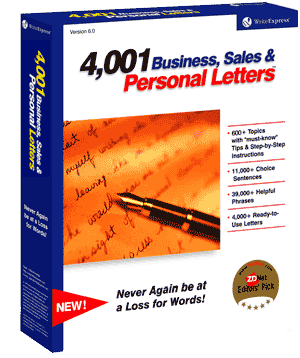 You will with our 500 letter-writing tutorials!
Find the goodwill letter that fits your needs and copy it directly into Microsoft Word or your favorite word processor.
Or let our 500 letter-writing tutorials guide you step-by-step through the writing process, suggesting sample phrases and sentences for each writing step. In minutes, you can write an effective goodwill letter.
Print your goodwill letter and send it!