Tips
A letter accompanying a donation to a good cause expresses pleasure in giving the donation and describes any details regarding use of the donation. It may also comment on the person in whose name the donation is given. If you expect to receive any consideration in return, such as a public acknowledgment of your gift, mention that briefly.
Steps
1

. State the amount you are sending. Tell the reader if you are giving the gift in someone's honor or if there are any restrictions or stipulations on its use.
Sentences
On behalf of my late parents, Joseph and June Doe, I am pleased to make this donation of $100,000 to the Springfield Community College for the children of Doe employees.
Enclosed is a contribution of $100 for the new children's wing of the Springfield Public Library.
On behalf of Doe's employees, I am enclosing a check for $500 to be used for the Kansas flood relief project.
Thank you for your letter of July 31. I had not realized how much the demands on our local shelter had grown. In response, I am enclosing a donation of $50.
As an alumnus of Doe State University, I am pleased to donate $1,000 to my Alma Mater's excellent athletics program.
Phrases
am enclosing a check for
am enclosing a donation of
am happy to be able to
am pleased to make this donation
are happy to contribute
enclosed is a contribution of
enclosed is our donation of
his will stipulated that
in memory of
in honor of
in response to your appeal
on the occasion of
on the anniversary of
on behalf of
place no restrictions on
thank you for the opportunity to
to help your cause
to be used for
to assist in the
would like to present
would like you to use the money for
2

. If appropriate, explain briefly what prompted your decision to make the contribution, or describe the person in whose name the donation is being made. If you expect any recognition for the donation, note that briefly.
Sentences
As I am sure you recall, John and Jane were committed to education, to their employees, and to Doe Community College. Doe's legal department has assured me that all the paperwork has been received by your office. We look forward to offering the John and Jane Doe's Scholarship beginning this fall.
I still remember the day my mother helped me sign up for my first library card. Ever since then all of our children have benefited greatly from the excellent reading programs you have offered. John and I look forward to seeing our names on the "Donor Wall."
Since the news reports of the flooding last month, employees have made donation cans and have distributed them to local businesses. The employees themselves have donated over half the amount collected.
I have also posted your letter in the employee lounge, where I believe your request for fresh produce is being enthusiastically received.
I understand that my donation will entitle me to two free tickets to the Coach's Banquet in September.
Phrases
a small way of saying thank you for
all the good that you do
am solidly behind your efforts to
appreciate your efforts
are happy to give a little back to
are happy to contribute to
can think of no better way to
feel that we have greatly benefited from
have seen a few of the results of
if there is any more that we can do
is a pleasure to be involved in a small way
know that she would have appreciated
look forward to seeing our names
on the list of contributors
our hearts go out to
since we received the news reports of
such an excellent cause
understand that our donation will entitle us to
would be pleased if our name were included
would prefer that you not publish our
3

. Close on a positive note.
Sentences
Thank you for your assistance in setting up this scholarship fund.
I am sure our grandchildren will spend many happy hours in the library's new children's wing.
We hope this money will help a few more families get back on their feet. Best wishes to you in your vital work.
Thank you for your tireless efforts on behalf of the community!
I look forward to seeing you at the banquet and enjoying another fine season with our teams.
Phrases
am happy to support this effort
appreciate all you do for
best wishes to you in
certainly appreciate your efforts
get back on their feet
good luck with your efforts
in this important work
make a difference in the lives of
opening up opportunities to
public-spirited people like you
thank you for your hard work
thank you for getting this set up
thank you for the opportunity to
this opportunity to
to make a real difference to
to help your cause
will help a few needy
will be a blessing to the community
your tireless efforts
Related Articles
Related Resources
Still can't find the right words for your goodwill letter?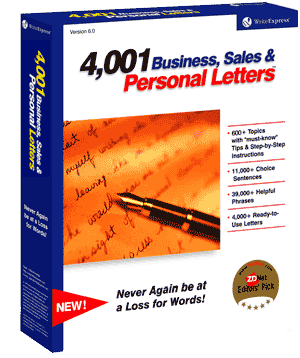 You will with our 500 letter-writing tutorials!
Find the goodwill letter that fits your needs and copy it directly into Microsoft Word or your favorite word processor.
Or let our 500 letter-writing tutorials guide you step-by-step through the writing process, suggesting sample phrases and sentences for each writing step. In minutes, you can write an effective goodwill letter.
Print your goodwill letter and send it!