Tips
Although this letter serves primarily to thank a customer for his or her business, it may also initiate a business relationship with a new customer or promote a new product. The letter should be brief and friendly. If you mention a product or sale, do so briefly.
Steps
1

. Thank the customer for past business or offer a compliment or welcome to a prospective customer as applicable. Briefly describe the gift and the reason for sending it.
Sentences
At this holiday season, we want to thank you for being a faithful customer over the years. As a token of our appreciation, we are enclosing one of our exclusive Doe's snowflake ornaments.
Welcome to Springfield! We are delighted you have chosen to join our community! The enclosed gift, a vinyl cover for your new telephone directory, provides you with the telephone numbers of the police station, the hospital, medical doctors, dentists, and other service-oriented groups in the Springfield community.
I am so proud of our new Doe's line of fragrances that I am enclosing a sample of our newest fragrance for you to enjoy. I am sure you will agree that this kind of boldness could take a woman around the globe!
We certainly appreciate customers like you. To let you know how grateful we are, we are sending you this glow-in-the-dark key chain. We hope when you use it, you will think of us at Doe's.
Did you know Doe's makes the best pizza in town? We will even deliver one free! Simply call our order line at 555-5555 anytime Monday through Thursday from 11 a.m. to 4 p.m. and ask for your free mini-sample. We will bring it to your Springfield address within 30 minutes.
Phrases
a little gift for the holidays
a sample of our new
am so proud of our new line of
appreciate customers like you
are delighted that you
are enclosing one of our
are delighted to send you
as our gift to you
as a token of our appreciation
at this holiday season
for being such a loyal customer
for being such a faithful customer
for your enjoyment
giving you the opportunity to
hope you will enjoy this
hope you will accept this
to thank you for your business
want to thank you for
are so excited about our
2

. Mention briefly any product or sale, if applicable. Close with a repeated thank you or another positive statement.
Sentences
Thank you again for your patronage and happy holidays!
I hope you will drop by Doe's to see our fine store and become personally acquainted.
We will offer our new line at an introductory sale price through the month of November.
Best wishes in the coming year.
Once you have sampled our pizza, we are sure you will agree--Doe's is the best it can be. Call soon!
Phrases
always a pleasure to serve you
appreciate your business
are forwarding a little gift to you
are part of our family of customers
are sure that you will enjoy
best wishes for the coming
have also enclosed our current catalog
hope you'll drop by soon
hope you'll find it exceeds your expectations
hope you enjoyed the products you ordered
just to say thank you for
just a small way of saying thank you for
small expression of our appreciation
small token of our appreciation
thank you for your interest in
thank you for your confidence in us
thank you once more for your patronage
thank you for your recent orders
thank you for your business
will be going on sale from
Related Articles
Related Resources
Still can't find the right words for your goodwill letter?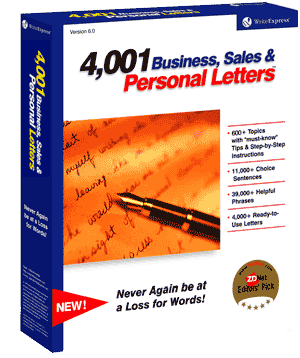 You will with our 500 letter-writing tutorials!
Find the goodwill letter that fits your needs and copy it directly into Microsoft Word or your favorite word processor.
Or let our 500 letter-writing tutorials guide you step-by-step through the writing process, suggesting sample phrases and sentences for each writing step. In minutes, you can write an effective goodwill letter.
Print your goodwill letter and send it!