Tips
This can be a good public relations letter and can update a client or customer on a long-term project or it can serve as a reminder of the value he or she receives from your service. The letter should be brief, offer specific details, and avoid a sales pitch.
Steps
1

. Briefly explain your reason for writing the letter.
Sentences
Enclosed is a summary of the projects Doe Insurance has worked on for your company in the past year.
I appreciated meeting with you Monday to discuss the possibility of buying electronic circuits through us.
I wanted to inform you of our work to update your computer tracking system.
I thought you would like to see "before and after" pictures of our technical writing seminar last week.
Thank you for your phone call last week regarding our progress on developing the Doe Whipper.
Phrases
am sure you would like to see these
appreciated the opportunity to discuss
appreciated meeting with you on
are certain you will be interested in
concerning our progress on
enclosed is a summary of
have prepared a list of
have been examining the possibility of
here is the summary you requested
here is the report we discussed
how the project is progressing
in response to your query about
interim report on
just to keep you up to date on
regarding our progress on
thank you for your call
the projects we have worked on
thought you might find this valuable
want to let you know
wanted to inform you of
2

. Give specific details that describe the work you are doing for the client or the value he or she has received from the work you have done in the past.
Sentences
As you will note, your overall insurance costs were down this year by ten percent. I am especially pleased that our new efforts to track the progress of injured workers have reduced absenteeism from injuries by an average of two weeks.
I have faxed your specifications to our Springfield office. Because they will need to obtain a government permit, negotiate an agreement with an independent manufacturer, and establish a per item price, I don't expect to hear from them for a month.
As we discussed in our preliminary meeting, the updates are so extensive that they require us to rewrite the code for your current system. The code is now rewritten so that it supports all the functions you currently use. We expect the updates to be completed by August 31.
For a week before and after the seminar, each engineer kept a log of his writing by type, time, number of revisions required, and level of difficulty. The results are tabulated on the attached report. As you will note, the number of revisions have been reduced for every type of writing, resulting in a decrease in the writing time required--sometimes by as much as one-half. In addition, the perceived level of difficulty decreased in almost every case.
Research and Development informs me that they have not yet made their final selection for "Best New Toy." The Whipper is still a serious contender, but the team won't be announcing the winner until the Spring Toy Fair.
Phrases
am especially pleased that
are very proud of having
as we discussed
as you will note
by an average of
can expect further progress within
expect this phase to be completed by
has been modified in keeping with
have not yet made a final selection
have kept a log of
is a serious contender for
is now up to code
it was necessary for us to
more extensive than was at first thought
need to establish an agreement concerning
overall costs were down by
resulting in a significant reduction in
results are tabulated on
tracked the progress of
will need to obtain a permit for
3

. Close with a look toward the future, an invitation for the client to contact you, or a time when the client may expect another report.
Sentences
We are proud of our record this year. If you have questions regarding any part of the report, please don't hesitate to give me a call. I am excited about starting another year working together to make your insurance costs the lowest in the industry.
I will phone you as soon as I hear from John. In the meantime, if I can be of any further assistance, please call me. I am excited to be working with you on this project.
I will phone you next month to set up a time to demonstrate the new system to your department. Any future updates will be added to the code very easily. I look forward to seeing you in September.
These figures represent a substantial savings to your company. With such results, I am confident you will want to continue to use our writing courses. I will check back with you next week regarding your needs for this winter.
I hope to see you at the Fair. If your design wins, it will be a pleasure to work out the production details with you. If for any reason it does not win, I hope you will continue to send us your excellent designs.
Phrases
am confident that you will want us to
are sure you will agree that
arrange for future updates
as soon as I hear from
be happy to hear from you
continue to work together
demonstrate the system for
don't hesitate to call
hope to see you at
if you have questions about
if I can be of any further assistance
mutually profitable association
project is important to both of us
reduce your costs still further
represent a considerable savings
set up a time to
trust that you are as satisfied as I am
will continue to use our
will check back with you on
your needs in this regard
Related Articles
Related Resources
Still can't find the right words for your goodwill letter?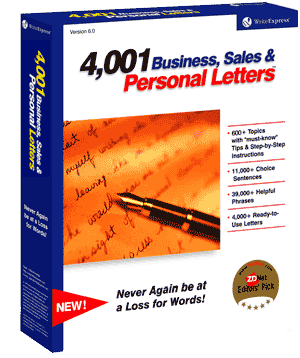 You will with our 500 letter-writing tutorials!
Find the goodwill letter that fits your needs and copy it directly into Microsoft Word or your favorite word processor.
Or let our 500 letter-writing tutorials guide you step-by-step through the writing process, suggesting sample phrases and sentences for each writing step. In minutes, you can write an effective goodwill letter.
Print your goodwill letter and send it!