Tips
The tone of this letter should be gracious and unassuming. If your past experience qualifies you in some special way to provide the service, mention it without boasting. If you have no experience but have other personal or professional qualifications, give that information too.
Steps
1

. Tell the reader about your professional or personal qualifications to provide service or tell the reader why you have decided to offer your services.
Sentences
I have recently received my bachelor's degree in elementary education.
I am a retired registered nurse who is searching for some meaningful service to give to the community.
Although I am a civil engineer by profession, I have always had a deep interest in environmental science.
I don't have any formal training to work with the young people in your program, but throughout my life I have enjoyed working with youth groups and I seem to get along well with them.
My work is seasonal, so for the next three months I am at liberty to volunteer my services in any way that you may need them.
I must admit that for years I was not very sympathetic to your cause, but some unusual events in my life have brought about a complete change of heart. I really want to be involved in helping those who can't help themselves.
Our neighborhood has had three robberies in the last month, and we are prepared to do something about it.
Each year our company offers charitable service to a nonprofit organization in our community.
Phrases
about the plight of
am at liberty to
am deeply concerned about
am eager to
give something back to
have recently received
have been richly blessed
have the time and the enthusiasm to
have had no formal training in
have always enjoyed
have a deep interest in
now that I have retired
offer charitable service to
service to the community
to be of service to
to perform some meaningful service
to give to the community
to get involved in
to be of assistance
volunteer my services
would like to
2

. Offer your voluntary service.
Sentences
I have heard of your tutoring program and want to volunteer for a shift between six and eight o'clock in the evening on Mondays, Wednesdays, and Fridays.
Your program to clean up the community is wonderful. Please call me when you have your next project, and I will help in any way I can.
As I mentioned during our telephone conversation, my professional skills are limited, but I am willing to help support your campaign. Please send me any assignment you think I am qualified for.
My neighbors and I want to volunteer our services to assist the city police in a neighborhood watch program.
Because of the rise in unemployment this year, our company has decided to offer its assistance to Springfield's homeless shelters. We hope you will accept the food, clothing, and other supplies we plan to donate. Also, many of our personnel have expressed an interest in volunteering their time, as well.
I want to volunteer my service to your organization once a week. The best day for me is Friday.
Phrases
am available every
am able to volunteer for
am qualified to
am in a position to
anything I am qualified to do
assist with this project
can help evenings or weekends
can perhaps assist with
can donate five hours per week
have had training and experience in
hope you will accept
on an occasional basis
on a regular basis
please call me when
service to your organization
skills are limited
volunteer our services
what can I do to support
wherever we can be most useful
will help in any way I can
would be willing to
3

. Ask for a reply or inform the reader that you will contact him or her in the future.
Sentences
Will you please give me a call at 555-5555 and tell me what I can to do help your cause.
I hope you will respond soon, so I can plan my time accordingly.
I am prepared to give a substantial amount of time to your organization. Please let me know when I can begin working.
Please let me know what I can do. My phone number is 555-5555 and my address is below.
I am anxious to serve, but I need to know where and when.
I look forward to this new adventure and hope to hear from you soon.
Will you please send me some information on your volunteer program? My address is below.
I will call you in a few days to ask what I can do.
I will call you by the end of next week to see how I might help.
Phrases
am looking forward to
am eager to
am anxious to get started
by phone or e-mail
can reach me any time at
eager to get involved
give me a call
hope that you can use me
hope to hear from you soon
hope you will respond soon
if you can use my services
need to know fairly soon
please let me know
send me some information on
so that I can adjust my schedule
such a worthy cause
what I can do to help
when your next training session begins
will drop by your offices next
will call you in a few days
will be happy to
Related Articles
Related Resources
Still can't find the right words for your goodwill letter?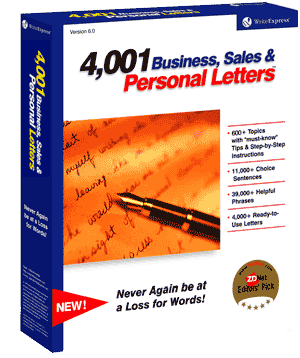 You will with our 500 letter-writing tutorials!
Find the goodwill letter that fits your needs and copy it directly into Microsoft Word or your favorite word processor.
Or let our 500 letter-writing tutorials guide you step-by-step through the writing process, suggesting sample phrases and sentences for each writing step. In minutes, you can write an effective goodwill letter.
Print your goodwill letter and send it!