Tips
These letters express congratulations on a victory, but they also serve as subtle reminders to politicians about the debt they owe to their constituencies.
Steps
1

. Make a direct statement of congratulations that also identifies you (or your organization) and the celebrated event.
Sentences
On behalf of Local #345, let me congratulate you on passing the Labor Relations bill. It was a hard fight, but we were behind you all the way. We will not forget you on Election Day.
Congratulations on your victory last Tuesday! The Kansas Pig Farmers Association worked hard to get you elected because of your concern for the pork industry. We know you will continue to work hard for Kansas agriculture and industry.
As a parent and a taxpayer, I was thrilled to learn of the passage of the so-called Kiddie Porn bill. Your support for the bill clearly demonstrated to me and many others that you believe in and support "family values."
Please accept our congratulations on your success in getting the Teen Pregnancy Act passed. This issue has greatly concerned the Council of Christian Churches (CCC) and, as you know, we have financed an extensive study of the problem. Please contact us if we can help.
Congratulations on your reelection to the City Council. We are pleased that you will continue to be a strong voice for our southern neighborhood's redevelopment.
I just wanted to let you know how much I enjoyed your victory speech at the Professional Realtor's Association luncheon yesterday. I was happy to see how much interest you had in the real estate industry. Your presentation went straight to the heart of what many of us have long felt.
Phrases
a vitally important issue
accept our congratulations on
behind you all the way
capabilities and expertise
congratulations on your
continue to be a strong voice for
has greatly concerned
know you will continue to
know of our full support
let me congratulate you on
live up to our expectations
on your appointment as
on behalf of
pleased to hear of the passage of
speak for all
stick to your guns
the election results
want to let you know
will be of great value to
will not forget you on Election Day
worked hard on your campaign
your victory
2

. Express your good wishes for the future.
Sentences
We are glad to have you where you can do so much good. Thank you.
Keep up the good work.
We appreciate your work on our behalf.
We rely on your wisdom more than you can know. Thanks.
Your reelection has restored our trust in the electorate.
Thanks for having the courage to act according to your convictions.
We look forward to your representing us for the next four years.
Phrases
appreciate all you do
assure you of our support
be a voice for
continue as you have begun
electorate has chosen well
for the next
glad to have you
happy to have
has won you a place in
having the courage of your convictions
if we can help at all
keep up the good work
look forward to
make our state a better
rely on you to
right behind you
right person for the job
such fair-minded representation
tackle the tough issues
urge you to continue
will continue to
your belief in and support for
Related Articles
Related Resources
Still can't find the right words for your government letter?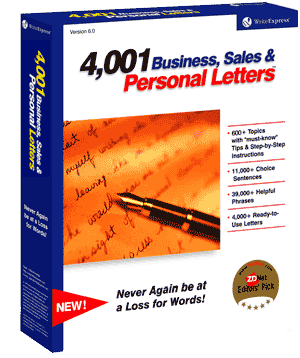 You will with our 500 letter-writing tutorials!
Find the government letter that fits your needs and copy it directly into Microsoft Word or your favorite word processor.
Or let our 500 letter-writing tutorials guide you step-by-step through the writing process, suggesting sample phrases and sentences for each writing step. In minutes, you can write an effective government letter.
Print your government letter and send it!